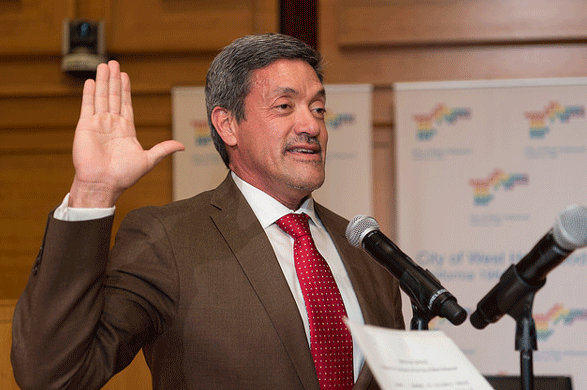 John Duran took to Facebook this morning to announce that he is stepping down as mayor of West Hollywood but is not resigning from the City Council.
Duran's announcement comes 12 hours ahead of tonight's City Council meeting, which had been expected to be as contentious as the last one where local residents and activists showed up to demand that Duran resign as mayor or leave the City Council. Duran several days ago had told friends he would not attend that meeting. In his Facebook post he implied that his health was the excuse for that.
Duran cited the need to have himself checked for possible blood clots as the reason for not attending the Feb. 19 City Council meeting.That meeting attracted a number of local television reporters to chronicle demonstrations outside the City Council Chambers by groups such as the #MeToo women's rights movement and Justice4Gemmel and statements before the Council by local residents demanding that Duran be ousted.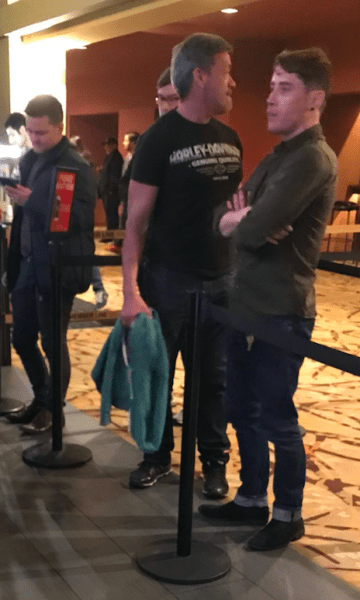 The complaints about Duran are based on allegations that he engaged in sexually inappropriate behavior with young members of the Gay Men's Chorus of Los Angeles, whose board he has chaired, and that he exhibited discrimination in his description of one chorus member as a "skinny Korean kid with pimples on his cheek," in explaining why he didn't find him sexually attractive. Duran also riled some local residents when, in a recent radio interview, he described himself as the "only sexually active member of the City Council." Duran has denied the allegations of sexual harassment and apologized for his comments about the young Asian chorus member. He also has resigned his position as chair of the GMCLA board.
"I continue to work with my doctors to try and get my blood and body in the right balance," Duran wrote on Facebook this morning. "I am supposed to slow down to half speed and rest for the next 30 days. I was in the hospital for one week and that did help me slow down since I couldn't get very far with an IV in my arm.
"I am handing the Mayor's gavel to my friend John D'Amico as the Mayor Pro Tem to fill the remaining two months of my Mayor's term. I am not resigning from council and will complete this term which expires in November of 2020.
"My sobriety and God come first. My health comes next. And then my love of family and dear friends. I have my priorities in the right order.
"Being sick is always a great teaching moment about who loves me and how many dear friends I have. So grateful to be so blessed. SO – I am on the mend. And will be back as feisty as ever very soon."
Duran's announcement that he is giving up his role as mayor, a largely ceremonial title that rotates among Council members every 12 months, leaves the City Council tonight with the task of deciding whether it should take other steps to rebuke him for his alleged sexual misconduct and controversial statements.
City Attorney Mike Jenkins has made clear that the City Council cannot remove Duran from office. "Under California law, councilmembers answer to their constituents, not to their colleagues," Jenkins said in a memo to the Council. "Hence, the law does not expressly address the means by which a City Council may discipline or express disapproval of one of its own and it limits the power of involuntary removal from office to the electorate.
But in his memo, Jenkins lists five actions the City Council can take if it wants to publicly rebuke Duran:
1)The Council can remove Duran as mayor, something that will no longer be on the agenda given his decision this morning to give up that position.
2) The Council can deny Duran the privilege of traveling on city business with his expenses paid by the city. Duran's city-funded travel has included trips to attend the South by Southwest music and art festival in Austin, Tex., and meetings in various cities of the National Association of Latino Elected and Appointed Officials Education Fund, whose board he has chaired since 2016.
3) The Council can vote to remove Duran from City Council subcommittees. He currently is on the Finance & Budget, Visit West Hollywood, 1343 Laurel Avenue and Christopher Street
West/L.A. Pride subcommittees. He also is the Council's delegate to the League of California Cities, the L.A. County City Selection Committee and the Public Agency Risk-Sharing Authority of California.
4 ) The Council can direct City Hall to deny Duran reimbursements for expenses he incurs in performing his official duties. In 2012 the Public Integrity Division of the L.A. County District Attorney's Office said it was considering prosecuting Duran for misuse of a city credit card. Its
examination found that Duran had used the card to spend more than $7,000 over three years on dozens of meals, sometimes multiple times a week and sometimes at expensive restaurants. The D.A.'s office eventually decided not to move forward with the prosecution
5) The Council can pass a resolution censuring Duran for his behavior. That resolution must be presented to Duran and he must be given an opportunity to rebut it before the Council can vote on it.
The evening will be especially challenging for Councilmembers D'Amico, Lindsey Horvath and Lauren Meister, all of whom up for re-election on Tuesday. Do they run the risk of offending supporters of Duran by not officially reprimanding him for his alleged misconduct? Or by not acting will they upset others who have declared the allegations an embarrassment to the City of West Hollywood?
To date, both D'Amico and Meister have said they think Duran should give up his honorific title as mayor, but neither has said whether they agree with residents demanding that Duran resign his City Council seat. Councilmember Horvath also has said Duran should step down as mayor. However, she appears to be waffling over whether he should leave the Council altogether, supporting that move in a post on Facebook and a comment at the Feb. 19 City Council meeting and then later saying that's not her position, prompting a request from City Hall for a correction to a WEHOville story that said it was her position. (Horvath has yet to respond to WEHOville requests for some clarity).