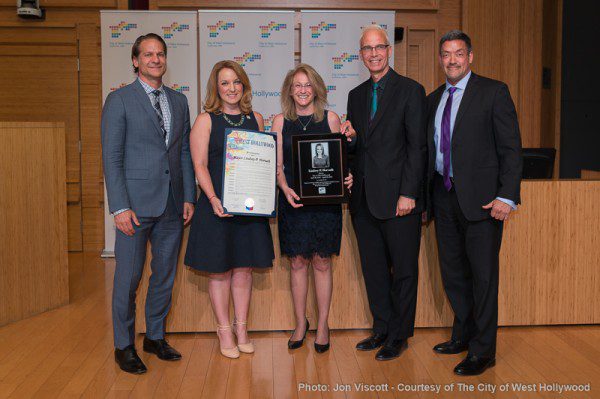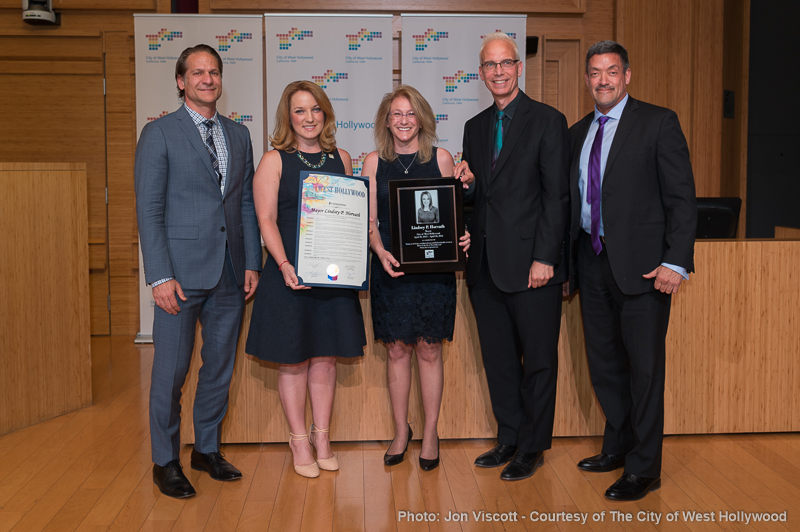 The three incumbents running for re-election to the West Hollywood City Council led their eight challengers in a final account of vote-by-mail ballots received as of today and of those cast at polling places today.
Other ballots must be reviewed by the Los Angeles County Registrar-Recorder, which could result in a minor change in the totals.  They include provisional ballots, which are ballots completed by people at the wrong polling place. If the review determines that the voter is an authorized West Hollywood voter, such ballots are counted. There also may be more vote-by-mail ballots coming. Those ballots can be accepted as late as Friday so long as they are postmarked no later than yesterday.  The Registrar-Recorder will issue a final tally on March 22.
As of tonight, with all nine local precincts reporting, incumbent Lindsey Horvath led with 2,917 votes, or 24.38% of the total. She was followed by incumbent Lauren Meister, with 2,708 votes, or 22.63% of the total. Incumbent John D'Amico got 1,840 votes, or 15.38% of the total.
Close behind D'Amico was Sepi Shyne, a lawyer who identifies as a lesbian and an Iranian immigrant who was making her first run for a City Council seat. Shyne got 1,582 votes, 13.22% of the total. Shyne was appointed by Councilmember John Heilman in July to the city's Lesbian and Gay Advisory Board. Shyne, who practices business and trademark law, is former co-president of the LGBT Bar Association of Los Angeles. She has been involved with the Los Angeles Chapter of the Human Rights Campaign.
Voters also overwhelmingly supported Measure B, a ballot measure that endorsed the City Council's decision to make changes to the General Plan and zoning code to permit construction of the Arts Club on the property currently occupied by the Hustler adult store on Sunset Boulevard at Hilldale. Construction of the Arts Club has been opposed by Unite Here Local 11, the restaurant and hotel workers union. Sixty-one percent of voters (2,667) supported the Arts Club while 1,704 (38.98% voted against it).
Voters also overwhelmingly endorsed a proposal to levy a 7.5% tax on the sale of recreational cannabis in West Hollywood. That proposal, Measure Y, got 3,361 votes (76.2% of the total).
Other challengers for the three City Council seats and their votes are as follows:
— James Duke Mason. Mason is a publicist and a member of the city's Lesbian and Gay Advisory Board. He also is a former member of the board of West Hollywood Community Housing Corp. and waged an unsuccessful campaign for a City Council seat in 2015. Mason was endorsed by City Council members John Duran and John Heilman. He received 963 votes, 8.05% of the total.
— Marquita Thomas. Thomas, who is the executive director of the Los Angeles Gay and Lesbian Chamber of Commerce, also is a member of the city's Lesbian and Gay Advisory Board. She is a former board member of Christopher Street West, the non-profit organization that stages the annual LA Pride parade and festival in West Hollywood. She received 766 votes, or 6.4% of the total.
— Brendan Hood. Hood is associate director of business analytics at AT&T. Since moving to West Hollywood nine years ago Hood has been active as a member of West Hollywood Dodgeball and Varsity Gay League and as a frequent volunteer for local progressive candidates. As a young man in high school and college, Hood interned in the district office of Congressman William Delahunt (D-MA) and on the first campaign of former Massachusetts Governor Deval Patrick (D-MA). Hood received 351 votes, or 2.93% of votes counted as of tonight.
— Tom Demille. Demille is a former actor who has had four previous and unsuccessful runs for the City Council. He received 281 votes, 2.35% of the total.
— Shawn Davis Mooney. Mooney is a former soldier and has worked as a model and actor and manager of two retirement communities. He received 235 votes, 1.96% of the total.
— Jack Cline. Cline is a registered nurse and nurse practitioner at Providence St. John's Health Center in Santa Monica. Cline also is a drag queen who goes by the name Jackie O.M.G. (O My Goodness). Cline is a representative for the California Nurses Association. He lives with another gay city Council candidate, Eric Jon Schmidt. Cline received 187 votes, 1.56% of the total.
— Eric Jon Schmidt. Schmidt, who lives with Cline, describes himself as a retired fitness trainer in Las Vegas and Los Angeles. Schmidt also is porn performer on DudesNude, a site that provides videos of gay men in the nude and having sex. He received 136 votes, or 1.14% of the total.
Measure B was the focus of much of the campaigning in this election. Representatives of Unite Here Local 11, the restaurant and hotel workers union, hired petitioners to gather the required signatures of 10% of the city's voters to put on the measure on the ballot in the hope that it could attract enough "no" votes to rescind the City Council's decision to approve construction of the Arts Club. "Citizens for a Better West Hollywood," the political action committee established by Unite Here, also paid for campaign mailers to convince residents to oppose the Arts Club project. In its campaign, it asked voters not to support incumbent John D'Amico and instead to vote for Sepi Shyne. D'Amico and fellow incumbent candidates Lauren Meister and Lindsey Horvath and Mayor John Duran supported the project. Councilmember John Heilman voted against it.
Even more money has been raised by "Yes on Measure B, Residents to Preserve the Sunset Strip." That PAC was formed by VE Equities, a New York City real estate developer that is partnering with U.K.-based London & Regional Properties to build the Arts Club building. VE Equities has contributed $650,000 to the campaign for the Arts Club as of Feb. 21.