Organizers and members of Unite Here Local 11 and their supporters rallied for a meeting with the general manager of the Andaz hotel today to protest the treatment of a fellow organizer at the hotel on Wednesday.
Nerexda Soto, an organizer for Unite Here, was handcuffed and arrested on Wednesday by West Hollywood Sheriff's deputies while meeting with union employees at the hotel.  According to Bridie Roberts, the deputy director of community organizing for Unite Here,  Soto was complying with labor laws that allow union organizers and officials to meet with union members at their workplace. Soto is a prominent labor activist who was listed by Time magazine in 2017 as one of the "silence breakers" on its list of "people of the year."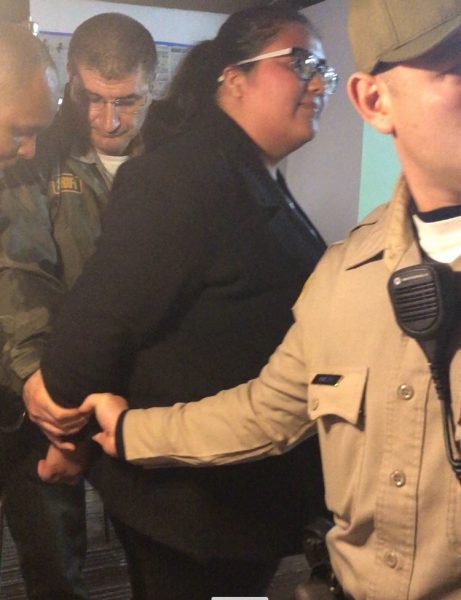 More than a dozen people showed up  to protest the arrest and demand that the hotel allow union representatives to enter and speak with their members.  Unite Here has been renegotiating labor contracts at 24 hotels in Orange and Los Angeles counties.  The Andaz, which is owned by Hyatt, is one of eight hotels with which the union has yet to strike a deal.
The demonstrators entered the hotel and walked to the second floor lobby where they met Nate Hardesty, who took over as general manager of the Andaz three months ago.
Soledad Garcia, another Unite Here organizer, told Hardesty that she had been told earlier in the day that she should not walk through the hotel kitchen and interact with employees. She asked that Hardesty agree that he and his managers "will not interfere with the workers and the negotiation of this contract."  That request was echoed by Sepi Shyne, a lawyer and candidate in the March 5 West Hollywood City Council election.
Hardesty said he supported the union members' legal rights to meet and to organize and was working to ensure that other employees did. "We have launched a training program to make sure all manager follow union laws and rules," he said.
Several Hispanic members of the Andaz staff spoke up in Spanish to support the union effort.  One, a dishwasher, said he had worked at the hotel for 27 years.  He said the job has caused him stress and high blood pressure that required visits to a doctor and the hospital.  Hardesty said the hotel was trying to recruit other employees to help with the workload.
Unite Here said it has been in negotiations with hotels for months with a list of demands ranging from more affordable healthcare, to the implementation of panic buttons, increases to pensions, stronger protections for immigrants and wages that reach $25 per hour.
Unite Here Local 11 has become increasingly involved in West Hollywood, a city whose budget is highly dependent on the hotel room tax, in recent months.  The union launched an unsuccessful effort to block construction of the Robertson Lane hotel and shopping plaza project.  It was successful in getting  on  the March 5 ballot a measure to affirm the City Council's approval of the Arts Club on Sunset Boulevard, but it failed to get enough "no" votes to have the approval rescinded.  It also is working to have on a future ballot a proposal to declare a 24-month moratorium on new hotel construction.