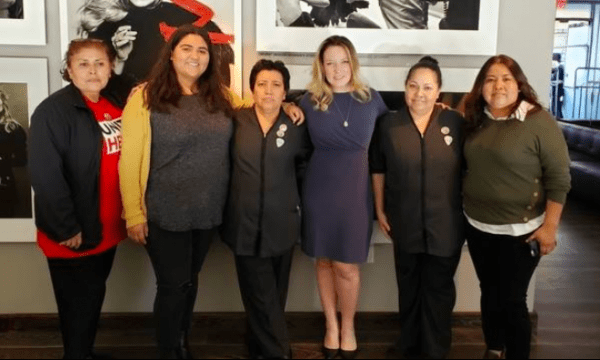 Unite Here Local 11, the hotel and restaurant workers union, is continuing its focus on West Hollywood, a city full of hotels whose economy is heavily dependent on visitors and whose hotel room tax is the largest contributor to the city's General Fund.
And the union is engaging local political figures to support it.
Unite Here is staging a "respect, not handcuffs" rally tomorrow at the Hyatt Andaz hotel on Sunset Boulevard to protest the arrest on March 6 of union organizer Nerexda Soto. According to a Facebook post, City Councilmember Lindsey Horvath and Sepi Shyne, a candidate in the March 5 City Council election, will be attending the protest. (However, Horvath said today she is at the National League of Cities conference in Washington, DC, and won't be able to attend). Also listed as attending is Amanda Hyde, a close associate of Horvath's and chair of the city's Women's Advisory Board.  In the Facebook post about the event, John Erickson indicates that he is interested in the event. Erickson recently was appointed by Councilmember John Heilman to the city's Planning Commission and has said he is contemplating running for City Council in November 2020.
A week ago Wednesday Soto was inside the hotel talking with union employees when managers asked her to leave. When she refused, hotel managers called the Sheriff's Department, which sent deputies who handcuffed her and arrested her.  In an announcement of tomorrow's demonstration, Unite Here said it has filed an unfair labor practice charge with Region 31 of the National Labor Relations Board, alleging that the hotel management had unlawfully limited Soto's access rights. "Union organizers have the right to access employee areas during working hours under the union's collective bargaining agreement with the hotel," said the union, "and Soto was in the hotel's employee cafeteria to speak with workers. Soto, a barista at the Hyatt Long Beach, is on a leave of absence from her hotel to work as a union organizer."
The Facebook post announces the rally as taking place from 4:30 to 6:30 p.m. tomorrow at the Andaz, which is at 8401 W. Sunset Blvd.  The union's emailed announcement describes the event as an "all-day" action from 6 a.m. to 7 p.m., with a special program at 5 p.m.
Tomorrow's demonstration follows a brief encounter on Friday between more than a dozen union members and organizers and Sepi Shyne with Nate Hardesty, who took over as general manager of the Andaz three months ago.  Hardesty, who pointed out that he wasn't involved in the union's effort to renegotiate its contract with the Andaz, said he supported the union members' legal rights to meet and to organize and was working to ensure that other employees did. "We have launched a training program to make sure all manager follow union laws and rules," he said.
The Hyatt Andaz is one of 24 hotels in Los Angeles and Orange counties whose contracts with the union were expiring.  As of last week, United Here said it had successfully renegotiated all but eight of those contracts.
Unite Here Local 11 has become increasingly involved in West Hollywood.  The union launched an unsuccessful effort to block construction of the Robertson Lane hotel and shopping plaza project.  It was successful in getting  on  the March 5 ballot a measure to reject the City Council's approval of the Arts Club on Sunset Boulevard, but it failed to get enough "no" votes to have the approval rescinded.  Steve Martin, a lawyer who is a former City Council member, worked with the Unite Here PAC to oppose the Arts Club. The union also is working to have on a future ballot proposal to declare a 24-month moratorium on new hotel construction in West Hollywood.
Unite Here formed a political action committee that was a major spender in the March 5 West Hollywood City Council election.  It spent $16,644 to support Sepi Shyne, $13,218 to support Lindsey Horvath and $6,569 to support Lauren Meister's campaign. Both Horvath and Meister supported the construction of the Arts Club, which United Here opposed. The PAC's biggest expenditure was the $34,905 to fight John D'Amico's re-election, although D'Amico also was a supporter of the Arts Club, which was opposed only by Councilmember John Heilman.