Gender nonconforming writer, producer and performer Jacob Tobia will join Jesse Tyler Ferguson, star of ABC Television's "Modern Family" in a discussion on Wednesday of Tobia's new book, "Sissy: A Coming-of-Gender Story."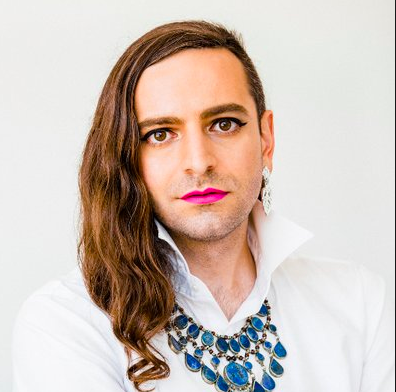 The event is presented by the City of West Hollywood's Arts Division and Book Soup and co-sponsored by the ONE Archives Foundation. It will take place at 7 p.m. at the City Council Chambers, 625 N. San Vicente Blvd. The evening will include a book signing, with books for sale by Book Soup. There will be free parking in the adjacent five-story parking structure with validation at the event. Tickets are $26 + tax (which includes one copy of the book) and are available at Book Soup or online. Twenty free tickets (which do not include a copy of the book) will be provided to West Hollywood residents providing proof of residency via a government ID, lease, or utility bill. You can confirm that your address is in the City of West Hollywood by visiting www.weho.org/streets.  There is a limit of two resident tickets per person and tickets may not be resold. Tickets can be reserved in advance on a first-come first-served basis by emailing Mike Che at mche@weho.org. The physical tickets must be picked up by 6:15 p.m. on the night of the event, or they will be released to those on standby. 
"From the moment a doctor in Raleigh, N.C., put "male" on Jacob Tobia's birth certificate, everything went wrong," says an announcement of the event.  "Alongside 'male' came many other, far less neutral words: words that carried expectations about who Jacob was and who Jacob should be, words like 'masculine' and  'aggressive' and 'cargo shorts' and 'SPORTS!' Naturally sensitive, playful, creative, and glitter-obsessed, as a child Jacob was given the label 'sissy."
In his book, Tobia, who uses the pronouns "they," "them," "theirs," revisits his childhood and calls out the stereotypes many have faced.
Tobias has been named one of Forbes' "30 Under 30" and one of the Out 100. He was a producer for Amazon's Emmy Award-winning show "Transparent" and created, co-produced, and hosted "Queer 2.0", a first-of-its-kind LGBTQ series on NBC News. Jesse Tyler Ferguson currently stars as "Mitchell Pritchett" on the ABC comedy ""Modern Family."
 Upcoming 2019 WeHo Reads events, all of which will take place at 7 p.m., include:
— Wednesday, March 20: Too Much is Not Enough by Andrew Rannells;
— Wednesday, April 10: National Poetry Month event featuring Inaugural Poet (for Barack Obama) Richard Blanco and former City of West Hollywood Poet Laureate Kim Dower;
— Tuesday, April 30: Lingua Franca, a National Poetry Month event featuring poetry from around the world curated by City of West Hollywood Poet Laureate Charles Flowers; and
— Wednesday, May 29: Lambda Lit Award Finalists Reading (a One City One Pride event)
For additional details about upcoming events and for more information about the City of West Hollywood's WeHo Reads programming and other arts programming from the City of West Hollywood, visit www.weho.org/wehoreads or www.weho.org/arts.