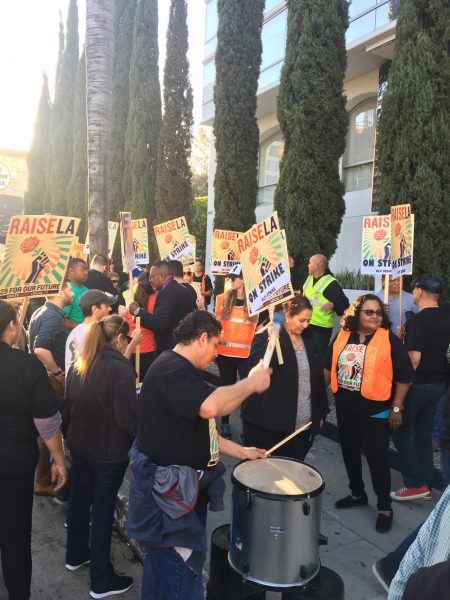 Hyatt Andaz workers walked out on a day-long strike Tuesday to protest the arrest at the hotel last week of a union organizer.
Unite Here Local 11 has filed an unfair labor practice charge with Region 31 of the National Labor Relations Board, alleging that Hyatt Andaz management had unlawfully limited Nerexda Soto's access rights and had her arrested.
"I was sitting in the cafeteria talking to workers about contract negotiations, when suddenly four men from the Sheriff's department approached me, and a short while later they were handcuffing me. I was forcibly removed from the hotel," said Soto. "I couldn't believe they sent four officers for me."
In addition to the hotel workers, other local activists and a representative from the office of State Sen. Ben Allen attended the demonstration on the Sunset Boulevard sidewalk outside the hotel. Also attending was Sepi Shyne, an attorney who was an unsuccessful candidate in the March 5 West Hollywood City Council election.  Shyne is a membr of the city's Lesbian & Gay Advisory Board.
"An arrest is a serious and severe act, and should not be used in mundane circumstances such as this," Sen. Allen said in a statement. "Union representatives are allowed, and should be allowed, to service their hard-working members who take care of the guests who visit West Hollywood and contribute to the city's tax base."
"I was appalled to hear about the unlawful and disrespectful practices Hyatt Andaz management took when they had union organizer Nereyda Soto arrested last Wednesday," Shyne said in a statement about the demonstration. "It is her legal right to represent these workers and Miss Soto had a right to be here. We do not want business in West Hollywood who operate this way. Those are not values of our city. West Hollywood stands with its hotel workers, they make our beautiful city what it is. I am proud to stand with workers at the Hyatt Andaz, and with Nerexda Soto."
Union organizers have access to employee areas at the Hyatt Andaz hotel based on a provision in the union contract. Soto, who is working as an organizer while on leave from her job as a barista at the Hyatt Regency Long Beach, was in the Hyatt Andaz employee cafeteria speaking with Local 11 union members when she was arrested.
This is not the first union demonstration over this matter.  Members of the union visited the Andaz last Friday to confront Nate Hardesty, who was named general manager of the hotel three months ago. Shyne also accompanied them on that visit.  West Hollywood City Councilmember Lindsey Horvath has posted on Facebook to show her support for the union.
The union has gotten deeply involved in West Hollywood in recent months.  It organized an unsuccessful effort to put on the March 3 ballot a measure to revoke the City Council's approval of the Robertson Lane hotel and retail project.  Unite Here was able to get the signatures of 10% of the city's registered voters to put on the ballot Measure B, which affirmed the City Council's approval of the Arts Club project on Sunset Boulevard. Unite Here mounted an unsuccessful campaigne to get residents to vote "no" on Measure B in the hope that approval of the Arts Club would be rescinded. Unite Here also formed a political action committee that was a major donor to the campaigns of Lindsey Horvath and Sepi Shyne and that spent money in an unsuccessful effort to oppose D'Amico's re-election.