"I really like this song," Jon D'Amico, 54, proprietor of Rock 'N Walk Tours, says while looking up at the ceiling of Barney's Beanery, presumably deciphering where the speakers are hidden. "'Rock and Roll Hoochie Koo.' Rick Derringer? I don't know.
I have to look it up." He then sings part of the chorus: "Rock and roll!"
Turns out he's correct. It is Derringer.
And if you had to guess what D'Amico does for a living just by looking at him, rock and roll tour guide just might be your first guess. He's got dyed jet-black hair, painted black fingernails, a sculpted, devilish goatee-moustache and leather straps and metal chains around his wrists and neck. Oh, and a black t-shirt with "Sunset Strip" in large white capital letters the top and his website's URL at the bottom.
Considering his fashion choices, background and more, it's easy to see why D'Amico feels "like everything I've done has really led to this."  
MUSICAL BEGINNINGS
"I've been in the music business all my life," D'Amico says. He's played bass in bands like Stalag 13 and "been stage manager for many bands from Guns N' Roses to Alice In Chains [and] Stone Temple Pilots. Then I worked for the band KISS."
An Angeleno native from South Central, D'Amico has lived "right off the strip for 25 years," now with his wife Debra and dog Sheena. After earning his economics degree from San Diego State he worked in banking. "I actually did pretty well," he says, "I just hated it."
How did this former banker-slash-bassist end up doing walking tours? Turns out, D'Amico is a big runner. Posting photos of his jogging adventures along the Strip on Facebook, "People were like, 'This is great!'" he says. Friends had no idea of the storied history he was showing them. Someone mentioned he should do a tour. "The bells went off. I thought, 'You know what? Maybe I should.'"
Thanks to his years of playing music on the Strip and at The Troubadour he knew a lot of the right people to gain access to places few others could. He also approached WeHo hotels, whose guests always need interesting things to do. After these two business contingents were a thumbs up, then came the guinea pig.
"It's kind of a funny story," begins D'Amico. "I took a girl…my first client. She just loved Elvis Presley." At the end of the tour, in a restaurant, "I say, 'Lynn, look over there.' And it was Priscilla Presley. [She] looked right at us. I thought Lynn was gonna pass out." D'Amico pauses to smile. "And I go, 'I think I got something here.'"
THE TOUR
What's the itinerary like? "I go to Viper Room," D'Amico says, "I take people to the Rainbow…the Whisky. I actually show them where a lot of the other clubs were. I take them into the hidden spots. Where people lived." He also includes hotels. "It's not just a ground floor thing. I actually take people to rooftops."
D'Amico saves the best for last. "There's a secret spot at the end…that's rock n roll legendary. Really. Unless you're really deep into rock you wouldn't know about it…and when I take people there it blows their mind." "A lot of times there's some rock and rollers in there so it's very cool."
Jaded Angelenos might not care but out-of-towners consider celebrity sightings a huge win. Julia Roberts was spotted once, the Foo Fighters another time, and "about two months ago," Billy Bob Thornton. "He's a really nice man and my tour got to talk to [him]. And I'm just like, 'Yeah, this is how this town is.'"
D'Amico does one tour every day, sometimes as many as three. "95% of my business is actually the walking business," says D'Amico. The other 5% is jogging tours through Beverly Hills.
I "really enjoy walking and jogging and kinda being healthy. I think that's what my tour offers. You're seeing a lot of stuff but you're also walking. You're actually getting some steps in. You're not stuck in a van."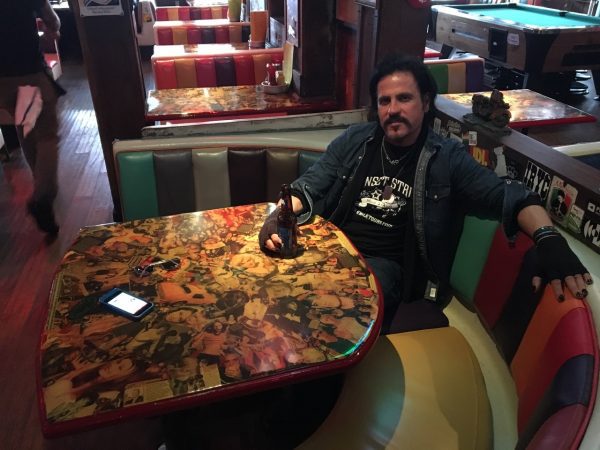 AND HISTORY, TOO
D'Amico's as passionate about WeHo's past as he is about rock music. "One of the things I talk about [is] not just what happened here but the whys. Why in this area, of all areas, did rock and roll blossom? Why do people on the margins come to this area?"
Traveling back in time, as D'Amico tells it, "You have Hollywood on one side and Beverly Hills on the other. It's kind of a no man's land called Sherman, which was basically a train town that wasn't under the auspices of the Los Angeles Police Dept. This was all sheriff area. It was all county area until '84 when we became a city. The Creative City."
"I give you a full history of where the Strip started to now. And where it's even going." He pauses. "This is a big controversy in our city. Things are changing so much. I want to keep the history here." Perhaps this is his mission as much as preaching rock's gospel.
"You come on my tour as a tourist, you leave as a local."
UNIQUE SUBJECTS
"I talk about Lemmy on the tour," D'Amico says, "because he had such a big influence on West Hollywood." Just as I'm about to ask who he means, he adds, "From Motorhead." "I also talk about Cheech and Chong's Up In Smoke…it was filmed at the Roxy.
These are just little tidbits I'm giving you."
How about gangster lore? "Before it was Viper Room it was called the Melody Room and it was run by Bugsy Siegel and Mickey Cohen, who had a jazz club there. It's changed hands many times."
AND THE CUSTOMERS ARE…
Who signs up for a Rock 'N Walk tour anyway? "All kinds of people," says D'Amico. "One of the things I find fascinating is that I get a lot of people from around the world," which could be a result of the partnerships he's inked with European and Japanese travel agents.
Tours can be tailor-made based upon customers' interests. "I had a guy. He said, 'Look, I'm into hair bands. I don't wanna hear about grunge. They destroyed the hair band.' And I go, 'It kinda did.'" And not a tale of grunge lore was neither shown nor uttered.
CHALLENGES
One of the biggest challenges for D'Amico in starting his tour business was figuring out the "flow." Like writing a song or a story, an entertaining tour needs "a good starting point, a great ending point," as well as a good middle to "make it fun in between and kind of keeping it going."
"I've written songs," he says, "but nothing like this…two-and-a-half, three-hour animal." Still, he landed on it. "It all of a sudden hit. It works because it flows. You get rock history. You get some movie star history. You get gangster history. You see some rooftops. You see the city."
RECOGNITION AND THE FUTURE
Rock 'N Walk Tours was awarded a Creative Business Awardfrom the West Hollywood Chamber of Commerce last November. D'Amico says he "was surprised to be nominated" and "to win the innovative sustainability award." It makes sense he won. His tours are all on foot. "It's basically having an innovative idea," D'Amico adds, "and basically not ruining the environment." He jokes that his business doesn't leave a (carbon) footprint, "but actually I'm leaving footprints with my tour."
As for the future, D'Amico is as effervescent and positive as he has been throughout our chat. "Keep walking," he said. "Keep walking and walking."
It's easy to book a tour. Just go to rocknwalktours.com. Each tour takes up to ten people unless it's a private tour. "And most of the time," D'Amico says, "it's less than that, which means it's…almost like a private tour." Day tours are $35 per person while the popular night tours are $45. Why the difference? "I have a little more access to places [at night] than during the day just because places are open."