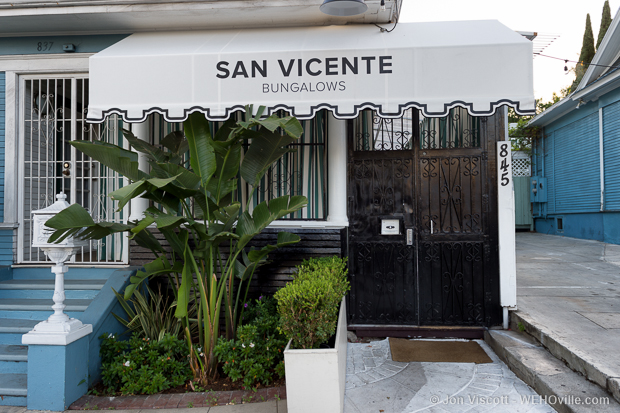 What happens at the San Vicente Bungalows doesn't necessarily stay at the San Vicente Bungalows.
On its Page Six gossip site, the New York Post reports that the management of new club, the most exclusive in West Hollywood and perhaps all of California, is on the hunt for someone who leaked the fact that Steven Spielberg and Netflix's Ted Sarandos had dinner there together in an apparent effort to reconcile after Spielberg allegedly argued against considering streaming films not shown in theatres for Academy Award nominations.   
The San Vicente Bungalows at 845 N. San Vicente Blvd is a project of Jeff Klein, best known as the owner of the Sunset Tower hotel, an historic property whose restaurant is popular among the powerful and famous. Klein created the Bungalows as part of his restoration of the San Vicente Inn, once a seedy clothing-optional motel known as the "sin bin" for housing meth users.  His intent was to provide a very, very private venue for celebrities in a city whose sidewalks sometimes are jammed by paparazzi.
As Page Six notes, the San Vicente Bungalows "deeply prizes privacy, with strict rules about cellphones, looky-loos and members of the media. Upon entry, stickers are even placed over phone cameras. At CAA's recent Oscars party, the club put up high walls of greenery outside to conceal any A-list revelers, including Lady Gaga and Bradley Cooper."
Management is "… on the hunt for the loose-lipped leaker with plans to discreetly expel them post-haste. Even if a pal of a member talks, the member gets tossed, we hear."
The San Vicente Bungalows is the most exclusive of the existing and planned private clubs in and around West Hollywood. Not just anyone can apply for membership. There is an exclusive committee that reaches out to prospective members and offers them the chance to apply.
The SoHo House, which opened 11 years ago and occupies the top two floors of the Luckman Plaza building at 9200 Sunset Blvd., accepts membership applications from anyone, but only actually accepts those who meet its creative standards (and can afford its annual fees.) The Arts Club, a  project that recently survived a campaign against it by United Here Local 11, the restaurant and hotel workers union, will be open only to select members of the arts community.  Both are offshoots of London-based clubs.  Then there's AllBright West Hollywood, a private membership club exclusively for working women that plans to open at 8474 Melrose Place early this summer.  While it's not literally with the city's boundaries, it is trading off its name.  And coming soon at 8550 Santa Monica Blvd. will be the Wing, a woman's co-working space that bars any access by men.
Annual fees at AllBright will be $2,100 ($1,100 for women 29 and under), with a $300 initiation fee. Membership at the San Vicente Bungalows costs $4,200 a year, or $1,800 for those 35 and under. The initiation fee will be $1,800 (only $500 for those 40 and under). The SoHo House is said to charge $2,000 annually, or $2,800 for access to all of its clubs around the world. It's not clear what the Arts Club will charge, but in London a membership in the club for artists and writers and other creatives is the equivalent of $2,558 in U.S. dollars, as is the initiation fee.  It is not clear what a membership at the Wing will cost.  Its New York City location is under investigation by that city's Human Rights Commission for violation the city's Human Rights Law, which forbids such businesses from discriminating against customers because of their gender.