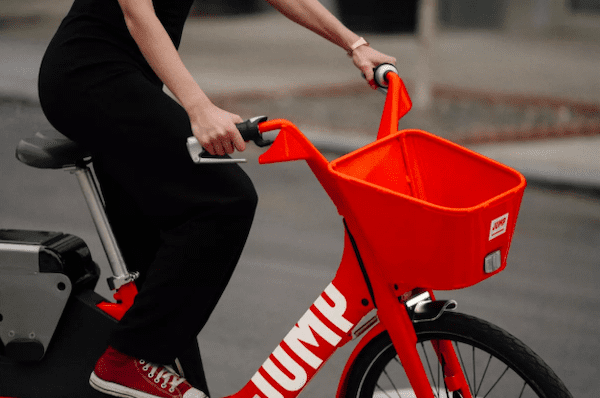 A divided West Hollywood City Council voted Monday night to implement an 18-month test of dockless electric bikes to replace the money-losing WeHo Pedals program that launched in August 2016. It also rejected a recommendation by the city's Transportation Commission to include dockless electric scooters in the test.
Unlike similar dockless electric bike programs adopted by other cities, the one authorized by the City Council includes restrictions to make it harder for a person completing a ride to simply walk away from the bike. The rider would have to return the bike to a docking station, lock it to a bike rack or leave it on private property with the approval of the property owner.
The City Council also asked city staffers to prepare a proposal for a future meeting that would ban the riding of electric bikes on city sidewalks and that would allow the city to subsidize the purchase of bicycles by its residents.
To take a ride on a dockless bike, a user has to create an account through the provider's app. The rider then can locate a bike or scooter, ride it, and then pay for the ride when it's over. To unlock the device, a user typically has to enter a pin number or scan a QR code on the bike. Users are prompted by the app to park the bike out of the pedestrian right-of-way within a zone shown in the app.
The dockless electric bike system would be operated by a private company at no cost to the city. The current WeHo Pedals program is operated by CycleHop and is subsidized by the city.  A January 2018 report from City Hall said that over 12 months WeHo Pedals had cost the city $344,750 and generated revenue of only $133,771. That revenue shortfall was what prompted Council members John D'Amico and Lauren Meister to propose ending the WeHo Pedals program and testing the privately operated bike share concept.  The city's contract with CycleHop expires in August.
The 18-month electric bike test was opposed by Meister and Councilmember John Duran for very different reasons.
"I think this legislation is premature," Meister said, citing the lack of sufficient designated bike lanes in the city. "We need to have infrastructure in place before we do anything … "
Meister noted that cyclists currently are allowed to ride on sidewalks in areas where there are no bike lanes on the street, which she said was a problem for pedestrians that would be worse with the presence of electric bikes, which presumably would move faster. "Until we have our infrastructure in place, I can't support this."
Duran supported the electric bicycle test but said he also wanted the city to add dockless electric scooters to the test program. He also argued that requiring the riders of so-called dockless bikes to find a place to lock them up, possibly not close to their destination, ignored the first and last mile issues that such programs were intended to resolve. The first mile/last mile issue is seen as a problem that keeps people from using environmentally efficient mass transit rather than their own cars, which they can park at their final destinations.
Councilmember John Heilman said he wasn't concerned about the first mile/last mile issue. "If you have to walk a couple of blocks to get a bike, what's wrong with walking a couple of blocks to leave a bike?" he asked.
Heilman also spoke out against testing the dockless electric scooters, citing problems they were said to have caused before the city banned them. That ban doesn't prevent users from riding the scooters into the city after renting them outside the city limits, but they cannot rent them while in West Hollywood. It is still legal for residents to ride scooters that they own themselves.
Councilmember Lindsey Horvath said she was willing to see what recommendations city staffers might bring forward regarding electric scooters but wasn't willing to support adding them to the test program.
Genevieve Morrill, CEO of the West Hollywood Chamber of Commerce, recommended that the Council include electric scooters in the test program. Morrill acknowledged the problems with the launch of electric scooters last year that led the city to ban them. "Are scooters being left in the middle of the road or toppled over in your garden a hassle?" she asked. "Yes… But are we going to stop progress on a new industry that is not only here to stay but actually represents the solution, or at least a big part of a larger solution for mobility in Los Angeles and getting cars off the road."
Morrill noted that it will take time for the new electric scooter industry to solve its problems. "It always takes time for change," she said. "But what is the message that we send to the world as the most progressive city that is closed to progression? To new economies, new industries, and pesky annoying new business models? It takes time. We are so far behind as the creative city – maybe instead of saying 'no' we step up and say 'yes'."
Manny Rodriguez, a West Hollywood resident who has spoken out against electric scooters, was one of the residents who opposed the bike program and the inclusion of electric scooters, saying he was baffled that the Council would even consider authorizing what he called "mini motorcycles."
Representatives of Lime and Bird, both electric scooter companies that now also are in the electric bike business, spoke up in support of the proposed test, as did Sean Landholt, operations manager for Jump, a dockless electric bike company that is owned by Uber and has been approved for operation in Santa Monica and Los Angeles.