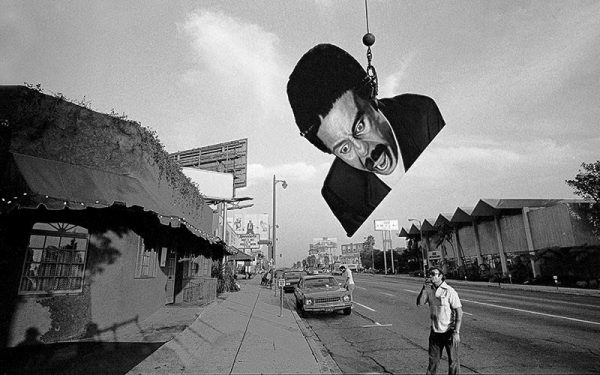 History should be fun. West Hollywood's past is all about rail yards, progressive politics, protests, architecture, design and the movies, all of which have their place, but every so often, it's good to give those topics a rest. This collection of photos takes a look at (mostly) lighter moments in the Sunset Strip's history.
Readers may have seen some of these previously, but hopefully they'll see others for the first time. Don't expect to find any showing rock and roll groups partying on the Sunset Strip or trashing their hotels. Entire books have been published about those days, so we'll give that topic a break too.

Twisting the Night Away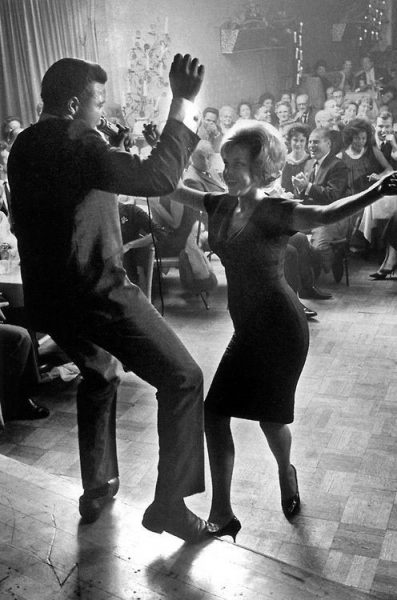 One member of the audience had more fun than anyone else by dancing with Chubby Checker, originator of 'The Twist', at the Crescendo Nightclub one special night in 1961. What we wouldn't give to have been there.
High as a Kite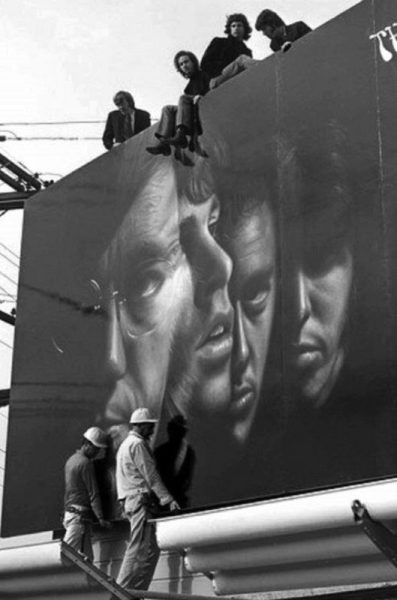 The Doors easily could have walked to this photo shoot from their offices and motel hangouts on Santa Monica Boulevard. The group, formed in 1965 in Los Angeles, based its operations on Santa Monica at La Cienega Boulevard. It probably didn't hurt that all the modern conveniences were nearby, including a couple of affordable motels with other rock groups as guests, along with bars, restaurants and strip clubs.  

Just Another Day in the Life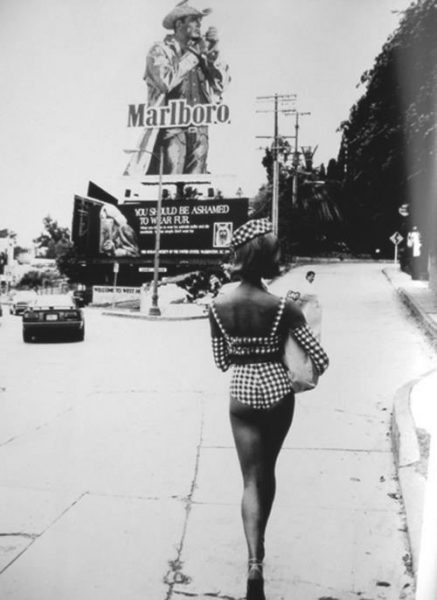 The only information available about this photo is that it was taken in the 1980s on the Sunset Strip and that it shows a scantily clad woman carrying a grocery bag walking west toward the 70-foot Marlboro Man. We probably could have figured that much out by ourselves, of course.
The Hypnotic Miss Mircea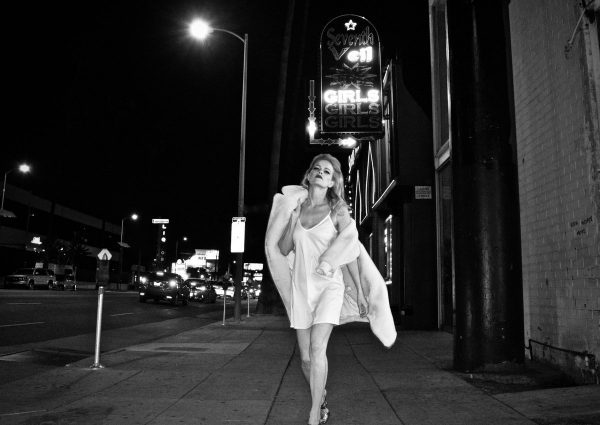 Photographer Matt Oswalt spotted actress Mircea Monroe on Sunset Boulevard one night. In his words: "I decided to do a tragic 80's hair metal groupie circa Hardcore circa Vice Squad circa Boogie Nights circa Crimes of Passion-style photo shoot and needless to say Mircea killed it." We couldn't have said it better ourselves.
Monroe's IMDB profile says she is an actress and producer, known for Episodes (2011), Book Club (2018) and How I Met Your Mother (2005).

Googie Nights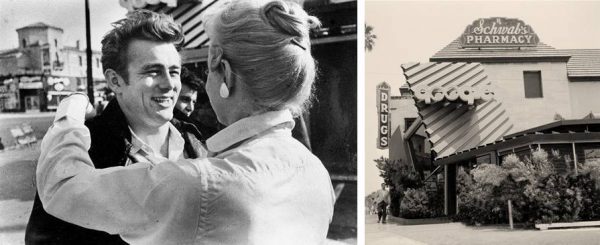 Googie's Coffee Shop and its neighboring business, Schwab's Pharmacy, were two of James Dean's most frequent haunts. Situated on Sunset at Crescent Heights Boulevard, both of these places were ground zero for writers, actors and other industry types, and,on any given day (or night) there was a very good chance you'd find Dean hanging out.
Located on the eastern border of West Hollywood, the coffee shop was designed by architect John Lautner and gave its name to the distinctive architecture subsequently featured in well-known diners like Norm's, Tiny Naylor's, and Mel's drive-ins.
Shoeshine Lady of Sunset Boulevard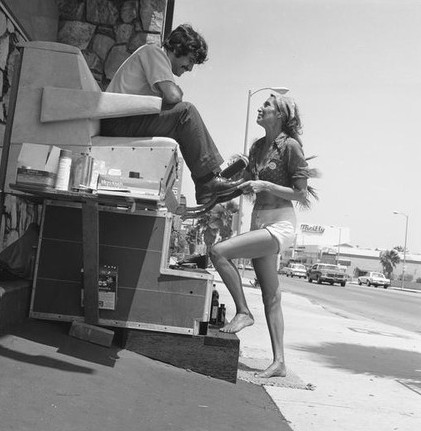 Call it "sole support" – Zahrina Machadah, known as the shoeshine lady of Sunset Boulevard, was always said to have a shine and a smile for her clients, as seen in this 1976 photo.

No LSD for Him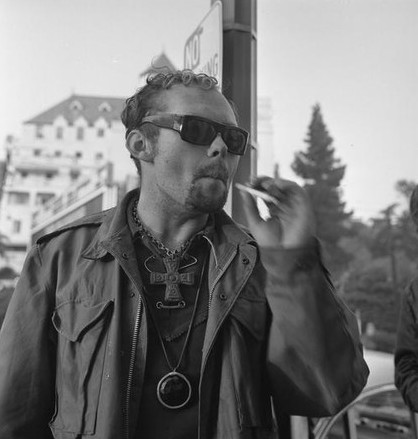 "Personally, I haven't taken acid (LSD) and I won't," says Apache, 23, a respected leader of Sunset Strip's young people in a story that accompanied this Los Angeles Times photo in 1967. He also thinks that the older generation emphasizes school too much, that "kids need to learn about the world."

Ginger Rogers & 1960 Presidential Politics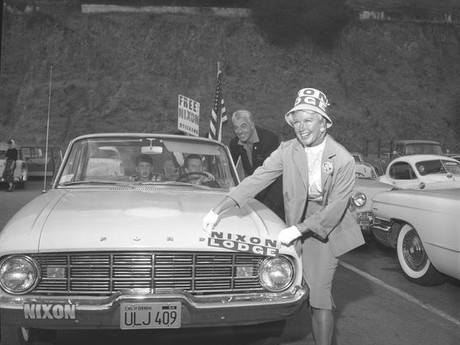 The Sunset Strip's politics have changed dramatically in just a few short decades, mirroring California as a whole. In this photo from 1960, actress Ginger Rogers puts a Nixon-Lodge sticker on an automobile, with help from actor Cesar Romero. Stars took part in a drive for the GOP by servicing cars on Sunset Strip and handing out stickers and buttons. Readers who knew that Henry Cabot Lodge Jr. was Richard Nixon's running mate get bonus points.

Boris, Natasha, Calvin Klein & the Chateau Marmont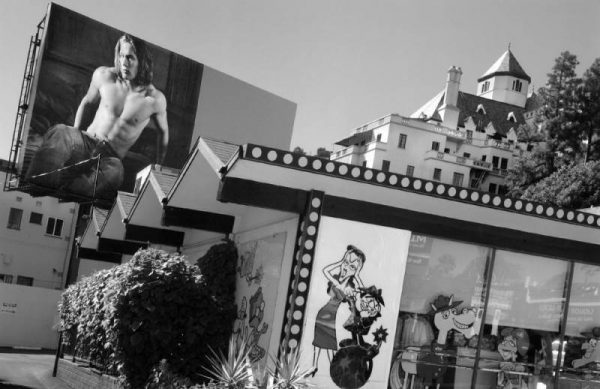 Where else but the Sunset Strip could you get this group in the same photo? Photographer Douglas McCulloh explains, "I went into Jay Ward's Dudley Do-Right Emporium with the intention of picking up a Bullwinkle refrigerator magnet. In addition to eccentric hours, they don't take credit cards. As usual, I was short on cash. I put the Bullwinkle magnet back and walked past the Calvin Klein billboard toward the Chateau Marmont on the hill above Sunset Boulevard." An exact date isn't provided, other than the early 2000s.

Support Your Local Sheriff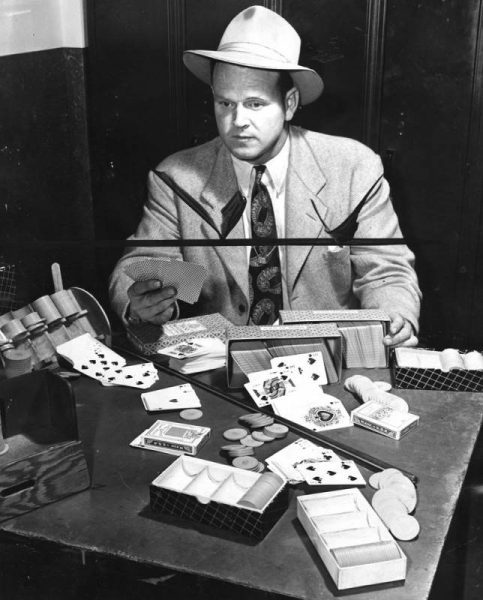 Raids staged by the Los Angeles County vice squad seemed not to have put much of a dent in organized crime's gambling operations along the Sunset Strip in the 1930s and 1940s, if this photo is any indication. The seized property amounts to very little, given that the Sunset Strip was the Las Vegas or Monte Carlo of its day. Historian Jon Ponder estimates the annual combined revenues from Bugsy Siegle's clubs on the Strip "would have been as much as $25 million – nearly $450 million today – and every penny of it was illegal."
Looking Pretty for the Police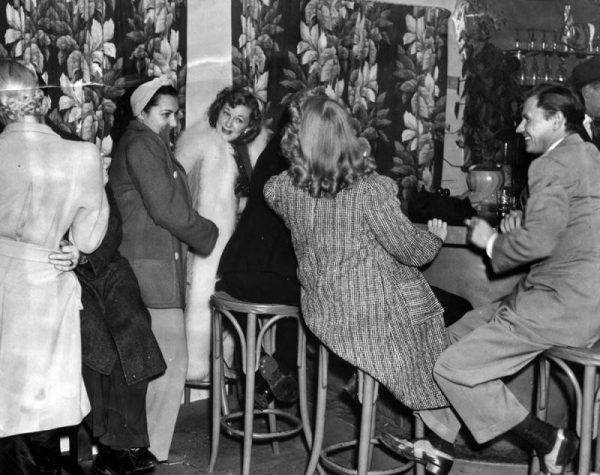 Patrons of the Cafe Society, located at 8804 Sunset Boulevard, live it up prior to a raid by the Sheriff's Department Vice Squad at 4 a.m. Sept. 27, 1941. It was one of three swanky nightclubs raided that night, or morning. "The patrons were annoyed but none of them were arrested," the Herald Examiner newspaper reported.

The Party's Over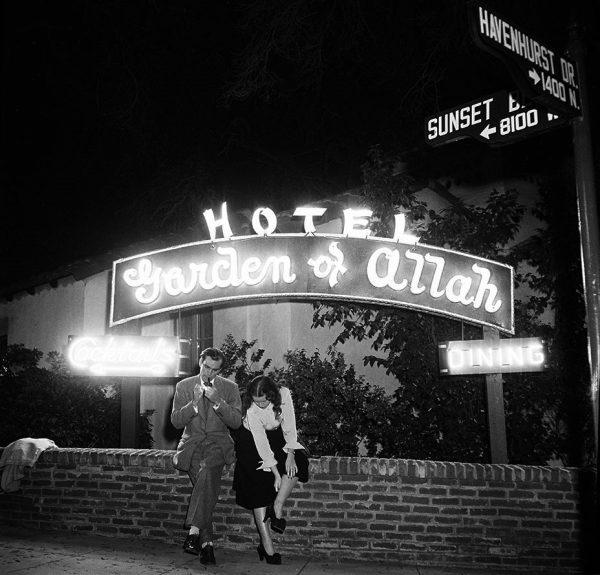 For decades, the Garden of Allah was not so much a hotel as one very long house party — one where every vice was allowed to flower. This couple, though, may not have enjoyed themselves this particular evening – they still have their clothes on.