U.S. Rep. Adam Schiff is nudging the L.A. County Metropolitan Transportation Authority to clarify what it's doing to speed up the extension of Metro's Crenshaw Line, which could become the most highly traveled light rail line in the country.
In a letter to Phillip Washington, Metro's CEO, Schiff called out the fact that the City of West Hollywood is the only one in Los Angeles County to formally engage Metro to accelerate the project, which is being funded partly by proceeds from a half-cent sales tax increase authorized by voters in November 2016. Schiff noted that West Hollywood "has already approved $600,000 of city funds to begin the funding and financing study."
In his letter, Schiff referred to an earlier letter from Washington to City Councilmember Lindsey Horvath that stated steps Metro was going to take to advance the Crenshaw Northern extension as a "shovel ready" project. Schiff asked that Metro provide his office with an update on its work to accelerate construction of the Crenshaw extension and a timeline for completing the steps authorizing by its board in September.
An initial schedule called for beginning construction of the Crenshaw extension in 2041. The City of West Hollywood has been working with Metro to accelerate the project from a scheduled opening in 2047 to as early as 2028.
At a media conference today, Metro officials said that extending the Crenshaw/LAX line  north to Hollywood would attract from 75,000 to 90,000 daily passengers, depending on the actual route.  That would make it one of the most heavily traveled light rail lines in the country.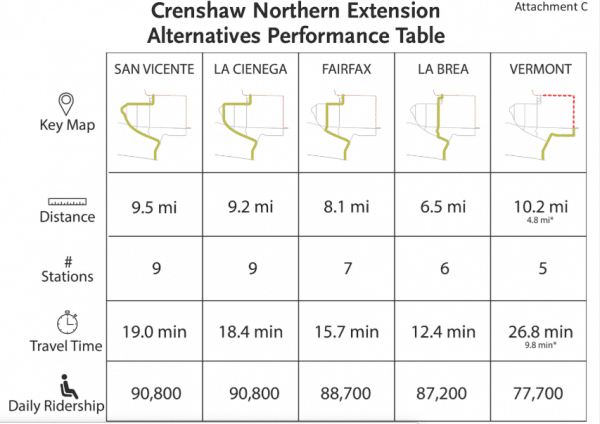 To date, the City of West Hollywood has authorized spending a little more than $2 million to lobby for accelerating the extension and to study the cost of it and how it will be paid for. While Measure M authorized a one-half cent increase in the county sales tax to fund Metro's overall growth plans, the agency decided it had to set priorities for the many projects. Its "early project delivery strategy" uses certain criteria to assign points to projects and rank their priority.
One of the criteria for ranking projects is whether a local jurisdiction is willing to allocate at least 10% more than the required 3% contribution to the local project. The mandatory 3% contribution would cost West Hollywood between $44 million and $66 million, depending on which route Metro finally chooses. An additional contribution of between 10% and 25% could cost West Hollywood between $70 million and $550 million.
Four of the five options for the Crenshaw extension involve West Hollywood. Those options include routing the extension along San Vicente Boulevard, along La Cienega Boulevard, along Fairfax Avenue and along La Brea Avenue and a route up Vermont Avenue that doesn't cross West Hollywood. The routes that look likely to provide the most benefit to WeHo are the San Vicente Route and the La Cienega Route. Each of those would take Metro trains through dense areas of the city. Metro's board is expected to choose an option early next year.
Metro is holding four community meetings from March 21 and March 28 to share more information with local residents about the project.  The times and locations of those meetings can be found here.