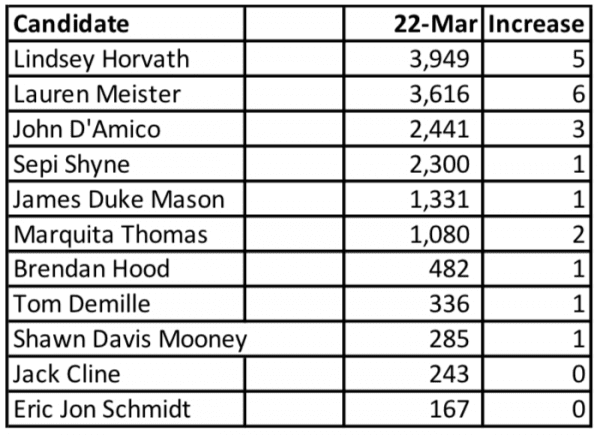 The final tally of votes in the March 5 West Hollywood City Council election has resulted no change in the ranking of the 11 candidates, with the three incumbents still listed as winners.
The final tally, released on Friday, added 21 votes to the entire list candidates.  Six of those went to Lauren Meister, who came in second with a new total of 3,616 votes.  Lindsey Horvath continued to rank No. 1 with an additional five votes boosting her total to 3,949.  John D'Amico remained in third place, with three additional votes moving his total to 2,441.
Sepi Shyne gained one additional vote for a new total of 2,300 and James Duke Mason also tallied one additional vote for a total of 1,331.
Marquita Thomas gained two new votes for a total of 1,080. Brendan Hood's total grew to 482  with one new vote.  Tom Demille got one new vote for a total of 336 and Shawn Davis Mooney's total grew to 285 with one new vote.
Jack Cline and Eric Jon Schmidt remained at 243 and 167 votes respectively, with no new ones added in this last county.
The new count made no substantive differences in the vote on Measure B, which supported the City Council's approval of the Arts Club project on Sunset Boulevard at Hillcrest with a total of 3,546 "yes" votes and 2,337 "no" votes. Measure Y, which authorizes the city to levy a 7.5% sales tax on recreational cannabis, remained a winner with 4,541 "yes" votes and 1,410 "no" votes.