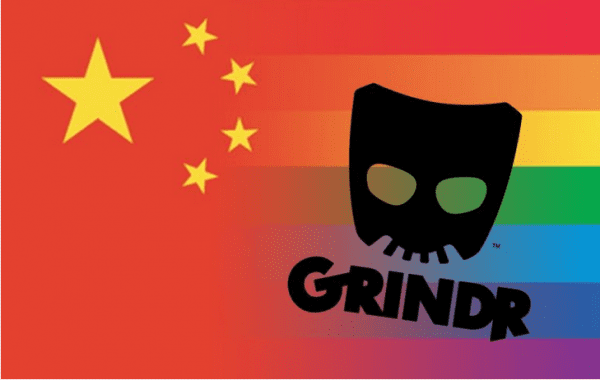 Grindr is for sale, again.
Reuters, the international news wire, reports that the popular gay hookup site, headquartered in West Hollywood, will be on the market after a U.S. national security panel expressed concerns that it is owned by a Chinese company.
Beijing Kunlun Tech Co. Ltd acquired Grindr in two separate buys in 2016 and 2018 from Joel Simkhai, its co-founder. Grindr reports that in 2017 it had 27 million users around the world. It describes itself as a "social networking" site, although it is almost exclusively used by gay men looking for other men for sex. It has come under criticism for failing to properly secure access to personal information submitted by its users. That information can include a person's location, putting him at risk in countries where homosexual behavior is illegal.  It also can include someone's HIV status, if the user chooses to disclose that in his profile.
According to Reuters' sources, the Committee on Foreign Investment in the United States (CFIUS) has informed Kunlun that its ownership of Grindr constitutes a national security risk.
"CFIUS' specific concerns and whether any attempt was made to mitigate them could not be learned," Reuters reports. "The United States has been increasingly scrutinizing app developers over the safety of personal data they handle, especially if some of it involves U.S. military or intelligence personnel."
Reuters reports that Grindr has hired Cowen Inc., an investment bank, to conduct the sale and has reached out to Grindr's competitors as possible buyers.  Its largest competitor is likely Scruff, a similar app headquartered in New York City.
According to  Reuters, CFIUS has forced the sale of other U.S. companies with Chinese owners if it determined that the acquisitions posed a security risk.  Foreign acquirers of U.S. companies are expected to seek an assessment from CFIUS, which Reuters' sources say Grindr didn't do.
Grindr came under attack in April of last year when Buzzfeed revealed that Grindr it had been making available to outside contractors information such as the HIV status of its users. That information also included email and telephone numbers, ethnicity, sexuality and relationship status, as well as GPS data, which can used to trace a user's location. The contractors were Apptimize and Localytics, companies that work to optimize the performance of apps such as Grindr.  Grindr responded by saying it was taking steps to protect that data.
In the column in the Washington Post last year that was headlined "Can the Chinese government now get access to your Grindr profile?" Josh Rogin said that Kunlun's acquisition  of Grindr "set off alarms among officials and experts that track Chinese intelligence and foreign influence operations in the United States. The Chinese government is sweeping up massive amounts of data on not only its own citizens, but also Americans and others, as part of a unique and well-planned effort to build files on foreigners for intelligence purposes."
In his column, Rogin noted that the Chinese government has a history of hacking sites either directly or through Chinese companies to obtain sensitive data.
Grindr has been used by authoritarian governments in countries such as Egypt to track down and arrest gay men. Ars Technica, the technology website, has reported that "Grindr developers modified the app to disable location tracking in Russia, Egypt, Saudi Arabia, Nigeria, Liberia, Sudan, Zimbabwe, and any other place with anti-gay laws." However, Ars Technica said that there remain other weaknesses with the app that potentially can put its users in danger.