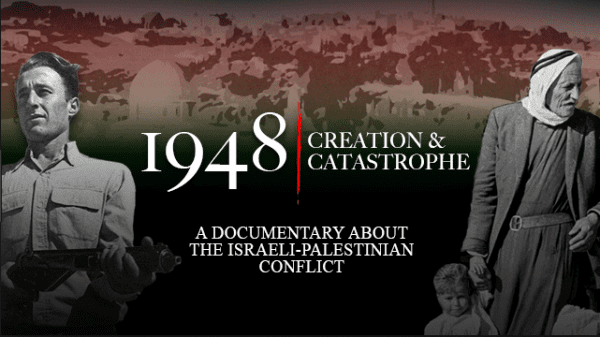 The ever-evolving Israeli-Palestinian conflict was center stage at the West Hollywood City Council meeting on Monday night during a debate over a measure that would have effectively halted the screening of a documentary
about the Israeli occupation of Palestine.
That documentary, "1948: Creation & Catastrophe," is scheduled to be screened in the City Council Chambers on April 16 as part of the city's Human Rights Speakers Series. It had been delayed from a screening scheduled for Dec. 12 when Council members Lauren Meister and Lindsey Horvath questioned the film after it was criticized by Rabbi Denise Eger of Congregation Kol Ami and other members of the city's Jewish community. Horvath said that by showing it the city would "give license to people who advocate for eliminating Israel, we are creating an environment where people feel unsafe."
The rescheduling of the film led to pressure from the Council members to put on Monday night's agenda an item that would have given the Council more oversight of such arts and cultural series. The item also sought the Council's direction on what to do about currently scheduled events, essentially permitting another hold on the screening of "1948."
Fifty-three people signed up to speak before the Council about the "1948" screening and nearly 300 sent email messages or letters to the Council expressing their opinion about the film. All but ten of those messages opposed the screening. Most of the messages opposing the screening were worded the same and emailed from people across the country, indicating an organized campaign to sway the City Council. The standardized messages claimed that Jewish Voice for Peace, a leftist organization that has supported the film and seeks an end to the Israeli occupation of the West Bank and the Gaza Strip, "overtly calls for Israel's destruction." That claim has not been documented.
Those opposing the screening included John Erickson, a member of the city's Planning Commission and head of the National Organization for Women's Los Angeles chapter. "Why are we programming a film that would offend the Jewish community?" he asked. He likened the screening to the city showing anti-abortion or anti-LGBT films.
Other Jewish speakers framed their opposition to the film around LGBT issues, with several noting that Israel is the only nation in the Middle East that supports LGBT rights. (However, while Israel is regarded as the most progressive nation when it comes to LGBT rights, homosexuality also is legal in Jordan, Bahrain, and Iraq.) Daniel Blatt, a West Hollywood resident, said the film misrepresents history and questioned whether the city would screen a film that misrepresented the Stonewall Rebellion or issues around gay conversion therapy.
Among those speaking in support of the documentary was its co-producer, Ahlam Muhtaseb, a professor of media studies at California State University, San Bernardino, who has done fieldwork in Palestinian refugee camps in the Lebanon, Syria, and Palestine. She and the film's other producer, Andy Trimlett, were to have participated in a panel discussion after the Dec. 12 screening.
Muhtaseb told the Council she has worked on the documentary for over 10 years, interviewing a wide variety of people involved in the creation of Israel and its settlements in Palestine, including Israeli soldiers. Muhtaseb said she was opposed to anti-Semitism and described the effort to ban screening of the film as anti-Semitism.
Hussain Turk, a gay Muslim lawyer who lives in West Hollywood, said that by blocking the screening of "1948" the City Council would be supporting stereotypes of Muslim as anti-Semites because they criticize Israel's occupation of Palestine.
"It isn't just intellectually lazy or stupid to equivocate hatred of Jews with hatred of the injuries committed by the Jewish government, it is also morally wrong," he said.
Several Jewish speakers also supported screening the film. Karen Pomer, a former West Hollywood resident who now lives in Los Angeles, criticized speakers who called the film anti-Semitic. "The Jews are not a monolith," she said. We don't all think like these people. What I've heard them talk about is anti-Semitism, anti-Semitism, anti-Semitism. Nobody is saying anything about Islamaphobia. If you block this film you are supporting Islamaphobia."
While Councilmember Meister had raised concerns about the film in December, she spoke out in favor of the screening at Monday night's meeting, saying she had watched it over the weekend.
"I found that there was no hate speech," Meister said. "There was no anti-Semitic commentary. Did the documentary have a specific point of view? Yes. But many documentaries do. Did I feel threatened by this film? Absolutely not.
"I received a lot of letters starting with 'I'm disappointed and angry.' Well, I have to be honest, so am I," Meister said.  "I am disappointed and angry and embarrassed that with everything going on in this country that we are seeing this level of intolerance in West Hollywood. I am embarrassed that we are contemplating shying away from controversy because it's an uncomfortable topic …
"What's next, should we run upstairs to the library and start burning books that we don't like that haven't met somebody's threshold for truth? … I'm not willing to violate the oath I just took tonight to uphold the Constitution. I'm not willing to give up separation of church and state. And I'm not ready to stifle free speech …
"If you think it's okay to start banning films, then maybe you don't deserve to have the word 'progressive' on your resume."
Councilmembers John Duran and John Heilman also supported the screening, although Heilman said he was concerned that participants in a panel discussion following the screening didn't represent all points of view.
Duran described the screening as a First Amendment issue, saying people had a right to see the film and state their opinions about it. He also opposed suggestions that the screening be delayed a while longer for further review. "I don't think we need to delay anymore," he said. "I don't think we needed to delay in the first place. If you want to come and picket, you come and picket.."
Horvath, who said she hadn't seen the film, said her concern was the process that allowed it to be chosen for the Human Rights Speakers Series. That choice was made by Impact Media, a firm with which the city contracts to choose films for its series.
Horvath said the film had not been screened by other government organizations but instead had been hosted by academic institutions. "For me, it is unclear why the city would spend resources to show it," she said.
Mayor John D'Amico, who joined Horvath in the failed vote to support the measure that would have halted the screening, said he was disappointed that city staffers hadn't gotten additional input from the community before rescheduling the film.