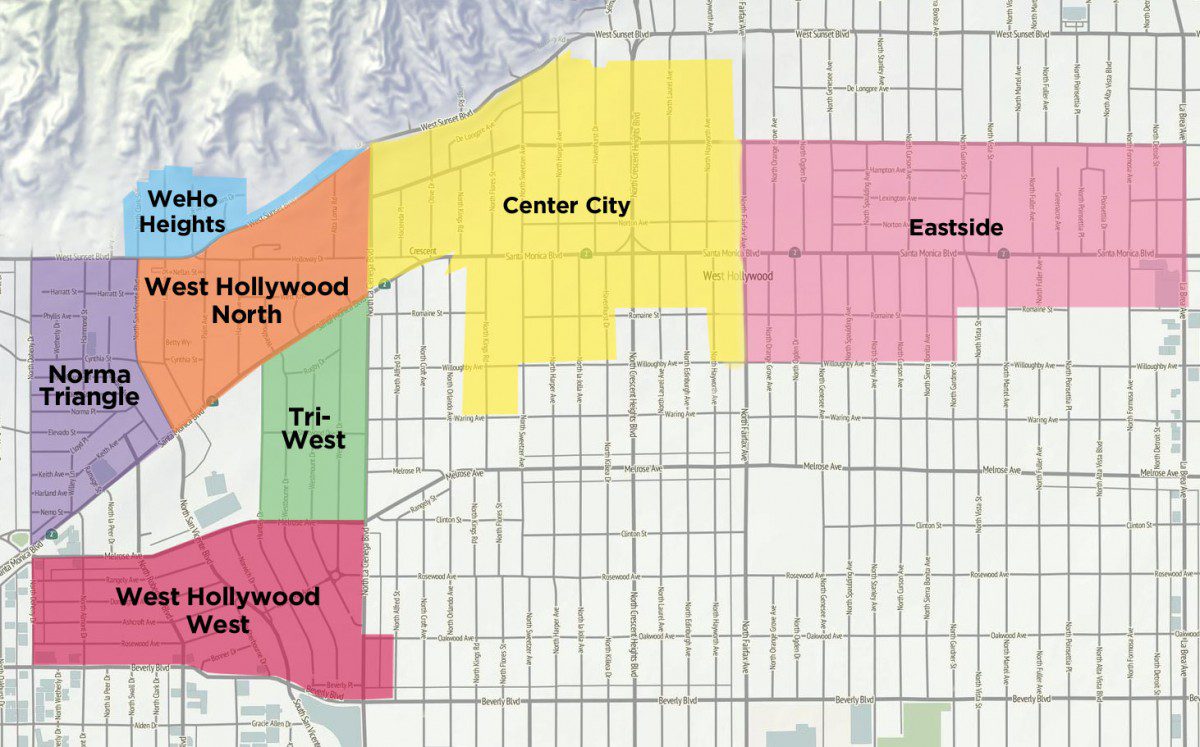 If you live in West Hollywood, odds are that you are a white gay man, living in a rental apartment. You're old enough to drink alcohol but likely have kicked the tobacco habit. 
You're pretty healthy (healthier than the average Angeleno), except for the slight likelihood that you have had to deal with sexually transmitted infections. But while you're probably physically healthy, there's a 28% chance that you may have some mental health issues.
You're probably making more money than you were 10 years ago, but if you're relatively new to town that rent may seem a bit high.  Still, in a city where the population has gone down (from 2000 too 2010) and then up again (from 2010 to 2018), you likely have more apartments to choose from given the increase in development in recent years.
Overall, you like the city you're living in.  You feel safe here (although maybe a little less safe than you felt five years ago). You feel a sense of community in this densely populated city.  But, given that it's likely you work out of town, you struggle with driving your car by yourself through that rush hour traffic.
That's a rough portrait of a typical West Hollywood resident constructed from a summary of the city's 2019 Community Survey.  (Note: We're calling it a "rough" portrait because a more detailed breakdown of the data, as yet unavailable, may show, for example, that the mental health issues are more common among the homeless – or not!)
The city has conducted such surveys in 1998, 2006 and 2013 to identify changes in the community and its needs. It is a basis for deciding how to spend the $5 million allocated this fiscal year for social services in West Hollywood.  The city hired Raimi + Associates and Fairbank, Maslin, Maullin, Metz & Associates (FM3) to  conduct a study using a variety of survey methods to ensure it reached all segments of the population. Data also comes from acknowledged sources such as the U.S. Census Bureau and state agencies.  The more detailed community survey will be made public later this year.
Meanwhile, here are a few of its findings:
POPULATION: West Hollywood Isn't Growing (and Its Russian-Speaking Community is Shrinking)
West Hollywood's population of 36,723, as calculated in 2018, represents a 2.8% increase from the population in 2000. The population took a 3.7% dip between 2000 and 2010, but then rebounded by 6.76% from 2010 to 2018.
The city has approximately 1,469 households with children under the age of 18.  Only 4% of West Hollywood's households had one or more children under the age of 18 in both 2000 and 2016.
There continue to be more men (58%) than women (42%) living in West Hollywood.
West Hollywood still is a largely white community, with the percentage of non-Hispanic white people at 74% in 2018, a slight decrease from the 78% in 2010. However, the ethnic and racial makeup of West Hollywood has changed somewhat. The percentage of people of color who identify as black or Latino has increased slightly (3% to 4% and 11% to 12%, respectively) from 2010 to 2018.  West Hollywood's Russian-speaking population, composed mostly of Jewish refugees from the former Soviet Union, had dropped from 11% in 2010 to 8% in 2016.
Forty-three percent of West Hollywood residents identify as LGBTQ. The city is a major location  for unmarried same-sex couples, with the number of them in WeHo 11 times larger than the number in Los Angeles County overall.
HOUSING: West Hollywood is Still Largely a City of Renters
Seven in ten of West Hollywood residents are renters compared to one quarter who own their homes, the summary reports. In addition, there has been a 5.1% increase in the number of housing units in West Hollywood between 2010 and 2018.
Four out of five housing units in West Hollywood are in large multi-family buildings that have at least five units. Nearly two-thirds of residents currently live in apartments (64%), while another 22% live in condominiums, and only 10% live in single-family homes.
Approximately two-thirds of the housing units are protected by the city's Rent Stabilization Ordinance.
HEALTH: We're Very Healthy (But Maybe a Little Crazy)
Life is longer in West Hollywood.  Life expectancy among WeHo residents has increased by nearly two years from 2006 to 2016 (from 83.3 to 85.1 years). In addition, West Hollywood residents are more likely to live three years longer than Los Angeles County residents. However, if you are Asian or Latino, you are more likely than your white neighbors to suffer from chronic diseases such as diabetes or coronary heart disease. (Overall rates of such diseases in West Hollywood are lower than the county average.)
There has been a dramatic decrease in cigarette smoking in West Hollywood. Twenty percent said they smoked in 2010, a number that dropped to 11% in 2015.
The study summary reports that West Hollywood "continues to have some of the highest numbers of persons living with HIV/AIDS in the County, though numbers of new HIV diagnoses have continued to drop."  It doesn't offer the actual data.  It also states that "rates of sexually transmitted diseases (i.e., syphilis, chlamydia, arid gonorrhea) are higher than the County and have increased in the last five years."
Where West Hollywood stands out (other than life expectancy) is in mental health problems.  The summary reports that "adults in West Hollywood are also more likely than those in the County to need help for mental health issues (28% compared to 17%, respectively)."
DRUGS AND DRINKING: Still a Problem for West Hollywood
Drug and alcohol use continues to be an issue in West Hollywood.  The summary states that the city "has high rates of prescription drug misuse and marijuana use compared to the County overall. The city also continues to have higher motor vehicle injuries and deaths involving alcohol than the County, even though there has been a steady decrease since 2010.
"In 2011, 2012, and 2013 drug overdoses were among the top five causes of premature death in the Hollywood/Wilshire Health District (which includes West Hollywood). Emergency department visits for drug overdoses have increased since 2010, and deaths from an unintentional drug overdose (per 100,000 population) are higher for West Hollywood than for the County (7.3 deaths per 100,000 compared to 6.6 for Los Angeles County)."
Since 2013, the mortality rate from opioid overdoses has gone down from 14 deaths per 100,000 to 4 per 100,000 in zip code 90069. During this same time period, the rate has gone up from O to 4 deaths per 100,000 in zip code 90046, and from O to 6 deaths per 100,000 in zip code 90048.
CORRECTION: An earlier version of this story erred in stating that the City of West Hollywood's population had declined between the year 2000 and the year 2018. In fact, the city saw a 2.82% population increase during that period. The story has been updated to correct the error. The story also erred in stating the number of children under the age of 18 in West Hollywood as 1,469. In fact, there are 1,469 "households" with children.