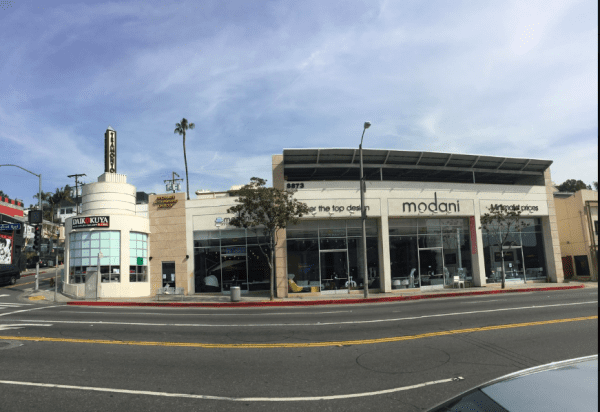 While West Hollywood's Sunset Strip may be evolving into Hotel Highway, it isn't losing its Hustler.
The Hustler Hollywood announced today that it will be celebrating the grand opening on April 20 of its new store at 8873 Sunset Blvd., just a few doors away from the site of the original store for the past 21 years.
The iconic retailer of adult erotica, which describes itself as an "upscale romance shop," is being displaced from its location at 8920 Sunset by the Arts Club, a spin-off of the private London club that is a project of Gwyneth Paltrow, among others.
"West Hollywood is our home. We could never imagine leaving such a strong, accepting and diverse community—moving to another part of town wasn't an option. We look forward to staying on the strip and being a part of WeHo for years to come," said Larry Flynt, the Hustler's founder, in an announcement of the new location, which is where the Modani furniture store was located.
Flynt, who will attend the grand opening, is famous as the publisher of Hustler magazine, the first to feature photos of female genitalia, and for his legal battles over issues involving free speech and pornography. His prosecution in Cincinnati over publication of nude photos in Hustler inspired the film "The People vs. Larry Flynt," in which Flynt played the judge in the case.
The U.S. Supreme Court's review in 1983 of issues involving a lawsuit filed against Hustler in New Hampshire became notorious because of allegations that Flynt interrupted the hearing by shouting "F-ck this court!" and saying the justices were "nothing but eight assholes and a token c-nt" (an apparent reference to Justice Sandra Day O'Connor). Flynt was arrested for contempt of court, a charge that was dismissed.
Flynt won the Supreme Court's support in " Hustler Magazine v. Falwell," a case that had been appealed to the court in 1988 after Hustler published a parody suggesting the evangelical Rev. Jerry Falwell's first sexual encounter was with his mother in an out-house. The court supported Flynt's claim that public figures cannot recover damages for such parodies.
Since the opening of Hustler Hollywood in 1998, it has expanded to 28 locations across the United States. The chain has been managed by Flynt's daughter, Theresa, with the intent of refashioning the concept of the adult store, making it bright and airy instead of dark and forbidding.
Flynt also owns Hustler Club, a chain of bars and go go clubs, and the Hustler Casino, a card room in Gardena. In addition to Hustler magazine, Flynt also publishes Barely Legal, a pornographic magazine featuring young women who have recently turned 18, and produces porn videos.
The Hustler Hollywood's original Sunset Boulevard location also was home to one of West Hollywood's two "porn star walks of fame." Hustler celebrated its opening on Dec. 3, 1998, with appearances by Flynt and porn performers Marilyn Chambers and Ron Jeremy, each of whom  left handprints and footprints in the sidewalk outside as have other adult porn stars.  Hustler announced earlier that it was moving those images to another location.