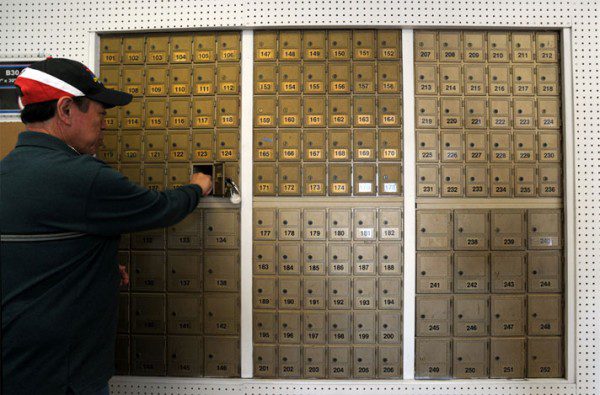 There were 16 car break-ins and an apartment building mailbox theft reported to the West Hollywood Sheriff's Station between April 8 and April 14 according to a list of serious (Part I) crimes released by the station.  What follows is a list of all Part I crimes with case number included.
Crime Mapping, a website that allows you to track both serious and not so serious crimes throughout West Hollywood, using data provided by the LA County Sheriff's Department, <a href="https://wehoville.com/crime-mapping">can be accessed here</a>
April 8
Nothing significant to report.
April 9
Other Burglary. 1200 block Olive Drive between 2:47 and 3:51 a.m. A man used force on the front door to gain entry to the lobby area and mail room of the apartment building. The suspect used a key to open a wall of resident mail boxes and removed mail. #02248
April 10
Grand Theft. 600 block North Robertson Boulevard between 1:15 and 1:55 a.m. An unknown suspect removed a purse that was hanging from the back of the victim's chair. #02262
Vehicle Burglary. 8900 block Keith Avenue between April 10 and 12. An unknown suspect smashed the rear passenger's side window and removed property from the back seat. #02326
April 11
Vehicle Burglary. 8200 block Santa Monica Boulevard between noon and 12:45 p.m. An unknown suspect smashed the rear driver's side window and removed a property from the back seat. #02308
Vehicle Burglary. 8200 block Santa Monica Boulevard between 11:30 p.m. and 1:20 a.m. An unknown suspect smashed the rear passenger's side window to gain entry but did not take anything. #02321
April 12
Strong Arm Robbery (Suspect Arrested). 7900 block Santa Monica Boulevard at 1:34 a.m. A man removed a six-pack of beer and left the store without payment. When confronted by an employee, the suspect punched the victim several times in the face and then fled the area on foot. The suspect was arrested by responding deputies. #02320
Vehicle Burglary. Croft Avenue / Melrose Avenue between 5 and 6:40 p.m. An unknown suspect smashed the rear passenger's side window and removed property from front seat. #02330
Vehicle Burglary. Melrose Avenue / Westbourne Drive between 9 and 10 p.m. An unknown suspect smashed the rear passenger's side window and removed property from the back seat. #02341
Vehicle Burglary. 9100 block Sunset Boulevard between 11:50 p.m. and 1:45 a.m. An unknown suspect smashed the rear passenger's side window and removed property from the back seat. #02345
Vehicle Burglary. Curson Avenue / Santa Monica Boulevard between 8 p.m. and 9 a.m. An unknown suspect smashed the rear passenger's side window and removed property from the rear floorboard. #02356
April 13
Residential Burglary. 1000 block Sierra Bonita Avenue between 6:40 and 7:40 p.m. An unknown suspect used an unlocked window to gain entry and ransacked the interior. The suspect removed property from the living room. #02374
Vehicle Burglary. 8500 block Melrose Avenue between 11 p.m. and 3 a.m. An unknown suspect smashed the front passenger's side window and removed property from the front seat. #02346
Vehicle Burglary. 8500 block Sunset Boulevard between 2:30 and 3:18 a.m. An unknown suspect smashed the rear passenger's side window and removed property from the back seat. #02348
Vehicle Burglary. 8400 block Sunset Boulevard between 11 and 11:59 p.m. An unknown suspect smashed the rear driver's side window and removed property from the back seat. #02385
Vehicle Burglary. 8500 block Santa Monica Boulevard between 10:30 p.m. and 3 a.m. An unknown suspect smashed the rear passenger's side window and removed property from the back seat. #02389
April 14
Vehicle Burglary. 1200 block Laurel Avenue between noon and 3 p.m. An unknown suspect smashed the rear quarter panel window and removed property from the back seat. #02405
Vehicle Burglary. 9000 block Melrose Avenue between 8:25 and 9:40 p.m. An unknown suspect smashed the rear passenger's side window and removed property from the back seat. #02413
Vehicle Burglary. Almont Drive / Melrose Avenue between 9:30 a.m. and 9:30 p.m. An unknown suspect smashed the rear quarter panel window and pushed the rear seat down but nothing was taken. #02414
Vehicle Burglary. Almont Drive / Melrose Avenue between 7:45 and 10:30 p.m. An unknown suspect smashed the rear quarter panel window and pushed the rear seat down but nothing was taken. #02433
Vehicle Burglary. 300 block Huntley Drive between 6 p.m. and 7:45 a.m. An unknown suspect ransacked the interior but did not take anything. No sign of forced entry. #02441