The Notables is a series of occasional profiles of West Hollywood residents who stand out in part because of the way they look.
Justin Jedlica floats into Miss Melbourne Coffee on Havenhurst, two Louis Vuitton bags in tow. He wears a black tank top, displaying bulging shoulder, arm and chest muscles better than an anatomy chart. Dramatically V-shaped, his broad shoulders descend into a little waist, while his lean, lanky legs are accentuated by fitted white jeans. Metal strap high-top sneakers ("they're Giuseppe," he tells me) complete the manufactured look. At 6 foot 2, the muscly yet gangly Jedlica weighs in at 164 lbs., but 22 of those pounds are implants.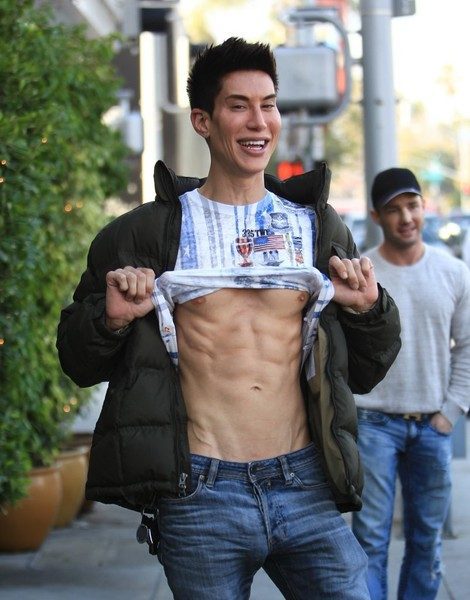 This is the Human Ken Doll. A lot of people think he's Asian, perhaps because of his high, dark brows and crescent-shaped eyes, but he's 100% Slovak. You've probably seen him on The Doctors, Dr. Drew, 20/20 and even Oprah, talking about his 25 surgeries that tally up to over $600,000. Oftentimes, he's on the same panel as vulturous TV psychologists who label him narcissistic, histrionic, body dysmorphic as they vie for screen time. He doesn't agree with any of these monikers. If anything, he feels more psychologically aligned with anorexic or bulimic pathology.
"This may be way too deep," he prefaces. "Typically, with anorexics and bulimics it has nothing to do with them wanting to be skinny. The fact that they have an eating disorder is because they lack control in their lives. So the real issue in their life is that somewhere in their life they feel like they lost control. And [food's] something that they can control."
For Jedlica, however, it was never food (yet he feels significantly blessed that he and his brothers and sisters are naturally skinny). However, a lack of control growing up was an issue — even in terms of self-identity and self-expression. If there were clothes he had wanted to buy and his brother didn't like them, his mother wouldn't buy them, as they were to be passed down to him. "So nothing was ever specifically for you," he explains. Surgery was the exact opposite, exclusively and specifically for him. After his first one — a nose job — he had expected to feel bad, having parted with the money that he worked so hard for and took him so long to accrue. But that wasn't the case.
"I left the doctor's office and felt actually really kind of euphoric. I felt really, really good about myself. It was strange because I thought that I would feel bad that I had spent that money on something that was frivolous…but I felt really good, I felt really empowered, I felt special. In my household, nothing was ever bought just for you."
The high and self-worth Jedlica experienced after his first surgery resulted in 24 more body modification operations. Though it was a form of rebellion, his family having always dictated what he should or shouldn't do, the issues of control run deeper in Jedlica's life: Ask him about the lack of control he felt growing up, and he's pretty open about it.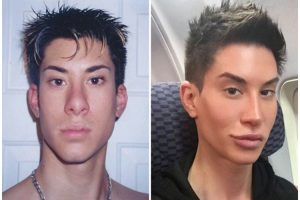 The eldest of four children, Jedlica grew up in North Carolina with a mother he would do artsy things with sometimes (the museum, shows, etc.) and a father from whom he felt emotionally removed. Though he says he was not poor, finances were tight in his family. The economic stress, according to Jedlica, caused his father to lash out violently at his wife and children. His father actually made paddles specifically for the purpose of the beatings. (Perhaps he was preparing to be stressed out.)
Though Jedlica suffered abuse himself, his main concern growing up was for his mother and her safety. At some point, Jedlica made a rule for himself: He would only call the police if his father had hit his mother with a fist, as calling the police would make his father stop. But later, when the laws were changed so the state could press charges against the abuser without the victim even wanting — "to supposedly help battered women and families who dealt with domestic violence," he explains — he had to stop calling the police. "I couldn't call the police anymore, which made it actually more hard in our house because I didn't have anybody to divert to make him stop."
Jedlica is extremely understanding to his mother. Ask him if he blames her for allowing her children to be traumatized by her husband, Jedlica defends her. "What's she going to do? No, we tried to leave, her family wouldn't help us. There's no money, where you going to go?" he says. He's even understanding of his father who, in addition to beating her, would kick his mother out of the car in the middle of the highway and leave her there. "I personally blame that a lot on our economic situation."
Believing the lack of money was the root of his familial difficulties, Jedlica became very focused on acquiring it. Wealth would bring him freedom, and keep history from repeating itself. As a teenager, Jedlica worked as a banquet server. He took classes every weekend and learned the ins and outs of fine dining, e.g., where silverware was placed, the different glassware, etc. "I was grooming myself to be a house husband," he says.
The desire for wealth was a strong catalyst for Jedlica's surgeries; to him, plastic surgery symbolized status and a way he could fake it until he made it. "All of my icons in my brain had over-stylized everything, so you knew they had surgery. So to me that was like wearing the badge — where it was saying, 'hey, like I've earned my place in society'." While many fake-it-to-you-make-it folk might sport an expensive watch or carry a luxury handbag, Jedlica's fakery took the form of obvious plastic surgery. "People see that you have plastic surgery intentionally, that you look overdone, they assume you have a lot of extra cash to spend, right? So in my brain, this was also a means to an end in order to marry well and get out of the cycle I was in with my family where it was 'just work to survive'."

Jedlica seems eager to understand his own psychology. Though he knows his body modification journey hearkens back to a need to control, which led to a desire for wealth, he seems further interested in how his head works. He has an extremely self-reflective quality, starting multiple sentences with "In my brain," for instance, and asking questions to himself while explaining his thought processes. He visually gets excited with a-ha moments that enlighten his behavior to himself.
His family, he explains, also has a similar obsession with aesthetics: His brother, after a car accident, had his nose modified numerous times — obsessively, according to Jedlica. His sister, who has a lot of tattoos, wanted to do an innovative form of body modification called corseting, and ended up having three two-inch rods inserted into her body. That's when a light went off for Jedlica.
"I was like 'oh my God, there is something aesthetically with our family that follows through'." Jedlica goes on, questioning and teaching simultaneously: "And why? I think there's a connection. And I think the connection stems from the fact that when we were all younger in the household everyone felt like we walked on eggshells." Surgery it seems then became an act of self-ownership for Jedlica: "I think [body modification] is where maybe that sense of taking back my body and re-empowering myself came from…It's so empowering to realize I can make my body what I want, no one's going to tell me what I can and can't do."
In addition to being in control of his body, modifications for Jedlica have also been a rebellious, courageous act of self-expression. Having always been picked on for his effeminacies (people would ask, "where did you learn to talk like that?"), Jedlica was going to do the exact opposite of buckle. "[Body modification] was like re-claiming yourself and saying, 'you know, if I don't fit your mold, not only am I going to say F-ck You, I'm going to flaunt it in your face times 10. I'm going to flaunt it," he says matter of factly.
Perhaps because of the "Ken" moniker ascribed to him, people assume his surgeries are a quest for perfection, when that's not it. "Contrary to what I think most people think when they watch on TV, they think that I'm trying to find some level of perfection, when in fact what you don't realize is that for me, it's about not looking like anyone else and being unmistakably me." Jedlica took a cue from the celebrities he idolized growing up — e.g., Michael Jackson, Joan Rivers, Dolly Parton — who he says were like caricatures of themselves.
Jedlica's surgeries also served another purpose: creative self expression. He is an artist. As a student, he would create sculptures so advanced that his teachers thought the work wasn't his own. It was. "I was always into sketching, sculpting, painting," he explains, which he then channeled into his body modifications.
Though he's done modifying himself for the time being, Jedlica uses his background, experience and artistry to design custom implants for his clients. Via his website, justinjedlica.com, people all around the world hire him as a body modification consultant to curate the process: He cuts down the time it takes body-mod hopefuls to visit numerous doctors, for instance, because he knows which ones are going to be good for his clients' needs, saving them time and sometimes money. He also protects his clients from doctors who may try and take advantage of those who are vulnerably self-conscious. "People go in for one thing they don't like, and the doctors sometimes tries to up-sell the client, instill doubt in their brain for other areas they need to fix. I think that's so wrong."
Though he runs interference, protecting his clients against shifty doctors, most come to Jedlica for his custom-designed implants. "I have to template them on their body," he explains, reaching into one of his Louis Vuitton bags and plopping a silicone quadricep on the table. It's one of his made designs that he shows his clients to explain the depths, textures and thicknesses of the different implants. After he makes his recommendations, designs the implants and they're created, they go through a series of rounds vetted by Jedlica before they get approved by the surgeon and finally greenlighted by the manufacturing company.
The day of surgery, Jedlica is available for his clients too — to drive them to the doctor's office and pick them up when they're done. "It's like a concierge service for custom design implants," he explains. He can also sometimes be there throughout the surgery. If the doctor is amenable, Jedlica gets dressed up in scrubs and can be in the operating room. "A lot of the doctors like it, because a lot of the clients I work with are very detail-oriented," he says. If the doctors let him, he's able to examine their work and suggest adjustments based on his clients' desired aesthetic. After the surgery, he's there to offer his clients TLC as they regain consciousness. He judges the turnout and offers support. He wishes he had had someone like him there during his surgeries. It's unlikely he will in the future — for the time being, Jedlica is done modifying himself with no surgeries planned in the future.
According to Jedlica, the story of him as "Human Ken Doll," has been played out, for the world and himself. He's still passionate about redesign, but it's home remodeling and renovation that inspires him now. He's constantly working on his four-bedroom house in West Hollywood on North Crescent Heights. He's interested in doing a reality show in the future that involves home redesign; this would give the world the opportunity to get to know Jedlica on another level, showcasing his artistry, vibrancy, and quick-wit intelligence.
After our interview, Jedlica is headed on a flight to visit his "Aussie Posse" down under. He will soon be meeting with the Prime Minister there. According to The Daily Telegraph, for the last three years, Jedlica has made appearances at the Parliament House to celebrate the federal budget. His connection to Australia's big wigs? Melbourne dentist and Liberal party donor Jayson McNaughton and partner Stephen Walden, with whom Jedlica is in a polyamorous relationship. Jedlica's appearance in the Ministerial wing of parliament has raised security concerns (and undoubtedly eyebrows) after photographs surfaced of him there, but Jason Wood, Member of Parliament, assuages such concerns: "He brings some fun an [sic] glamour to Budget night,"  Wood told The Sunday Telegraph. "I judge people by the way they treat other people and he is the nicest person to me." And Australia is nice to Jedlica. He isn't the slightest bit chagrined about leaving West Hollywood for a month's vacation. He's "so-so," about the city, liking the weather. Ask him where his favorite place to go is around town and he jokes, "my plastic surgeon's office."
But beyond jokes, Jedlica seems ready to share a deeper side of himself to the world — and even share himself with someone special again, as he regains his footing after a divorce. Ask him what his goals are, and he answers, "Something to do and someone to love," as if that's both the right thing to say and how he feels. Surprisingly, confident and vivacious Jedlica doesn't see this as a slam dunk. Justin "I'm going to flaunt it" Jedlica appears to also wonder what his future looks like in light of his notoriety.
"People I think look at you like you're a thing — a thing, not like a person," he tells me. "And I mean I know I'm responsible for having caused that, but when I started that, I was married with someone who I thought I was going to be with probably forever because we dealt with a lot of stuff — a lot of stuff — together and I really didn't think that relationship would end."
With his family and presumable life partner beside him, Jedlica didn't care about what other people thought about him. He didn't want or need anyone's approval. Though he doesn't rebuke himself for being true to himself at the time, it appears he's attempting to find a balance. "I was truthful to what my situation was at that moment, so then having to fast forward and then be like 'am I supposed to mesh a little more?'" he explains, questioning his trajectory.
Being such a standout presents perceived challenges to Jedlica. "It's hard," he says. He wonders if would-be boyfriends and husbands might think, "What is everyone else going to think if I'm dating Human Ken Doll?" since he believes people, like possible lovers' friends, have a preconceived notion of how he's going to be. But wouldn't that be the most fun thing about being the man formerly known as the Human Ken Doll? Destroying people's preconceived notions to create something new, like a surgeon breaks a nose during a rhinoplasty or one demolishes a wall for home improvement? It goes to reason that if someone can eagerly have his skin sliced open 25 times via major surgery, surely he can break down the barriers that win friends and influence people, should that be part of his next design.
Whether he decides to take the plunge into romance again, enter the world of reality TV re-personified, or both, it's certainly going to be interesting for Jedlica, West Hollywood and the world beyond. Though his face is virtually line-less and his forehead looks as smooth as ice, his hands aren't nearly as well-kept. They're big, vascular, and his nails are uneven and untrimmed. When asked if he does his nails since it mismatches the rest of him, he tells me that when he would go on shows, he'd put on a coat of lacquer. I'm taken aback that he'd put the lacquer on himself.
"Wait — you mean you'd do them yourself, you wouldn't get them done?" I ask.
"No, I grew up in a poor family!"
$600,000 in plastic surgery, but Justin Jedlica won't splurge on a mani-pedi. Now what boyfriend's crew or TV audience wouldn't just LIVE for such irony.
More than irony but certainly that, too, Jedlica has a strong message for the world. It's that no matter where you came from you, you have the ability to make your life as you want it. "There's always a way to get out of a situation," he explains. "You have the ability to change your life. You're only as limited as you allow yourself to be."