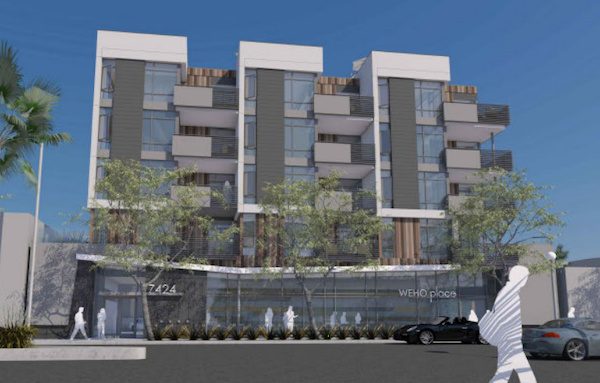 With a unanimous vote on Thursday night, West Hollywood's Planning Commission approved a new retail-residential complex on Santa Monica Boulevard near Plummer Park.
The five-story, 31-unit condominium building with 2,000 square feet of ground-floor retail space is at 7424 and 7426 Santa Monica Blvd., between Gardner and Martel. It will replace a one-story commercial building and accompanying parking lot.
The project will set aside three units for very-low-income residents and two units for moderate-income residents. With ground-level and subterranean parking, it will have 40 parking spaces for residents, plus seven spaces for the retail business.
Although the maximum height for projects in this area is 35 feet, this project, owned by 7424 WH LLC, will be 56 ½ feet tall. It got an additional 10 feet for being a mixed-use (retail-residential) project and another 11 ½ feet for having "inclusionary" income units.
Designed by Kip Dickson of the Pasadena-based Adept Architecture, the building features a chevron-style canopy over the ground floor entrances and three distinct, castellated residential towers above to break up the massing and give it a distinct contemporary style.
The Commission was impressed by the design, Commission John Erickson calling it an "architecturally pleasing" building that will fit into the neighborhood nicely. Commissioner Adam Bass said it was "the type of project we need on the eastside."
Commissioner Rogerio Carvalheiro, who called it a "thoughtful design," suggested it should be used as an example for future projects in the area to emulate, a sentiment Commissioner Sue Buckner echoed.
Concerned the project that actually gets built looks like what they just approved, the Commission added a condition that any changes to the front appearance of the building must return to the full Planning Commission for review.
During the public comment period, resident Anson Snyder, who lives a block away, spoke in favor of the project, saying it would "promote positive neighborhood interactions."
Meanwhile, Jason Wong, who owns the Fatburger restaurant two lots west, was concerned about parking and access to the alley that runs behind his building and the project, saying it had a potential to be a "traffic nightmare." The Commission instructed city staff to work on construction mitigation issues with Fatburger and other nearby businesses.