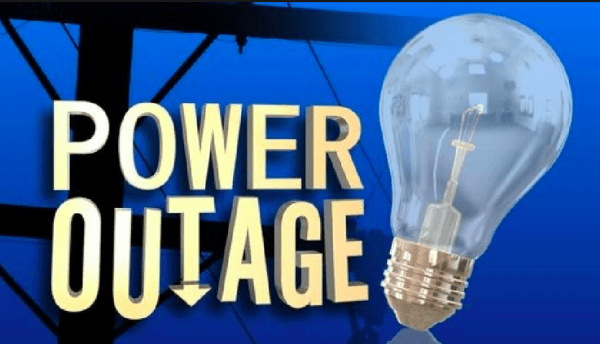 It was just after 7 a.m. this past Saturday morning when the electricity went out for thousands of West Hollywood residents, leaving them unable to cook, do the laundry, watch TV or go onto the internet.
The outage also had an effect on local businesses, with some unable to manage their cash registers or, if they were restaurants, prepare their food.  All in all about 12,000 of the more than 30,000 customers in West Hollywood were affected by the outage according to Southern California Edison.
According to SCE three circuits out of its Fairfax substation were interrupted. "SCE preliminary reports attribute the cause to failed underground equipment — a failed 200 AMP elbow and then the replacement of cable — near Santa Monica Boulevard and Hancock Avenue," said a statement from SCE using a technical reference to "ampere," which is a unit of electric current. "Most customers were restored by 8:25 a.m. Saturday (4/20) and all power was restored at 8:04 a.m. on Sunday (4/21) to the remaining approximately 300."
The outage was one of several that have occurred in West Hollywood this year, with residents and businesses in some areas affected more than others.  "WTF @SCE?! Our power has been out for 18 hours and much of West Hollywood is in the dark. This is the fifth major outage this year.  Get your sh@@ together," read a Twitter post by one local resident at 8:51 p.m. this past Saturday.
SCE is responding to a request from WEHOville for more data on outages in West Hollywood and their causes, which will take some time.  Meanwhile, SCE's 2018 Circuit Reliability Review (the latest available) gives some data about how SCE's service is working for West Hollywood.  That data covers 2017.  The 2018 report will be available in mid-May.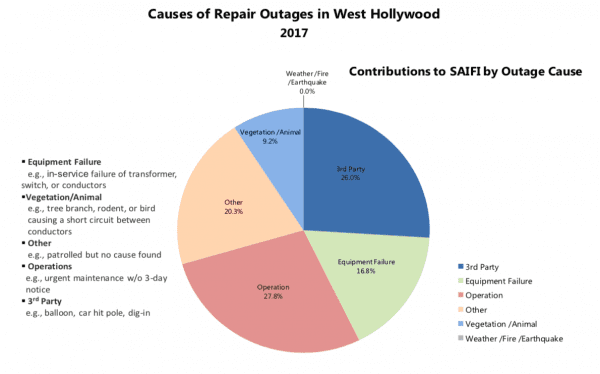 West Hollywood is served by 23 circuits and is part of SCE's Santa Monica District. SCE uses two measures of reliability of its electric circuits. The System Average Interruption Duration Index (SAIDI) measures the amount of time the average SCE customer experienced a power outage or interruption for more than five minutes (called a "sustained outage") in a given year. The System Average Interruption Frequency Index (SAIFI) is the number of times the average SCE customer experienced a sustained outage in a given year. Then there is the MAIFI measure, which is the amount of the number of times the average customer is interrupted by "momentary " (lasting 5 minutes or less) outages each year.
SCE's Santa Monica District, which includes Beverly Hills, Culver City, Franklin Canyon, Ladera Heights, Los Angeles, Marina Del Rey, Santa Monica and Universal City as well as West Hollywood, had a good 2017 ranking. Among the 35 SCE districts in Southern California, it ranked No. 33 on SAIDI index, meaning that 32 other cities had more outages of five minutes or more. It ranked No. 30 on the SAIFI index, which means that customers in 29 other cities experienced more sustained outages in 2017 than did those in West Hollywood.
In 2017, West Hollywood customers experienced an average of 70.3 minutes of sustained interruptions over the course of the year.  That compares with an average of 139.7 minutes for all of SCE's customers.