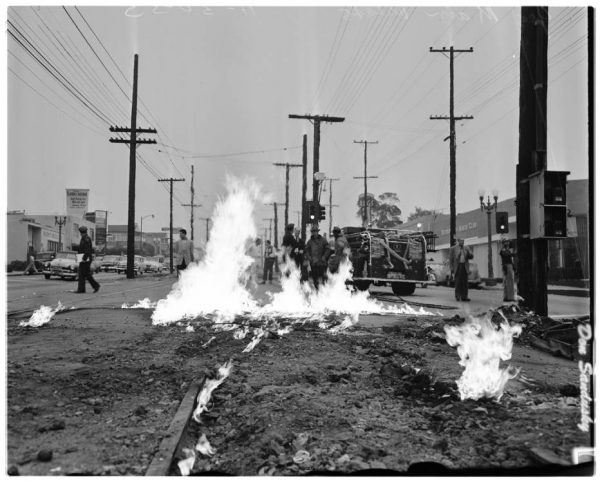 One of last week's headlines – "Latest WeHo Electrical Outage Attributed to 'Failed Underground Equipment'" – served as a reminder that West Hollywood has seen all kinds of accidents in its history. A subsequent article about the number of unplanned outages this year made us thankful that none caused any fatalities, but that hasn't always been the case.
This is a look back in photos at a wide range of mostly industrial accidents, sometimes with a death or injuries, and others that were close calls.
West Hollywood Construction Collapse Kills One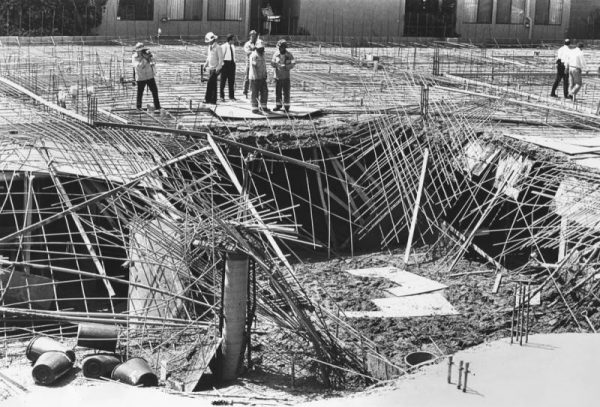 A construction worker was killed when he was buried alive under two feet of freshly poured concrete as the ground floor decking collapsed at a building under construction at 906 N. Doheny Drive on Aug. 28, 1989. The worker, identified as James Ziola, 29, had been in the building's subterranean garage checking steel posts that shore up the decking when the collapse occurred.
More than 10 tons of concrete and seven tons of metal reinforcement rained down on the underground garage. Thirteen other workers suffered leg and back injuries and were rushed by ambulance to Cedars-Sinai, Midway and UCLA medical centers.
Gas Leak Endangers Pacific Electric Streetcar Tracks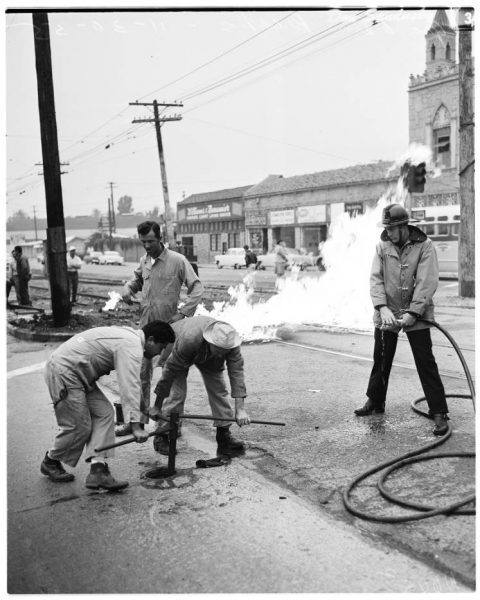 Los Angeles County firemen rush to shut off gas line valve as flames of escaping gas consume Pacific Electric streetcar tracks at 8700 Santa Monica Blvd. on Nov. 30, 1955.
Gas Leakage on Huntley Drive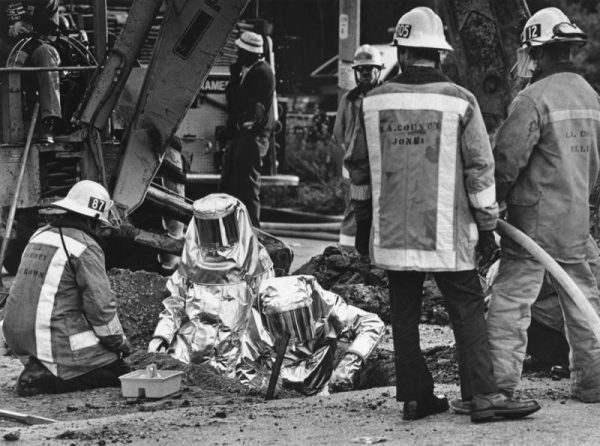 Los Angeles County fireman, forefront, stand ready with hose as fellow firemen in hazardous material garb crawl into hole to gather samples from beneath Huntley Drive in West Hollywood March 16, 1985. The nature of the leak and other specifics weren't available.
Underground Gas Explosion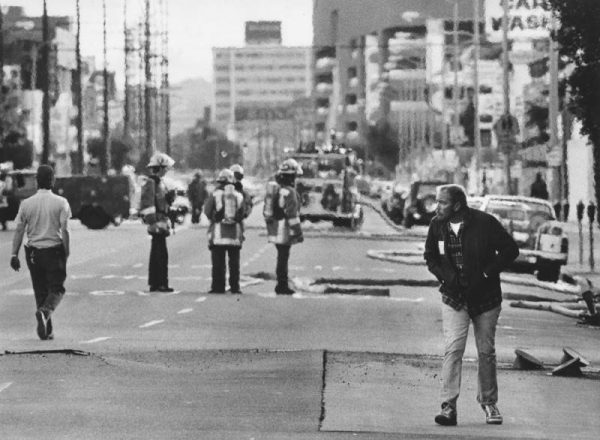 On Dec. 24, 1984, a gas company troubleshooter walks away from the site on La Cienega Boulevard, just south of Melrose, where an underground explosion buckled the pavement and forced up the capped pipes. The rippled effect is caused by the escaping gas, where L.A. County Fire units stood by for possible fire or explosion.
No Fatalities This Time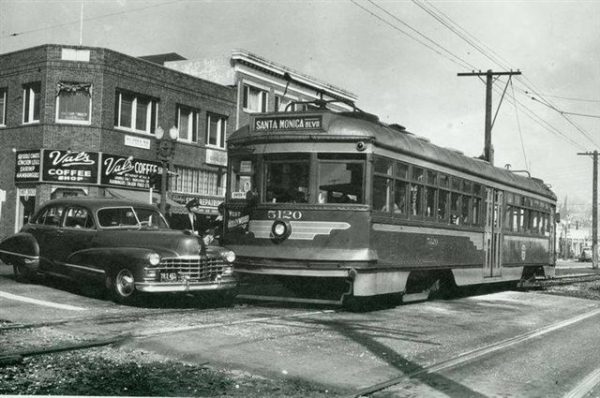 This scene was all too typical in post-World War II West Hollywood, according to the Pacific Electric Historical Society. Hollywood Car No. 5120's "right of passage" was challenged by a 1947 Cadillac Fleetwood sedan in a 1952 accident. The motorman of 5120 looked over the damage to the Cadillac and handed out "courtesy cards" to the few passengers that were still on the car so close to the end of the line, some three blocks to the west.
Both the Cadillac and the 5120 lived to fight another day in this minor accident. But as more and more grade crossing accidents plagued Pacific Electric, traffic officials looked upon the Red Cars as a scourge to the efficient movement of automobile traffic, the society states on its website.
House Moving Accidents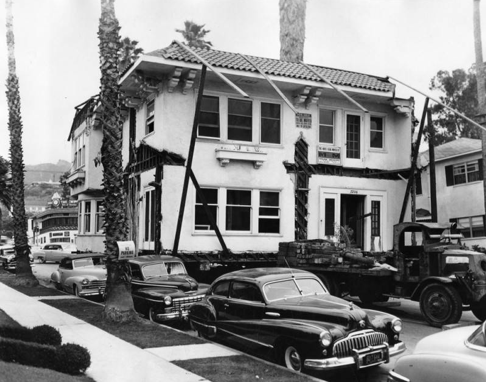 Half of this two-story house became stuck on Doheny Drive south of Sunset Boulevard in West Hollywood on July 11, 1952. "No Parking" signs were posted on trees the day before, but motorists ignored them.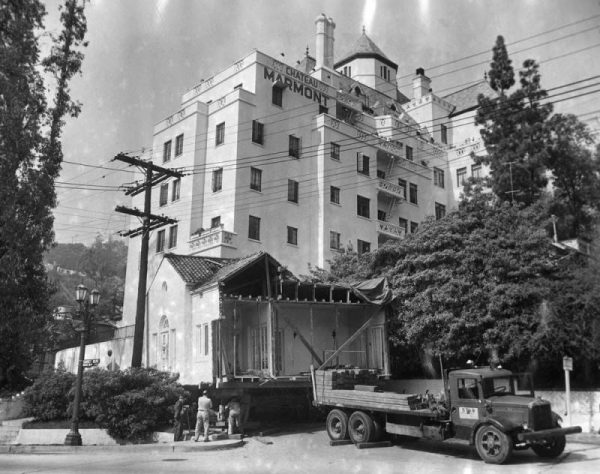 Traffic around the exclusive Chateau Marmont hotel was tied up for several hours Feb. 15, 1950, when a house being moved up Marmont Lane was snagged by an immovable telephone pole. With a great deal of difficulty, movers "rocked" the house free and traffic began flowing again
Honey the Apartment Exploded Today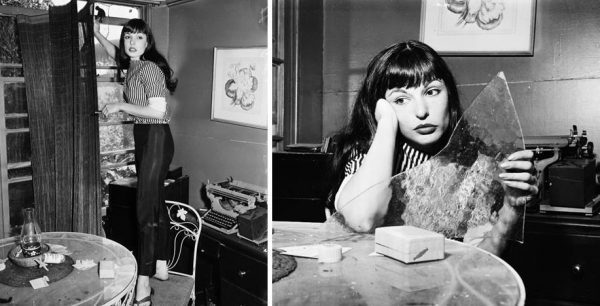 Dorothy Adamson. 28, told authorities she was eating in a nearby cafe on the Sunset Strip on June 24, 1958, when a bomb went off in her apartment at 1034 1/2 Hilldale Ave., West Hollywood. No other information is available, but we'd love to know how, exactly, she explained that to her roommate or significant other.
Of course, there's a very remote possibility that someone very selfish with a wanton disregard for wasting public services may have been looking for a little publicity. But perish the thought. Surely, there couldn't be people like that in this city.