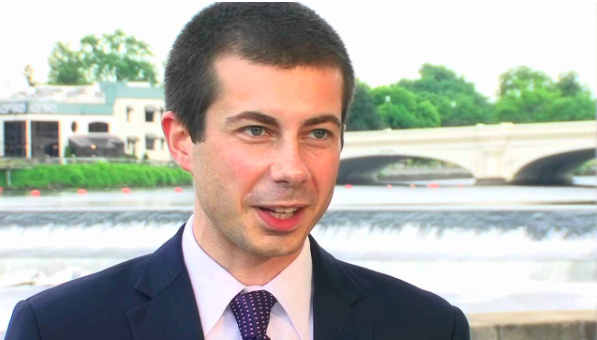 Pete Buttigieg, the gay mayor of South Bend, Ind., who has emerged as a viable contender for the Democratic Party's nomination for president, will return to West Hollywood on May 9 for a fundraiser hosted by City Councilmember Lindsey Horvath among others.

Buttigieg was in West Hollywood on March 14 for a "meet and greet" at Bar Lubitsch that, while announced at the last minute, attracted a large crowd.
Buttigieg, 37, is a magna cum laude graduate of Harvard and a Rhodes Scholar, and he's married. In 2011, at the age of 29, he was elected mayor of South Bend, a classic Midwestern city with a population of 102,000 people. He served as a lieutenant in the U.S. Navy Reserve, and took an unpaid seven months leave during his mayoral term for a deployment to Afghanistan. He and his husband, Chasten, are parents to two rescue dogs, Truman and Buddy.
Other hosts of the fundraiser are Jennifer Childress, Sam Greisman, Ira Madison III, Brandon Sharp, Brent Weinstein and Sue LaVaccare.
The invitation, which doesn't disclose the West Hollywood location, lists ticket levels of $25, $50, $100 and $500. The $25 and $50 levels are marked as "sold out."
"I first met Mayor Pete through mutual friends in the Truman National Security Project," Horvath says in an email invitation to the event. "I was a Partner Member and had heard rumor of a guy from South Bend — home of my alma mater, the University of Notre Dame, where Pete's parents worked — who was a millennial Mayor, openly gay, a Christian, AND a veteran."
Horvath said she also met Buttigeg and his husband, Chasten, at the White House with President Obama at the U.S. Conference of Mayors.
"Living out and proud both his Christian values and his loving marriage to Chasten are the things that inspire me the most about Pete, as I've witnessed just how hard it is to do both with truth and grace," Horvath said.