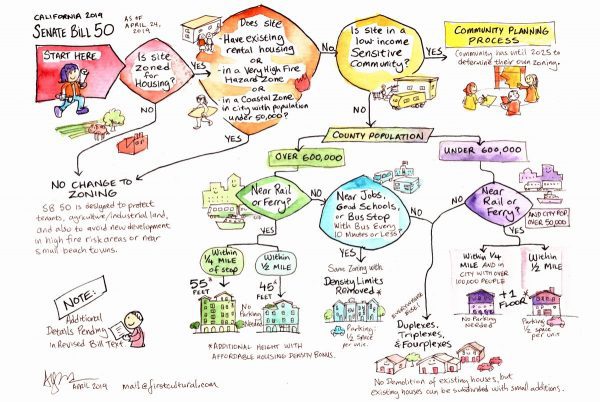 Two West Hollywood neighborhood associations are asking local homeowners to press the City Council to oppose a proposal that would make it easier to turn single-family homes into fourplexes and to build denser and taller buildings near transportation centers such as rail stops.
The West Hollywood West Residents Association, in a recent email to its members, says state Sen. Scott Wiener's SB50 "would destroy our neighborhood as we know it." Elyse Eisenberg, in an email message to members of the West Hollywood North Residents Association, says SB50 "would allow our already dense neighborhoods to become even denser, potentially allowing 85' tall housing to be built on any lot in our neighborhoods, overriding local zoning. Single-family neighborhoods would have to allow apartment buildings on residential lots."
Wiener's bill has moved forward slowly, with some opposition to an earlier version lifted after he added provisions that lighten the requirements for counties with populations of 600,000 or less, require that an as-yet-undetermined percentage of any new building's units be set aside as affordable housing and exempt poor and segregated neighborhoods whose residents fear new development may force them out of their homes.
SB50 is intended to address California's housing crisis, the worst in the nation. The state has 3.5 million fewer homes than it needs and its rate of new construction is the lowest in the United State. Local governments throughout the state, including the City of West Hollywood, have imposed a variety of zoning requirements and other regulations over the years that make the construction of new housing difficult. That shortage of housing means both rents and home purchase prices are out of reach for many, with the City of West Hollywood estimating that approximately half of the city's renters are "rent burdened," meaning they spend 30% or more of their income on rent and thus may face challenges paying for food, clothing, transportation and medical care.
A major objection raised by local cities to SB50 is that it will take some control of zoning and planning away from them. The fierce debate over the bill has resulted in a lot of inaccurate statements about it.
For example, the owner of a single-family home would not be able to turn the site into an apartment building. However, he or she would be able to turn it into a building with four housing units (a fourplex) so long as the building isn't torn down or enlarged and its exterior isn't significantly altered.
West Hollywood would not be required to allow developers to exceed current height limits, a concession only available to projects constructed near transit hubs, which are defined as rail or train stops or ferry docks. Buildings constructed within a quarter mile of such transit hubs would be exempt from height limits of 55 feet and those with a half mile would be exempt from height limits of 45 feet.
While some have said SB50 will result in the destruction of existing housing, the revised bill supports new construction on a site only if "the site does not contain, or has not contained, housing occupied by tenants or accommodations withdrawn from rent or lease in accordance with specified law within specified time periods…" Thus it does not support construction on the site of any building occupied by tenants within the seven years preceding the date of the developer's application, including housing that has been demolished or that tenants have vacated prior to the application for a development permit. Also, sites of buildings that a developer has taken off the market under the Ellis Act during the 15 years before the application for new construction cannot benefit from the height increase.
The West Hollywood City Council last year voted against an earlier bill by Wiener that had the same objectives and ultimately died in committee. It has asked city staff to lobby the state Assembly and Wiener to:
— Exempt cities that have complied with current RHNA allocations.
— Add exemptions for areas zoned for low rise residential such as West Hollywood West, if the City has met its RHNA (Regional Housing Needs Assessment) allocations.
— Offer exemptions for jurisdictions with densities far above the statewide median.
— Limit the bill's application to no more than 5% to 25% of any jurisdiction's land area (with percentage scale dependent on the city's size), and
— Incorporate a provision that allows jurisdictions to accommodate increased density as they see fit. If for example, the bill required jurisdictions to provide more density than current zoning allows, each jurisdiction could plan for the increase accordingly and maintain a level of local control.
Some West Hollywood City Council members and opponents of new housing construction have often referred to the fact that the city meets 100% of its RHNA requirements for construction of new housing, which is determined according to a formula used by the Southern California Council of Governments (SCAG).
Critics of RHNA assert that many cities meet their targets because those targets are very low, which is the case with West Hollywood, whose 2013-2021 RHNA target was only 77 housing units for very low-, low-, moderate- and above moderate-income people.
"Across California, some jurisdictions are earning high grades only because they have very low targets for housing units, relative to local population and performance grades actually decreased as the number of units assigned relative to population increased," says the public policy think tank "Next 10," referring to a study called "Missing the Mark."
Despite setting such a low bar, West Hollywood found itself exceeding it by a large margin, with more than 322 inclusionary units built by the end of 2016 as developers who had put projects on hold during the Great Recession brought them back to life and pushed for approval. That still amounted to only .9 units per one hundred residents.
"The nine jurisdictions that earned an A+ on RHNA progress had an average of only 0.7 units assigned per 100 persons in the jurisdiction's population," Next 10 reports. "On the other hand, jurisdictions that earned an F had an average of 3.3 units assigned per 100 persons."
City planners have acknowledged the issue. "Although housing production in West Hollywood has performed better than anticipated in the state's current planning cycle for housing (State Regional Housing Needs Assessment, or RHNA 2013-2021), affordability is still an issue," says the city's 2016 Housing Report. "The California Department of Finance estimates 40.5% or 9,320 households in West Hollywood are Very Low or Low income, earning less than $29,616 or $47,386 annually. Additionally, 16.9% or 3,889 households qualify as moderate income, earning less than $59,232. Most new residential development in West Hollywood is out of reach to low and moderate wage households."
The City Council on Monday will consider whether to oppose the latest version of SB50, lobby for more changes, support it or take no position. The Council will meet at 6:30 p.m. on Monday at the City Council Chambers, 625 N. San Vicente Blvd., south of Santa Monica. Parking is free in the adjacent five-story structure with a ticket validated in the lobby.