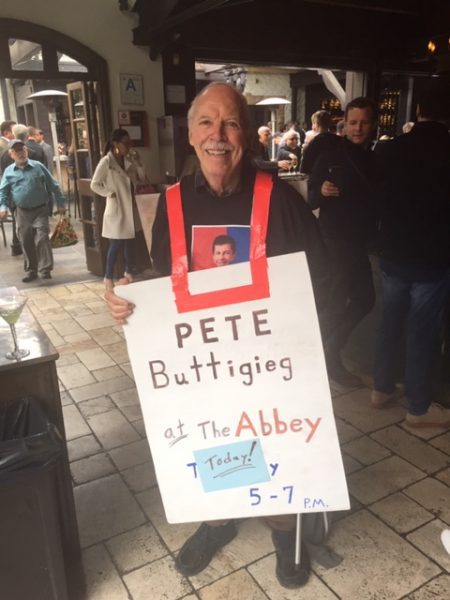 Buttigieg, the mayor of South Bend, Ind., and a gay candidate for the Democratic Party nomination for president, was back in West Hollywood Thursday night for a packed fundraiser at the Abbey Bar & Restaurant.
At the event, billed as a town hall meeting, Buttigieg took questions from his supporters and discussed his stand on a variety of issues.  He also took the opportunity to address Donald Trump's mockery of his last name.
"You can't get too worried about the name calling and the games he plays," Buttigieg said. "I was thinking of a Chinese proverb that goes, 'when the wind changes, some people build walls and some people build windmills'."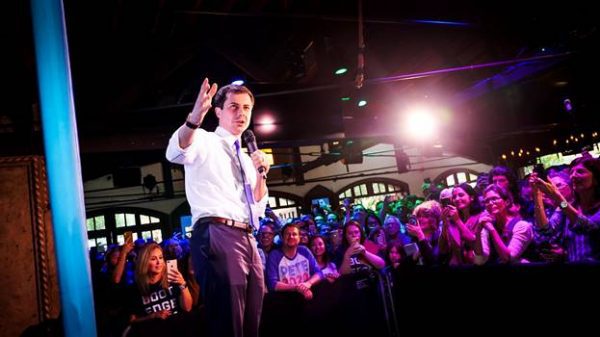 Buttigieg, 37, is known as Mayor Pete.  Buttigieg is a Rhodes Scholar and member of the Navy Reserves. In 2013, two years into his first term as mayor, he was deployed to Afghanistan for seven months. Attending the event with him was his husband, Chasten Glezman.  David Cooley, the owner of the Abbey, gave a welcome to Buttigieg and Glezman.
Buttigieg attended an event at Bar Lubitsch in West Hollywood on March 14.  It also was packed, although admission was free. 
Hosts of this fundraiser included Lindsey Horvath, Jennifer Childress, Sam Greisman, Ira Madison III, Brandon Sharp, Brent Weinstein and Sue LaVaccare.  A notice of the event in April listed ticket levels of $25, $50, $100 and $500.  However, the $25 and $50 levels were marked as "sold out."