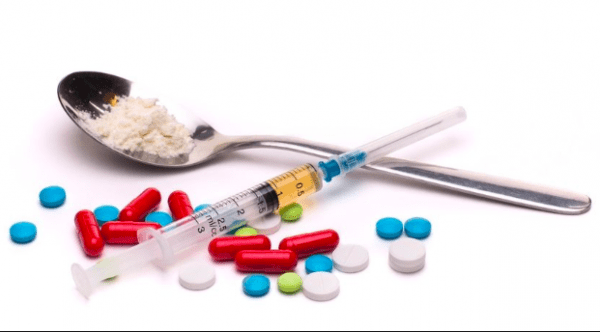 Although the actual number is rather small, West Hollywood does lead other Westside cities and L.A. County as a whole in the percentage of drug-related deaths.
That's according to an analysis by WEHOville of all drug-related deaths in Los Angeles County in 2018, using data from the L.A. County Coroner's Office.
That data shows that the deaths of nine West Hollywood residents were attributed to illegal drugs, which amounts to .00024% of the city's population. Santa Monica, a much larger city than West Hollywood in terms of population, ranked second among Westside cities, with 21 drug-related deaths, equal to .00023% of its population. Culver City, whose population of 39,368 is only slightly higher than the 37,080 of West Hollywood, had only two drug-related deaths, equal to .00005% of its population.
In Los Angeles County as a whole, there were 1,079 drug or alcohol related deaths in 2018, according to data from the Coroner's Office. Of those, 432 were methamphetamine-related. Fentanyl was involved in 209 deaths and cocaine in 164 deaths. Heroin was involved in 202 deaths. Morphine-related deaths totaled 124 and there were 21 oxycodone-related deaths.
Seven of those who died in West Hollywood were Caucasian, one was African-American and one was Asian. Seven of the nine were men and two were women. Four of the deaths were of people under 30, with the youngest one a 23-year old woman. The remainder were ages 38 to 48.
Four of the deaths were attributed to use of methamphetamine, a highly addictive drug that is common in the gay community. Two involved fentanyl, while another two involved multiple drugs are not identified in the data and one involved alprazolam and ethanol intoxication.
Drug-related deaths have become a matter of concern in the community since July 2017, when Gemmel Moore, a 26-year-old African American sex worker, was found dead of a methamphetamine overdose in the apartment of Ed Buck, a prominent local political donor. In January, Timothy Dean, a 53-year-old African-American man was found dead from methamphetamine use in Buck's apartment. And this past Sunday two men, one a 53-year-old African-American and the other a 21-year-old Latino, were found dead in an apartment on Hacienda Place. The Sheriff's Station says the deaths were likely caused by drugs (the Coroner's Office has yet to determine the actual cause). In September 2016, WEHOvillepublished a story revealing that local drug dealers were using Grindr, a gay sex hookup app headquartered in West Hollywood, to sell illegal drugs online.
The City of West Hollywood and various non-profit social services agencies have focused on rehabilitation of drug addicts and harm reduction efforts. There has been little or no effort to educate potential drug users of the risk to their health. However, the City Council on Monday voted to allocate $20,000 to APLA Health and the LA LGBT Center to provide fentanyl testing strips to drug users. The $15,000 allocated to APLA's Health and Wellness program is to develop and distribute a public education campaign, targeting the West Hollywood community and members of the LGBT community that visit West Hollywood during Pride, providing information on the risks of the use of fentanyl and other party drugs such as Methamphetamine.
The testing strips can be used to test a drug that one plans to use to make sure it isn't laced with fentanyl, which is increasingly common. Fentanyl is manufactured legally for medical use, but can also be produced illicitly and sold on the illegal drug market. As was noted in a report from the city's Human Services and Rent Stabilization Department, fentanyl "is 50 to 100 times more potent than morphine and the intervention period for a fentanyl overdose can be as short as 45 seconds. Illegal fentanyl can be sold as a powder, in eye droppers or nasal sprays, or made into pills that look like real prescription opioids."
The report from Human Services explains that "In order to use the test strips, testers dissolve a small amount of substance in water, and then dip the test strips into the liquid for 15 seconds. The test strip is then set on a flat surface until results appear, usually within five minutes. One line indicates fentanyl is present in the sample; two lines indicate a negative result."
Another tool is naloxone (Narcan), a medicine that can be given to reverse opioid-related overdoses. "It is a safe and effective antidote to all opioid-related overdoses, including those involving fentanyl, and is an important tool in preventing fatal opioid overdoses," says the Human Services report. "Naloxone can be administered by EMS, law enforcement, people at high risk for overdose, or family and friends. Currently the Los Angeles LGBT Center's Mental Health Services program is completing the application process with the (California Department of Public Health) to access naloxone and have it available to staff for distribution to clients at-risk for drug overdose."
Mike Rizzo, manager of addiction and recovery services at the LA LGBT Center, told WEHOville that the fentanyl strips will be available at all of the Center's locations, which include its Center WeHo at 8745 Santa Monica Blvd. in West Hollywood. Also, "the pharmacy at the McDonald/Wright Building has an ample supply and when a client requests a strip the pharmacist will come out and explain how to use them. Strips are available during hours of operation."
Rizzo said the Center usually gives out three to four strips with each request but will supply more if a client requests them to share with friends. The Center doesn't require that the requestor show an ID or share any personal information.
Rizzo said that the Center's Addiction Recovery Services "has created packaging to hold three to four strips which talks about fentanyl and the dangers of it. It also includes instructions on how to use the strips to test the meth, cocaine or other drugs and how to identify if your product contains fentanyl."
In January the Center's Addiction Recovery services purchased 20,000 strips, Rizzo said, and the City of West Hollywood's recent allocation of $5,000 will allow the Center to purchase 5,000 more.
Sean Boileau, the behavioral health services director for APLA Health, said fentanyl testing strips will be available at APLA's Gleicher/Chen Health Center and APLA Health – Olympic, two locations that serve people who live and work in West Hollywood. "We'll also be handing them out at the APLA Health booths at LA Pride, Long Beach Pride, DTLA Proud, and DragCon," Boileau said.
"We are handing out strips dependent on a client's risk behavior or by their request; usually between one to three strips; exceptions made based upon clinical judgment for heavy users. We DO ask where they live, but do not keep electronic records of who obtains a testing strip. We don't ask for photo ID or proof of residency to encourage those who want the strips but may be uncomfortable disclosing their name and address. We want to keep the process as simple and accessible as possible to make certain that those who want the strips can easily get them.
"We will be buying 4,000 strips thanks to the City of West Hollywood. When this is depleted, we will seek additional funding and/or use our general fund to replenish as necessary.
"We will be talking to people about the dangers of fentanyl but we will not be discussing the dangers of all drugs in the context of fentanyl strip distribution," Boileau said. We will also be giving people information on APLA Health's support programs if they wish to quit or reduce their usage, and offer access to one of our behavioral health substance abuse specialists if they are interested in treatment. "