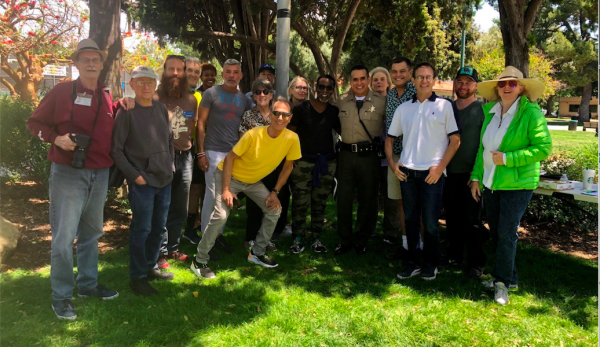 Capt. Edward Ramirez, newly named head of the West Hollywood Sheriff's Station, met with more than three dozen people at Plummer Park today to outline his approach to community policing and address specific issues of the city's Eastside.
Ramirez is the latest in what has been a revolving door of captains supervising the local Sheriff's Station, with several being quickly promoted and moved elsewhere. He is the successor to Sergio Aloma, who served 17 months before being promoted to commander and assigned elsewhere. Aloma succeeded Holly Perez, a very popular captain who was promoted to commander and moved from West Hollywood after only 12 months here. The short tenures have prompted complaints from local residents and from City Councilmember John d'Amico.
In his opening comments at the event, organized by Tod Hallman of Eastside WeHo Neighborhood Watch, Ramirez acknowledged that the position as captain of the West Hollywood Sheriff's station is high profile and usually a jumping-off point for promotions.  And he noted that he is the fifth captain of the station in four years. "Would I invest in a company that had five CEOs in four years?" Ramirez said in an acknowledgment of the community's concerns.
Ramirez said he is open to finding new solutions to old issues facing the community. "I'm happy to think outside, even remove, the box if it's not immoral, illegal or going to land me on the front page. Let's try it," he said.
Ramirez discussed changing deputy deployment levels based on current needs, rather than "structure a plan for life. Putting bodies where they need to be, not just on Santa Monica Boulevard."
He said he wants deputies on patrol to drive slower and safely and engage in the local culture, "with a more assertive stop and check it out approach."
"I don't want criminals to feel comfortable coming into our neighborhood," Ramirez said.
He told the story of a deputy in one patrol car pulling over two people who were circling the neighborhood where The Abbey is located on Robertson Boulevard. "One with dreadlocks and the other a shaved head, they fit the description of suspects," was their reasoning, Ramirez said. But it turned out that nearby parking lots were full and they were just circling around looking for parking. Ramirez said the deputies apologized, explained, helped them find parking and, on foot, walked them over to The Abbey."
Responding to concerns about turnover in the captain's position, Ramirez said: "I want to create some stability; I'm not looking to promote out. I'm happy to stay in WeHo for the rest of my life." But, acknowledging the possibility of change, he said: "I want to set us up for six to eight years." Now, he said, "morale is at an all-time high at the station."
Eastside residents asked for greater law enforcement presence in their neighborhood. Residents Cathy Blaivis and Stephanie Harker talked of drug activity — shooting up, smoking crack — and prostitution in broad daylight in Plummer Park. They said drug dealers were extorting money from homeless people who wanted to use the bathrooms at Plummer Park and suggested undercover officers as a possible solution.
Several residents raised questions about safety on La Brea Avenue. "I live in a beautiful building, but I feel unsafe walking," Richard Maggio said. "I've been assaulted three times in the past year, once thrown to the ground."
Ramirez was questioned by some residents about what they saw as dismissive responses from the bicycle security ambassadors and the possibility of having them patrol the streets on foot rather on bike, which he said he would consider.
Addressing concerns about homelessness, Ramirez said law enforcement had to balance "quality of life for people who live work and play in West Hollywood along with the civil rights of the homeless. We offer assistance first and over and over."
However, he said. "we will arrest our way out of the problem if we have to." Ramirez noted the tent encampments he sees in Hollywood on his drive home to Pasadena. "Tent cities in West Hollywood are against the law," he said. "You won't see them in West Hollywood!"
Ramirez also confirmed that a Sheriff's substation would be opening on the city's Eastside, located on Santa Monica Boulevard near Martel, fulfilling a longtime request from Eastside residents. "I've seen the space; it will be identified with signage and there will be patrol cars parked outside."