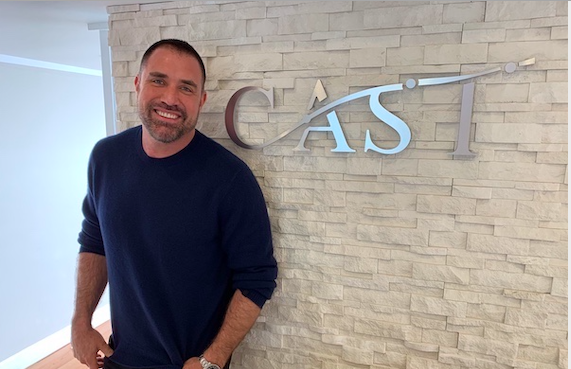 Having wrapped up all my questions at the conclusion of interviewing life coach Mike Bayer, 39, founder and CEO of CAST Centers in West Hollywood, I ask him, "Is there anything you want to add?" He pauses for a couple of seconds, looks at me thoughtfully and just says, in his deep, husky voice, "Thank you."
It appears this is the type of man he is. A big and tall (he's 6'2") generous bear of a guy, he looks like many bears in WeHo: muscly, bearded and like, well, a big lug of a teddy bear. You kind of want to hug him. And I don't think he'd have it any other way.
Way Back When
If you pick up his New York Times bestseller "Best Self: Be You, Only Better," which he says has sold 100,000 copies, you'll learn Bayer has been on quite a journey. (You'll also learn J.Lo is a close friend and see her endorsement on the back cover.) Born in Laguna Hills, he became an addict while playing basketball for Fordham University in New York City. "Crystal meth was my drug of choice," he says. Eventually, he got sober and had an epiphany: "I realized how good life is when you help others."
Seeming to clock how the desire to help can become a thorny path all its own, he quickly adds, "For people that, you know, want to change."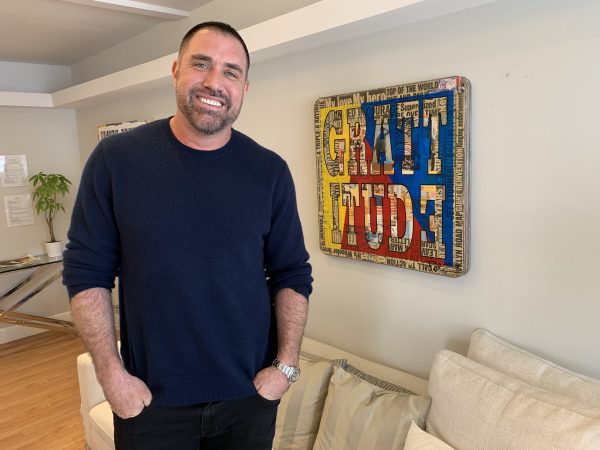 Enter CAST Centers
His initial way of offering help to those who seek it, and even some who don't (more on that later), CAST Centers stands in an all-white, unassuming building on Doheny Drive near the intersection with Santa Monica Boulevard. Entering the facility on the second floor one sees a reception desk, a waiting room, track lighting, some Buddha statuettes, and inspirational art. Above a puffy white sofa hangs a colorful painting of a word: "Grattitude" (with three T's in all caps).
Starting CAST "about 12 or 13 years" ago in his Venice apartment, "I was, like," Bayer says, "how the heck am I going to afford rent?" Still, a move to Santa Monica came a bit later and now CAST has been in WeHo for "maybe six years." The staff numbers around 15, "Everything from a medical doctor to psychologist, a therapist, coaches, kind of a whole range."
CAST's website lists half a dozen or so day and evening programs addressing mental health and substance abuse. "I would say half the clients are substance abuse," continues Bayer. "We're seeing a big increase in straight depression and anxiety, or trauma that's keeping someone from shifting in their life." He also says they have seen a big increase in marijuana addiction "with men between 25 and 40."
Feeling Stuck
Is there a typical client? "Some characteristics," says Bayer, "are [being] unhappy, feeling like they're disconnected from the life they should be having, are in a cycle of some fashion, whether it be isolating themselves on weekends, or [engaging in] dysfunctional relationships. I would just say overall feeling stuck."
In addition to evidenced-based therapies like cognitive and dialectical behavioral therapies the center also offers "Best Self Coaching," which is for people "really just wanting to achieve more goals in their life." "[They] want to have a thinking partner and want to have that accountability."
Bayer adds, "It's so much less about drugs or substances. It's just more about, 'How do you just feel good about your life? How do you live the life you believe you should have?'"
CAST's programs are affordable, says Bayer. "We take almost all major insurances, which makes it really easy for people to get help now. It didn't used to be like that."
A Coach Is Born
"Best Self" is written by "life coach" Bayer. I ask him how the "coach" part came about. For years he avoided that moniker, saying, "I've been called a lot of things through the years: interventionist, advisor, counselor and entrepreneur."
It was a power lunch with Dr. Phil (yes, that Dr. Phil) and an entertainment manager that changed all that. "Everybody was," says Bayer, "'You're a life coach.'" Needing to become his own brand to be on the successful syndicated self-help show "they said, 'Coach Mike! Coach Mike it is.'" Bayer appears on the "Dr. Phil" show, which is taped at Paramount, once a week
At first, being "Coach Mike" created pressure for Bayer to live up to a standard many might be hard-pressed to reach, much less define. Then he realized, "I'm not better than anyone else or worse than anyone else. I just happen to know how to free," he pauses, "to give people a better freedom to live a better life."
Bayer works, and has worked, with many types of people. "Everything from people with addictions to very high-performing executives who are just looking to have a happier family life. It's kind of all-encompassing."
Interventions Welcome
Here's where helping those who may not be asking for help comes in. "I love interventions because you can get dramatic change," Bayer says. At the start of "Best Self", he tells the story of flying to Kurdistan to confront a violent, high-powered businessman with anger management issues so severe his wife was on the verge of leaving him.
The difference between coaching and therapy, Bayer says, "is coaching is action oriented. … It's goals. It's measurable. Therapy is more process oriented. There's less accountability. Very rarely is a therapist going to text you a few times a week and be like, 'Are you following through with your goals?'"
When he gets into "interventionist mode," like when he's on "Dr. Phil" he says, "It's like intervening on people who maybe can't see the damage they're causing to the people around them, not just themselves."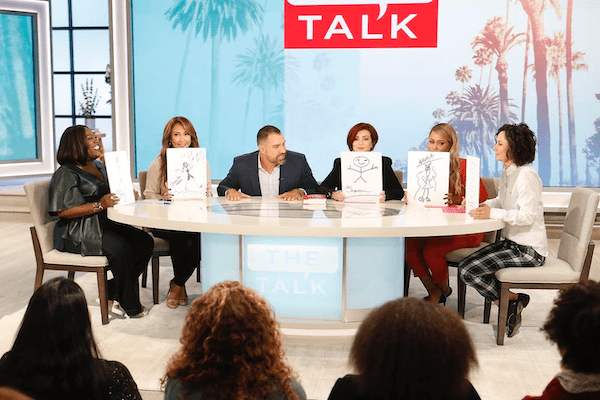 Best Self Challenge
May is Mental Health Awareness Month (observed in the U.S. since 1949, according to MentalHealthAmerica.net). In recognition of it, Bayer started his "Best Self Challenge" on "Dr. Phil." "I got Dr. Phil to do it, Dr. Oz, Joe Jonas, Sophie Turner, I mean, Sonique, she was on 'RuPaul's Drag Race,' she came over." What's involved? "You basically create what's called your 'Best Self' and your 'Anti-Self'." You draw a picture, describe it, share on social media and challenge three other people to follow suit.
The goal appears to be helping de-stigmatize what mental illness is and can be. Bayer believes that if the "anti-self" is left unaddressed, it deeply affects our mental health. And while donating money to worthy nonprofits that help people in need is all well and good, Bayer strives for personal interaction. "So everything I kind of do is geared around this inclusivity and conversation."
New Video Stories
An example of creating such conversation is CAST Centers launching a series of videos designed to share its staff's personal stories. Shooting this month, Bayer is passionate about calling out how CAST is LGBTQ-owned and run.
"Our medical director is from Cuba," says Bayer, "and he came out during a very hard time. … We're chronicling his journey of coming out and how he got into working with HIV and AIDS." Similarly, CAST's program director Betsy Spear will share her story of living as an out lesbian. Both videos will also detail how each chose mental health as a career.
"What I wanna do," says Bayer, "is tell some stories that create inspiration, hope…and I also wanna do it because I want [people] to feel good."
In Love with WeHo
Bayer also builds what he calls "community" by supporting other businesses in WeHo. "We just had a team dinner at Dialog Café. Because I won't allow us to have a [team] dinner outside of West Hollywood." Gracias Madre is also a favorite.
"Any local businesses," he adds, "we're always looking for ways that we can help them." From patronizing hair salons to having Rawberri deliver. "They have great açai bowls."
Bayer bought a house in West Hollywood a few years ago and says, "I wouldn't live anywhere else." "I was coming up here at 18-, 19-years-old from Orange County." He says he'd "rather be in WeHo than on the beach."
"I like WeHo because you can walk to everything. It does not feel pretentious to me. It does not feel 'Hollywood' to me. It feels extremely safe and…there's so much recovery within walking distance."
WeHo@Work is an occasional series that tells the stories of the interesting people who own or manage West Hollywood's businesses.