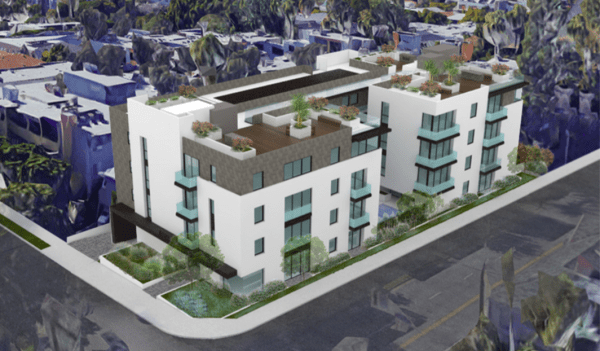 A Beverly Hills developer is seeking the West Hollywood Planning Commission's approval to demolish two apartment buildings on Fountain Avenue at Laurel and replace them with a
four-story, 30-unit apartment building.
The proposed new building would contain eight affordable units. The existing buildings, each of which falls under the city's rent stabilization regulations, contain a total of 13 apartments.
"The project includes a dedication to allow for parking, a widened sidewalk, and a parkway with street trees along Fountain Avenue," says a memo to the commission from the city's Department of Community Development. "The building design is well-articulated and fits seamlessly into the neighborhood."
The developer is Fountain Blue Holdings LLC, a company associated with Behruz "Bernie" Gabbai of Beverly Hills. It is asking for three concessions in exchange for increasing the required five affordable housing units to eight. One is an exception to the 35-foot height limit to allow construction of a building 45 feet high, which would allow an additional story. Another is relief from a requirement that 50% of the street-facing front of the first floor be habitable space. The developer proposes instead that the front of the building along Laurel Avenue include a lobby with tenant mailboxes that leads into an exercise room, as well as a manager's office. And finally, the developer is asking for an exemption from the city's requirement that the second through fourth floors of the building be set back from the street six feet more than the first floor.
The project would include two parking spaces for each of the 30 units
The developer is proposing to remove the current buildings from the market under the state's Ellis Act, which typically is used when a building owner wants to take a building off the rental market and use it for another purpose or demolish it. Because the proposed project also would be rental apartments, if it is built and offered for rent within five years of the eviction of the final existing tenant, it will continue to be covered by the city's rent stabilization ordinance, which puts limitations on evictions and limits rent increases for existing tenants.
The project has been the subject of several community meetings where local residents questioned its impact on traffic on Laurel Avenue, possible noise from its pool area whether its design would be compatible with historically significant buildings on the 1300 block of Laurel and the 1200 block of Crescent Heights. Some community members were in favor of the building design and some thought the design too look industrial.
The Planning Commission will consider the requests at its meeting on Thursday at 6:30 p.m. at the West Hollywood City Council Chambers, 625 N. San Vicente Blvd., south of Santa Monica. Parking in the five-story structure behind the Chambers if free with a ticket validated at the meeting.