The City of West Hollywood honored three men tonight with awards recognizing their work in enhancing public safety in West Hollywood. The awards were presented at the City Council Chambers in an event that included a speech by Edward Ramirez, the new captain of the West Hollywood Sheriff's Station, who elaborated on his plans going forward. 
Lt. James Farrell Deputy of the Year Award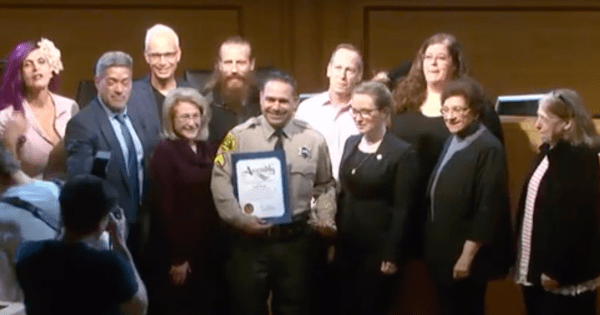 The Lt. James Farrell Deputy of the Year Award was given to Sheriff's Deputy Todd Mohr. Farrell, known as Jimmy, joined the West Hollywood Station in 1993 and managed the COPS Team and public safety for special events until his death in 2013.
Mohr joined the L.A. County Sheriff Department in September of 1995. After graduation from the academy, he was assigned to Men's Central Jail where he worked the line and Operations Safe Jails (also known as the Gang Unit).
Mohr then completed his patrol training in March of 2002 at the Walnut Sheriff's Station. After working at both the Walnut Sheriff's Station and Temple Sheriff's Station. Mohr joined the West Hollywood Sheriff's Station in October of 2009.
While at West Hollywood Station, Mohr began his service at the Universal Sub-Station, and then moved to West Hollywood Station's patrol and bike team for a few years before being assigned to the training and scheduling office. Mohr completed two years of scheduling and then promoted to field training officer. As field training officer, he has successfully trained over 12 people.
Mohr is currently working in the operations office and is also the field training officer for reserve deputies at West Hollywood Station. Mohr also has taken on the position of public information officer and has already done several media interviews for various incidents that have occurred in the City.
Firefighter of the Year Award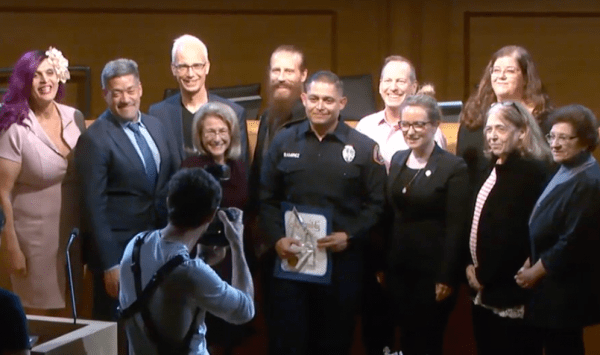 Firefighter/paramedic Benny Ramirez has been a member of the L.A. County Fire department for over 10 years. During this time he has held the position of both firefighter and firefighter paramedic. Ramirez has worked throughout the county, serving in the cities of Altadena, Baldwin Hills, Huntington Park and West Hollywood.
Ramirez came to West Hollywood in 2010. "Whether on the fire ground or during a medical call, Benny can be counted on to sacrifice for the ones he serves," said an announcement of his award. "This is evident from his past service to our country in the United States Marine Corps from 2000 – 2004. Assigned to the 1st Marine Division, Headquarters Battalion, Ramirez deployed to Iraq in 2003. Ramirez then re-enlisted in the Army National Guard in 2005 and was assigned to recruiting. Ramirez was also assigned to Charlie Company 168th Aviation Regiment Logistics Chief in 2007.
On April 24, 2018, Firefighter Ramirez was one of three firefighters who pulled a victim to safety from a working structure fire in West Hollywood. Due to his quick search and rescue, the victim recovered.
Outstanding Contribution to Public Safety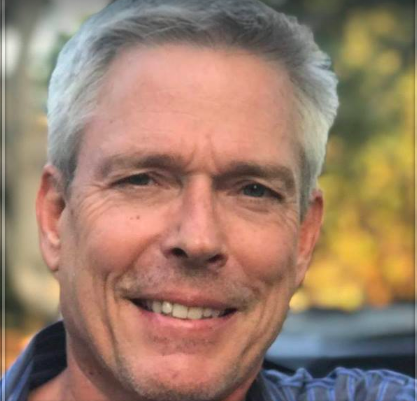 Michael Carter is the Neighborhood Watch captain of Ogden Owls. Carter has engaged more than 100 members of his Ogden Drive neighborhood in the group's efforts to improve public safety.
In addition to his volunteer work with the group, Carter works as a studio teacher, a tutor, and a bilingual instructor. He has extensive experience teaching Spanish in public schools.  He also has served as an officer of Studio Teachers Union Local #884 in Los Angeles.  He has worked with dozens of film and music companies.