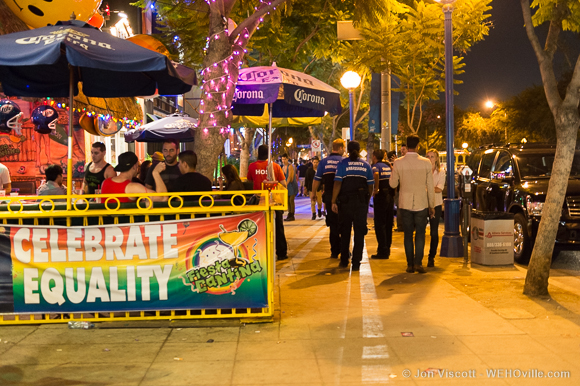 The former U.S. Speaker of the House Tip O'Neill famously said: "all politics is local." If there's any doubt about that, consider the declaration in 2016 by former Mayor Lindsey Horvath (now a Council member) that Donald Trump was not welcome in West Hollywood.  And now there's a minor storm over the fact that the Los Angeles Chapter of Log Cabin Republicans is having an event at Fiesta Cantina, which is on Santa Monica Boulevard east of San Vicente in the heart of the city's Boystown nightlife area.
The event is scheduled for May 24, with details on the group's website.  It will feature an appearance by Sabo,  the street artist who in 2017 bragged that he had defaced signs for the City of West Hollywood's WeHo Pedals bike share program with promotions of a new book by controversial right-wing propagandist Milo Yiannopoulos.   On his website, he brags that his mission is "creatively kicking liberals in the teeth."
While some gay men have taken to social media to condemn Fiesta Cantina for allowing Log Cabin Republicans there, it is unclear why given that this isn't the first time the group has gathered on the rooftop of the restaurant and bar. Fiesta Cantina's rooftop has been the home to a number of Log Cabin's monthly mixers over the years, including its 2016 election victory party, celebrating the election of Donald Trump, who the group endorsed. The group also has staged events at V Wine Room, which is located at 903 Westbourne Drive, as well as Lisa Vanderpump's Sur Lounge and The Abbey in past years.
A spokesman for Fiesta Cantina told WEHOville "We don't take a political stance. We want to practice exclusivity for everyone in the LGBT community, and that would include the Log Cabin Republicans.  This isn't about Donald Trump. It's an event for the Log Cabin Republicans."
The Log Cabin group says that it "works to build a stronger, more inclusive Republican Party by promoting the core values of limited government, individual liberty, personal responsibility, free markets, and a strong national defense while advocating for the freedom and equality of LGBT Americans.
The group's board of directors includes Ben Coleman, former Public Safety Commissioner for the City of West Hollywood.   "Ben's conservative and Christian upbringing, his extensive experience as a principal in a local Sacramento dry cleaning chain, plus the time he has spent living in the big cities of San Diego and Los Angeles, have shaped his political views today," says his profile on the group's website. "Ben considers himself to be a true small government, states rights, Constitutional conservative. He joined the Log Cabin Republicans of Los Angeles as a board member at large in 2013 and was elected as vice president in 2015."
WEHOville has reached out to the Log Cabin Republicans of Los Angeles for its response to the criticism.  As of publication it has responded.  Tickets to the May 24 event are $15 for non-members and $10 for members and can be purchased online.