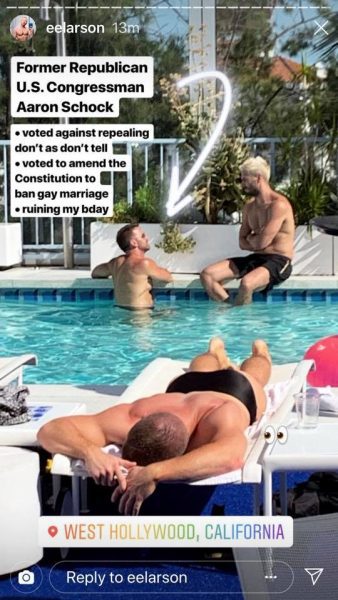 Is Aaron Schock gay? Is the Pope a Catholic?
The answer to the second of those questions is clear. But the first?  Schock's position is don't ask, because he won't tell. And maybe he's just a metrosexual. That could explain why the conservative Republican who resigned from Congress (in March 2015 amidst a scandal involving his use of public and campaign funds to decorate his office in the style of "Downton Abbey" and party hearty on private jets) keeps showing up on social media hanging in California with other gay boys in sexy swim suits and shorts.
The latest images show Schock hanging in and around the pool at what apparently is the Standard Hollywood,the mis-named hotel that actually is in West Hollywood at 8300 Sunset Blvd.
One of those images was sharedrecently by Erik Larson, a popular gay journalist and Instagrammer, on his Instagram page, which has 41.6 thousand followers. Those with access to that private page have shared on Facebook the photo of Schock in the pool chatting with a shirtless dyed-blond boy with scruff who meets today's standards for most gay stereotypes. "Voted against repealing don't ask don't tell, voted to amend the Constitution to ban gay marriage, ruining my birthday,"  says a comment across the photo.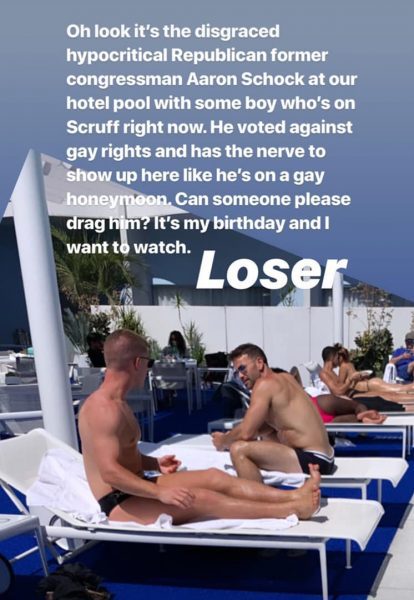 Then there's the photo of a swim-suited Schock engaged in another poolside conversation with a buff boy. "Oh look, it's the disgraced hypocritical Republican former congressman Aaron Schock at our hotel pool with some boy who's on Scruff right now," says the poster of the photo. "He voted against gay rights and has the nerve to show up here like he's on a gay honeymoon. Can someone please drag him? It's my birthday and I want to watch. Loser"
Schock, who appears to have left his suits and ties in DC, also was photographed recently at Coachella showing off his six-pack with his arms wrapped around Keith Anthony, the acknowledged gay fitness trainer and John Duran's appointee to the West Hollywood Business License Commission (and former fitness trainer), and Anthony's boyfriend Ty Tixier. Queerty.com, the nation's most popular gay website, has published photos of someone it claims was Schock engaged in more intimate contact with a Coachella guy.
James Duke Mason, a prominent local figure in West Hollywood, has called out Schock on Facebook for his Coachella appearance.
"The fact that he would think he could show his face in public, particularly when he has NEVER renounced or apologized for his votes against gay marriage, gays in the military and against anti-discrimination laws is astounding," Mason said. "My intention isn't to out him or target him personally, but simply to point out the hypocrisy. I saw him at a recent gay social event in West Hollywood and shook his hand before I realized who he was; he should really be ashamed of himself. And the gays who associate with him without calling him out should know better. It really is a disgrace."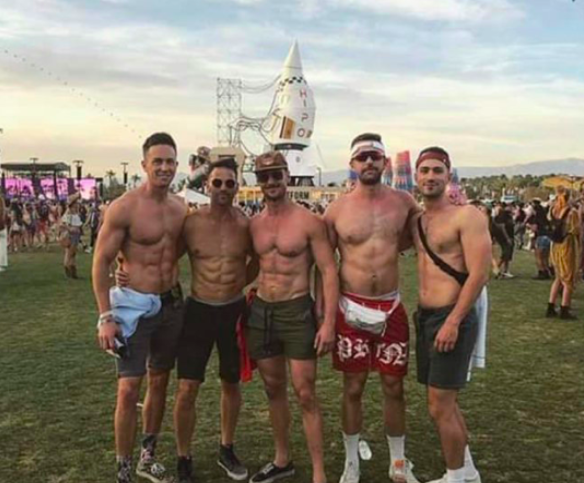 But perhaps those upset with Schock's poolside escapes should give him a bit of a break. After all, given that he wasn't elected to represent the 18th District of Illinois until 2009, Schock had never been able to enjoy the glory days at the the U.S. Capital swimming pool when men "used to walk around fairly in the nude" according to Herb Botts, the manager of the House gym and pool. That ended in 1985 when then-Rep. Barbara Boxer from California's 6th District and some fellow female representatives demanded access to that gym and swimming pool. "Now they have to be very, very careful how they dress," Botts said of the male members of Congress.
Oh, and by the way, has anyone seen our new neighbor Peter Thiel lately?