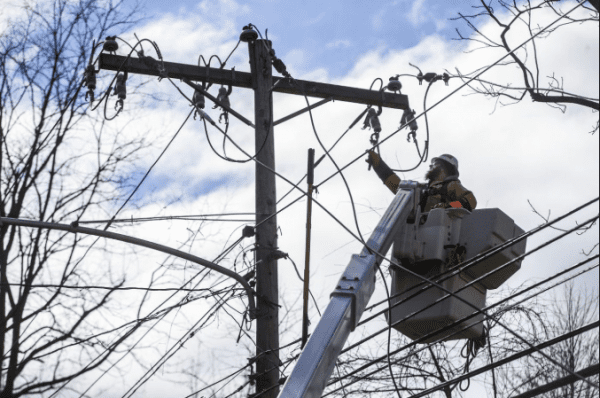 The number of power outages in West Hollywood increased dramatically in 2018 over those in the three previous years according to a recent report from Southern California Edison.
The report, the annual Circuit Reliability Review, states that the average West Hollywood customer was without power for 157 minutes last year, more than twice the 72.2 minutes reported in 2017 and more than three times the 46.2 minutes reported in 2016.  Equipment failure was deemed the cause of 45% of those outages. SoCal Edison has 29,976 West Hollywood customers.
West Hollywood is served by 20 electrical circuits, some of which are older and interrupted more often than others, meaning customers on those circuits may experience more outages than do others. According to the SoCal Edison report, West Hollywood customers experienced an average of two outages of five minutes or more, compared 0.8 in 2017 and 0.5 in 2015 and 2016. There was an average of 2.2 shorter, or momentary, interruptions per customer in 2018, up from 1.2 in 2017 and 2016 and one in 2015.
The 2018 reliability report shows West Hollywood fell behind the SoCal Edison system average, which was 0.9 sustained interruptions per customer for an average of 136.8 minutes. West Hollywood also had a worse power outage record than the average for the other cities in its SoCal Edison district, which include Beverly Hills, Culver City, Franklin Canyon, Ladera Heights, Los Angeles, Marina Del Rey, Santa Monica and Universal City. The district's customers experienced an average of 1.04 outages of five minutes or more with the average outage being 80.24 minutes.
While a report on outages for 2019 won't be available until May of 2020, the number of power outages to date this year has drawn criticism from residents.  According to SoCal Edison, there have been 16 unplanned outages so far this year (others are because of preplanned renovations). An outage on April 20 left many residents without power and caused a number of businesses to close. According to SoCal Edison, that outage began at 7:17 a.m. on that Saturday morning, and in its early stages, it affected about 9,800 customers.  "It was caused by an equipment issue and then the need to replace a cable near Santa Monica Boulevard and Hancock Avenue," SoCal Edison said. "Most of the customers were restored that morning at 8:25 a.m."  However 331 customers went without power for a little more than 24 hours, with their electricity back on at 10:41 a.m. on Sunday, April 21.
Robert Laffoon-Villegas, a spokesman for SoCal Edison, said it had presented the 2018 reliability study to City Hall in a meeting to "discuss ways that SCE and the City of West Hollywood can continue working to improve on the reliability of the system in the area while minimizing the impact to area residents and businesses.
"One aspect of the issues that have affected the area and which have made it difficult to reduce the impacts to customers of repair/emergency outages has been the nature of the system itself- some of which is composed of more modern 16kv lines and some which remains legacy 4 kv lines and equipment," Laffoon-Villlegas said, referring to kilovolts – a unit of electrical potential equal to 1000 volts.
"When an outage occurs, our crews typically work to isolate the issue to the smallest possible number of customers and then switch the remaining impacted customers to other nearby circuits, thereby restoring power quickly for most of those impacted — of course if you are adjacent to the pole that was hit by a car — you may be out longer till all repairs are safely completed. This type of switching can only be done if the surrounding circuits are of the same capacity and the mixed system in the area has made that process cumbersome and slower, if it is at all available.
"Southern California Edison has, for the last three years, been working to bring all equipment and circuits in the city to the more robust 16 Kv, and that work will continue through this year as well as beginning work on some circuits in Beverly Hills that are shared between the two cities in 2020. In addition to the work on the poles, wires, and transformers, the newly installed circuits will also add technology to assist in isolating outages and helping with allowing crews to respond faster to incidents.
"This work should greatly increase the flexibility of the local area system and should improve both how long it takes to restore power to most customers as well as on our crew's ability to narrow the impact of outages to the lowest number of customers possible.
"But this work will not come without inconvenience — these improvements take time and will require additional maintenance outages during the rest of this year, and we understand that can be frustrating for residents and businesses alike (most circuits in the area have both commercial and residential customers). But they are necessary to make the improvements that customers need in the area. Of course, for these type of outages, customers will receive advance notice — but we know it can be difficult to be without power and are seeking always to conduct repairs in the most timely and safe manner possible."
The 2018 reliability report shows that nine of the 20 SoCal Edison circuits in West Hollywood have only a 4 Kv capacity.