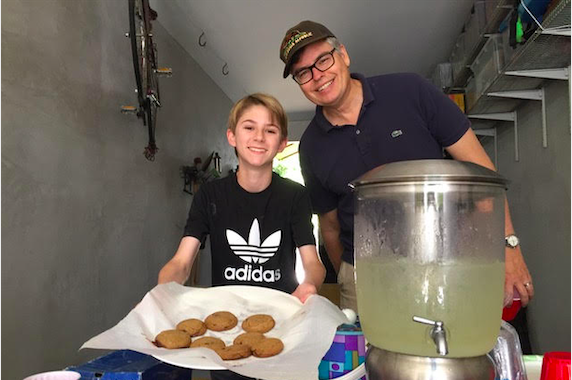 After this odd run of cloudy weather, many of us in West Hollywood are hoping for some sun on Memorial Day Monday. Well, sunshine comes in different forms, and one that is guaranteed comes with Lucas Cohen-d'Arbeloff's annual lemonade stand on Huntley Drive.
Lucas, 14, has been offering homemade lemonade and home-baked cookies on Memorial Day since 2014 when he was only nine years old. Proceeds benefit the West Hollywood West Residents Association.
"We wanted to do something that benefitted the community and specifically the neighborhood association because my dad is the treasurer, Lucas said, referring to Eric d'Arbeloff. Lucas's fathers, d'Arbeloff and Howard Cohen, are known outside the neighborhood and inside the film industry for having founded Roadside Attractions, an independent film production, and distribution company. FastCompany honored the 16-year-old company this year as one of the country's "Most Innovative Companies." It cited, in part, Roadside's faith-based "I Can Only Imagine," a surprise hit in 2018.
Lucas, who attends Harvard Westlake, has aspirations to become a journalist and is hoping to get involved with the school newspaper this year. But on Monday morning his focus will be on baking those chocolate chip cookies and making that lemonade from lemons supplied by Kimberly Winick, a neighbor down the street.
"With all the development going on, there are always people moving in and out of the neighborhood," Lucas said. The lemonade stand "is a good opportunity to see a lot of neighbors who we wouldn't normally see."
Last year's Memorial Day lemonade stand drew nearly 50 neighbors, including City Councilmember Lauren Meister. The event this year is from noon to 4 p.m. at 378 Huntley Drive just south of Rosewood Avenue.