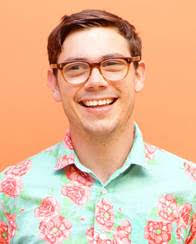 Ryan O'Connell, star of the Netflix show "Special," will be the celebrity grand marshal at this year's LA Pride parade.
He will join this year's parade along with the previously announced community grand marshal Phill Wilson and the Los Angeles LGBT Center as the organizational grand marshal. The parade will take place on   June 9 and will be presented on television by KABC-TV.
O'Connell is an actor, writer, and producer who can currently be seen starring in the eight-episode short-form "Special" series on Netflix, which he wrote and executive produced. The series is loosely based on O'Connell's own upbringing and experience as a gay man navigating the world with cerebral palsy. He is the author of "I'm Special: And Other Lies We Tell Ourselves," part-memoir, part-manifesto, which was published by Simon & Schuster in 2015. He served as the editor of Thought Catalog and has contributed to Vice, BuzzFeed, and numerous other publications. O'Connell's writing career spans television as well. He recently served as an executive story editor on NBC's revival of "Will & Grace and was on the writing staff of MTV's "Awkward."
"I'm honored to be one of the grand marshals at LA Pride. My hope is that every young LGBTQ person is proud of who they are and that they dream about who they can be. Can't wait to live, laugh, love with you all as we celebrate who we are and celebrate the brave shoulders that we all stand on," O'Connell said in an announcement of his nomination.
"We are thrilled to have Ryan as our celebrity grand marshal. He has broken much needed new ground on ensuring that all LGBTQ people are represented in entertainment and media. We know, living here in Southern California, that inclusive imagery can change hearts and minds across the country and around the globe. Ryan represents the very best in harnessing creative talents to effect positive and meaningful change," said Estevan Montemayor, president of the board of Christopher Street West, the non-profit organization that puts on the annual Pride festival and parade.
 KABC's two-hour live broadcast will run from 11 a.m. to 1 p.m., from parade central at Holloway Drive and Santa Monica Boulevard.  A pre-parade preview show will also air on  June 8 at 6:30 p.m.
To learn more about LA Pride, purchase tickets, and get event updates visit lapride.org.