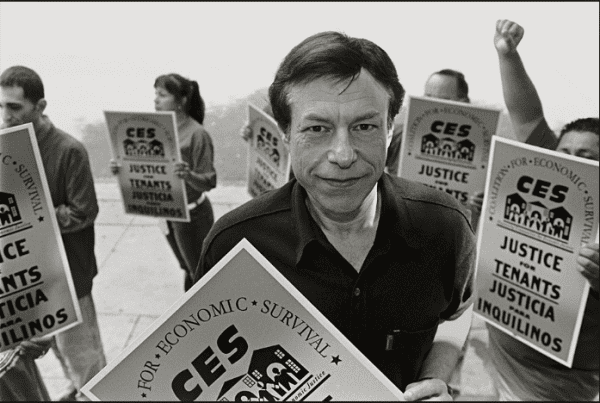 Where is WeHo's Larry Gross?
Those of you who have been around a while might recognize the name of the executive director of the Coalition for Economic Survival, the renters' rights group, who was fundamental to creating the successful campaign in 1984 to incorporate West Hollywood as its own city, a city then committed to making WeHo a safe place for elderly and low-income people as well as those who were gay. In doing so, CES helped residents of the previously unincorporated West Hollywood escape the tyranny of the largely Republican Los Angeles Board of Supervisors that was interested in gutting limits on rent increases.
But that was then. This is now. In today's West Hollywood, being gay is not only acceptable, it's quite fashionable and very well accepted. And the city also has in place many programs to help the elderly age in place. But being a middle-aged  or young renter is quite a challenge. A February 2018 report on the city's affordable housing issue notes that almost 80% of West Hollywood residents are renters and 50% of residents are "rent burdened," meaning they spend more than 30% of their gross income on rent. 
That means someone with a salary of $60,000 would spend $1,500 a month on rent (only likely in West Hollywood if you've remained in the same rent-stabilized apartment for decades or are splitting the cost with one or more roommates). After deductions for taxes, Social Security and Medicare, that person likely would end up with about $500 a week to pay for car loans, car insurance, food, gas, telephone service, etc. What's left won't be enough to pay for that $16 cocktail at The Abbey or that special $160 glass of wine at The Conservatory. Netflix will be a more affordable choice than a movie night at the Arclight. And Trading Post, the used-clothing retailer, will be the go-to place for shirts, skirts, and slacks rather than Fred Segal. Now I understand why one local activist has quietly set up a "couch surfing" service to give young gay men who work in the city (for salaries much less than $60,000 a year) a place to sleep at night (consider it a cheap Airbnb for low-income locals) and why some sleep in their cars.
We can be thankful for the city's rent stabilization program, a result of the successful campaign for incorporation, which limits rent increases on 75% of the city's rental housing units to a small fraction of the annual Consumer Price Index of Greater Los Angeles. That means that if you moved to West Hollywood in 1990 and still are living in the same apartment, your rent is a steal. However, a landlord can raise the rent on your apartment to the market rate if you move out (which gives landlords an incentive to try to make long-term tenants do just that). So in West Hollywood, rent stabilization should be considered largely as a benefit to the elderly, a class of renter that is, by definition, dying out. 
It's also great that we have a requirement that developers of buildings of 11 or more units make 20% of the units affordable to middle-, low- or very-low-income individuals.  However, the waiting list for such units is very long and now closed.
And yes, we do meet our Regional Housing Needs Assessment number, an excuse cited by one City Council member and one candidate in a former City Council election to justify their opposition to new development. However West Hollywood meets its RHNA target because that target is very low  —  the city's 2013-2021 RHNA target is only 77 housing units for very low-, low-, moderate- and above moderate-income people. Despite setting such a low bar, West Hollywood has already exceeded it by a large margin, with more than 322 inclusionary units built by the end of 2016. That still amounted to only .9 units per one hundred residents.
So what can we do to make housing affordable in a city where rents are climbing like they are in the rest of California? Despite its national reputation as a progressive place, California ranks 49th in the nation in its per capita supply of housing (Utah, ranked No. 50, keeps us from hitting the bottom). It is a state that has opposed Donald Trump's plans to build a wall on the Mexican border but whose local governments (including ours) effectively have built their own walls to keep the middle-class and poor away.
We can fight for renters rights in West Hollywood, like Larry Gross did back in the day. But so far, there is no one doing that in West Hollywood. Yes, there is the West Hollywood Renters Alliance, which held its first meeting in September 2017 and did speak out against a proposal that renters be required to pay part of the costs incurred by their landlords in retrofitting buildings to protect them from earthquakes. (Condo owners, who showed up in droves to protest, were immediately exempted by the City Council — only two of whose members are renters — and after a complex and lengthy evaluation of plans for having renters share retrofit costs, the Council suddenly ditched that idea as an election was looming).
But the West Hollywood Renters Alliance seems to have disappeared.  Now almost all of the residents who speak up on housing and development issues at City Council meetings are homeowners who don't want more development. Many of them showed up at the meeting at which our City Council voted unanimously to oppose state Sen. Scott Wiener's Senate Bill 50, which would have knocked down many of the ridiculous barriers to construction of apartment buildings in the state of California. Many of those homeowners who opposed SB 50 never really got their facts straight (no, SB 50 wouldn't have permitted 85-foot tall buildings in West Hollywood's single-family zoned neighborhoods). But no one from the WeHo Renters Alliance showed up to talk about SB 50 and contest the "alternative facts" that were presented.
Advocating for renters isn't an easy job.  It requires more than showing up and making a two-minute comment at those twice-monthly City Council meetings. One has to do a deep dive into the city's existing rent regulations and its zoning laws. One has to understand the basics of economics (yes, new apartments do carry expensive rents, but building more housing than is needed to meet demand eventually will result in lower rents — it's called Economics 101).  Renters advocates need to look at what other really progressive cities are doing (Minneapolis and Seattle have eliminated single-family zoning, a 1950s-era concept that was effective in segregating the white and affluent from other Americans).  And they need to read research such as Alisa Belinkoff Katz's study for the UCLA Luskin Center titled "Unable to Pay the Rent: What History Tells Us About Rent Control in Los Angeles" and listen to Jenny Schuetz, a housing economist and David Rubenstein fellow at the Brookings Institution, as she discusses the complexity of the housing shortage and affordability issues in a podcast by Vox's The Weeds.
One also needs to attend meetings of the city's Planning Commission and speak out against the NIMBY's on the commission and in the audience who effectively slow development in West Hollywood by getting into lengthy arguments over things as silly and inconsequential as the placement of exterior staircases and the color of stucco walls and whether a particular apartment window should be to be able to be raised or swung from the side to open it.
Planning Commissioner John Altschul summed up the issue at a contentious public hearing in 2015 on a project on Ogden Drive. "The city has created a sensational community where people want to come," Altschul said. "The people that were here, they welcomed us when we came. Let's not be the kind of people that say 'We've got ours, let's close the doors'."
Now who will step forward to make sure we don't do that?