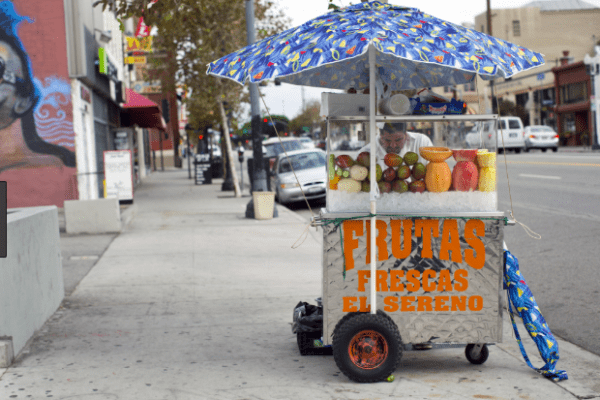 West Hollywood's City Council voted unanimously, but reluctantly, to approve sidewalk vendors during its Monday night meeting, a move made to conform with state law allowing sidewalk vendors.
The vote was done as an urgency ordinance which takes effect immediately. That move allows the city's code compliance officers to enforce when and where sidewalk vendors can set up shop during this weekend's LA Pride events. Without passage, code compliance officers would not be able to issue citations this weekend for vendors who set up shop on the city's sidewalks.
The Councilmembers made it clear they are not in favor of allowing the sidewalk vendors at all, but their hands are tied. A new state law, SB 946, which went into effect on January 1, 2019, prohibits the city from banning such sidewalk carts, but does allow them to establish regulations about when and where they may operate.
Among the particulars of the ordinance the City Council approved:
–Sidewalk vendors must get a permit from the city.
–Food carts must have a health license from the Los Angeles County Health Department.
–Sidewalk vendors only allowed on sidewalks; no alleys, no public parking lots or public parking structures.
–No sidewalk vendors allowed on median strips of roads.
–No sidewalk vendors allowed to operate between 2 a.m. and 6 a.m. throughout the city.
–No sidewalk vendors allowed between 10 p.m. and 2 a.m. in high foot traffic areas:
Santa Monica Boulevard between Robertson Boulevard and Palm Avenue.
Robertson Boulevard for 400 feet south of Santa Monica Boulevard.
Sunset Boulevard between San Vicente Boulevard and Doheny Drive.
Santa Monica Boulevard between Laurel Avenue and Hayworth Avenue.
Melrose Avenue within 100 feet of the intersection of Huntley Drive.
–No roaming sidewalk vendors (push carts) allowed in residential areas between 8 p.m. and 9 a.m.
–No sidewalk vendors within 25 feet of a valet loading zone.
–At least 200 feet between each sidewalk vendor.
–No sidewalk vendors within a block of a farmer's market.
–No sidewalk vendors within a block of a school (public or private) during school hours on school days.
–Sidewalk vendors not allowed to sell alcohol, lottery tickets, cannabis, tobacco, electronic cigarettes or adult-oriented materials.
–Street vendors may not hook up to any water, power or gas lines while in operation.
–No lights, horns or amplified music on carts unless approved by city.
These measures do not apply to motorized vehicles such as food trucks.
The ordinance the Council passed on Monday is considered a temporary measure. City staff will return with a more comprehensive sidewalk vending ordinance based the comments the Council made later this summer.
The Councilmembers also briefly mentioned joining other cities in suing Sacramento over this new law, but will discuss that in greater detail at a later date.
SB 946 was introduced by Sen. Ricardo Lara (D-Bell Gardens) and signed into law in November 2018 by Gov. Jerry Brown. Lara initiated the law to help promote entrepreneurship and promote economic opportunities for immigrant and low income residents. The bill was seen as a push back against aggressive federal enforcement of immigration policies.
Fines for violation of these laws are low since the majority of sidewalk vendors are low income: $100 for first violation; $200 for second violation; $500 for each subsequent violation. Those without the needed sidewalk vendor's permit can be fined $250 for the first violation; $500 for the second and $1,000 for each subsequent violation.
SB 946 requires the city take into account the vendor's ability to pay the fine. If a person meets certain criteria, the city must accept payment of only 20% of the fine and can allow the person to complete community service in lieu of paying a fine.