L.A. County Sheriff Alex Villanueva will be wearing an LGBTQ Pride patch as he cruises down Santa Monica Boulevard tomorrow during the LA Pride Parade.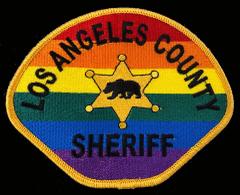 "I am proud of each and every one of the fine men and women in the LASD, who serve our diverse communities every day," Villanueva said in a press release announcing the development of the Pride patch. "We will always celebrate the fact that within our ranks, so many LGBTQ members of our Department serve openly and with absolute pride."
 
Unique patches are used by law enforcement agencies nationwide. Copies of the Pride patch will be handed out free of charge during the Pride parade. For those who are unable to attend the parade, the patch is available to be purchased online at www.LASDPridePatch.com. All profits will be donated to the Los Angeles LGBT Center's Homeless Youth Shelter.

Its announcement of the Pride Patch says "the Los Angeles County Sheriff's Department not only boldly shows its support and pride in serving all who call L.A. home, it kicks off an effort to raise needed funds for LGBTQ youth in the county who are homeless and need services."

"This is an exciting first for Southern California law enforcement and one of the first law enforcement pride patches anywhere in the county," said Lt. Don Mueller, the coordinator of the project. "Throughout history, police and the sheriff's departments have had an adversarial relationship with the LGBTQ community at best. But today, we have hundreds of the gay, lesbian and transgender deputies and officers who serve openly with pride."
 
"It is essential to our mission that this department reflects the diverse communities that we serve," said Villanueva, " As we concentrate our recruitment efforts on hiring from within L.A. County, I encourage members from the LGBTQ community to apply and become a part of our very inclusive family."  
 
In the first two hours of hosting the sales website, more than 100 patches were sold – without advertising the project. "It's amazing that we can help support a significant need in our own LGBTQ community through these patches," said Mueller.