Does anybody else think that the governor of Missouri should be arrested for rape?
I can't get that out of my mind. He has ordered that every woman who wants an abortion in Missouri (a state where there is only one abortion clinic left) must submit to an examination of her vagina by a doctor. That is an examination that is not medically necessary. It is an examination where her vagina is entered with hands, by a doctor ordered to give this unnecessary internal examination of the woman's vagina.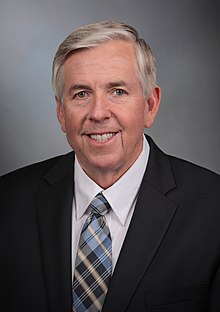 I think if anything was placed into a woman's vagina — a bottle, the end of a gun, or the hands of a doctor who has no medical reason to do so, that's rape. That woman has been raped. That's what's going on in Missouri. The governor has ordered that these women must be raped.
What are you out there who are reading this going to do about it? Are you just going to think about it and just stay seated? You're not organizing? This, to me, is the worst, the worst thing that can happen to a woman — that she has to physically submit to being raped. For no medical reason, she is being attacked.
And the doctors are as upset as the woman. They don't want to do this. They apologize as they explain that it is an order from the governor.
This information was passed on recently on The Rachel Maddow Show. They stumbled onto this information about the governor and raping women. There's going to be more on another segment, they're digging deeper. I don't know what it's going to contain, but right now, Missouri is the state of raping women.