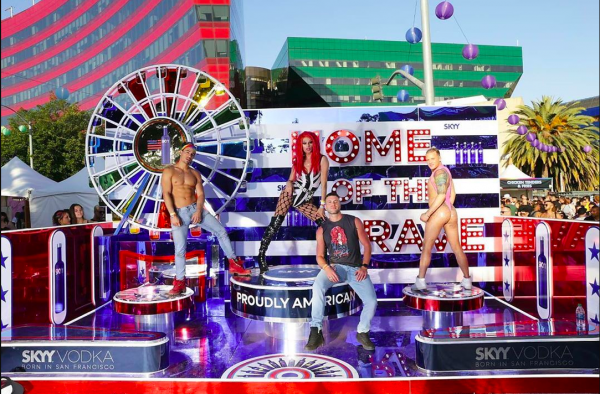 Only making eye contact brought tears of happiness to my eyes. She was a middle-aged woman with a shirt that said, "Free Mom Hugs." There on the sidewalk at the intersection of Robertson and Santa
Monica boulevards, I reflected on mine and my mother's rough coming out journey and how proud I was of this random mom for being such a positive LGBTQ+ ally. Not long after, I saw another mom dragging her young son by the arm from the parade route. Her reason? Rhea Litré's choice of songs and performances on stage at the LA Pride Parade 2019.
Whether or not Pride should rival a music festival is not the matter at hand. Although, it should be noted that the presence of a stage near the parade route's end did prove to be quite a distraction from the actual parade. Parts of the parade included chants, drumlines, bagpipes, floats with DJ's and speakers, etc. These were all drowned out by none other than Rhea screaming the f-bomb at the crowd and lyrics like, "Eight-inch big, ooh, that's good pipe. Bad bitch, I'ma ride the dick all night. " Needless to say, Pride had left the building – and so did that mom and her child. We lost an ally.
Christopher Street West, the event's organizers, advertised the parade as such, "Come create a memorable #JUSTUNITE moment as thousands from LA's LGBTQ+ community – including our amazing straight allies – come together in the spirit of unity." The LA Times once referred to LA Pride as being, "a spectacle, talent show, celebration, political movement, and memorial." This year's parade route stage show was a spectacle alright, but it lacked purpose and decency.
The three-day festival involves a multitude of events, venues, and activities. It's indisputable the parade is the by far most public facing of them all. Although stationary, Rhea had the most massive and loudest platform of anyone in the entire parade. Thankfully ABC7's coverage of the parade didn't include this portion of the route. Well, it couldn't have. The n-word was used 18 times in one two-minute song alone. That's in addition to other vulgarities in the music screamed by Rhea and her guests on the mic.
Her guests were introduced as being "the king of twerk," and a "porn star turned recording artist." The second of whom, Brandon Wilde, donned a neon pink thong leotard. That is who stood on the most significant stage in the parade. Brilliant. The performance was briefly paused to allow an activist to speak about the murders of trans people of color.  For clarity, a white DJ's set containing nearly 10 "n-words" a minute was paused so a black woman could talk about trans POC murder rates. Double brilliant.
Pride is the last thing I felt standing there on the side of the parade route. I thought of Stonewall and of previous parade grand marshals like Harvey Milk and Maxine Waters. Imagine Harvey Milk waving from a parade float, as Rhea screams, "How the f-ck are you West Hollywood?!" Instead, the more appropriate use of that word is to say that CSW has once again f-cked up and failed the LA LGBTQ+ community. While Rhea could have made better choices, it's ultimately the organizers who dropped the ball by not pre-screening her set.
Those three, that music, this situation… It made me go from wishing my mother was here with me to celebrate, to better understanding why she believed what she did about the LGBTQ+ community. Seeing that mother leave with her son hit home and hit hard. I understood her actions, and better understood my mom's. We're not talking boys in Speedo's dancing on a fire truck… we're talking a bare ass porn star singing, "spread my ass, take a lick, arch my back, I want that dick." Rhea Litré and CSW, you owe that mom an apology.