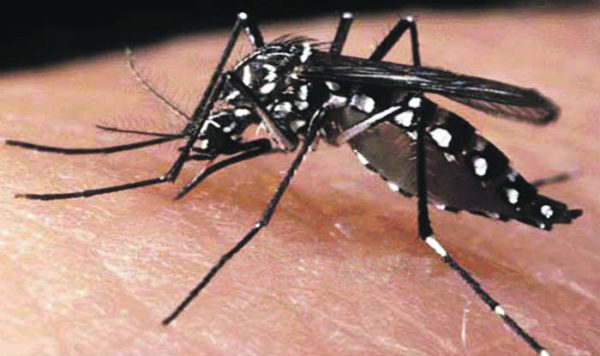 It's summer (finally).  And it's not just the sunburn you have to worry about.  The Los Angeles County West Vector & Vector-Borne Control District is warning residents of West Hollywood and other westside communities about the dangers of mosquitos.
Of the 50,000 varieties of mosquitos in the world, there are
more than 50 in California and nine in the West Vector Control District, which covers 720 square miles and includes the cities of Agoura Hills, Beverly Hills, Calabasas, Culver City, El Segundo, Hawthorne, Hermosa Beach, Hidden Hills, Inglewood, Lawndale, Lomita, the westerly portion of Los Angeles City, Malibu, Manhattan Beach, Palos Verdes Estates, Rancho Palos Verdes, Redondo Beach, Rolling Hills, Rolling Hills Estates, Santa Monica, Torrance, West Hollywood, Westlake Village, and the unincorporated territory of the County of Los Angeles.
Perhaps the most worrisome form of mosquito in our area is the Aedes mosquito, a small insect with black and white stripes that is known as an aggressive biter during the day as well as night. According to the West Vector Control District, it typically breeds indoors and outdoors in plant saucers and other containers filled with as little as a teaspoon of water.
The invasive Aedes mosquito can spread the Zika virus, dengue fever, yellow fever,  and chikungunya. The West Vector Control District notes that those diseases "normally occur in tropical and sub-tropical areas of the world, including Mexico, Central, and South America, Southeast Asia, and Africa. Aedes mosquitoes become infected when they bite a person already infected with the virus. Infected mosquitoes can then spread the virus to other people through bites. "
Currently the Centers for Disease Control reports no known risk of the Zika virus in Los Angeles County. "In 2017 there were about 270 known cases of the West Nile Virus in LA," the West Vector district reports. "Last year the number dipped to under 100 (those 2018 infections resulted in three deaths). But there's no way to know what this year will bring."
"The only Zika in LA has come from people who traveled here from somewhere else with it. That said, trying to control the mosquito population is about more than just saving yourself the trouble of the itchy, red bites. It's about cutting down the risks of spreading disease like Zika and West Nile Virus."
A Zika infection also can be transmitted by a pregnant woman to her fetus and through sex. Those infected may not experience any symptoms, which typically are fever, rash, headache, joint pain, red eyes, and muscle pain. One of the most serious consequences of a Zika infection is a birth defect of the brain called microcephaly and other severe brain defects. It is also linked to other problems, such as miscarriage, stillbirth, and other birth defects.
Dengue fever is a viral infection whose symptoms can include high fever, severe headache, severe pain behind the eyes, joint pain, muscle and bone pain, rash, and mild bleeding (e.g., nose or gums bleed, easy bruising). A severe infection can result in internal bleeding, shock and death
Yellow fever, which is extremely rare and often associated with travelers to South America and Africa,  has symptoms that include fever, chills, severe headache, back pain, general body aches, nausea and vomiting, fatigue, and weakness. A severe infection can cause a high fever, jaundice, internal bleeding (especially from the gastrointestinal tract), shock, failure of many organs, and death
Chikungunya is a viral infection that has been the cause of outbreaks in Florida, Puerto Rico, and the U.S. Virgin Islands. Its symptoms are fever, severe joint pain, headache, muscle pain, or rash.
The Aedes mosquito originates in dry desert areas of Africa and Australia, however the Los Angeles climate is quite supportive of those mosquitos. An Aedes mosquito egg can rest inside a dry plant saucer for months until it is filled with a little water. After a week of soaking that egg is ready to hatch and spread the mosquitos, and potentially the diseases.
Other mosquito-borne diseases that occur in the West Vector Control District include the West Nile virus, St. Louis Encephalitis, Western Equine Encephalomyelitis, and Canine Heartworm Disease.
The West Vector Control District recommends that residents check for still water in planters or other receptacles, avoid leaving a flower vase full of water without changing it at least once every three days and check outside to make sure there is no water residue in drains or near sprinklers.
You can call Vector Control at (310) 915-7370 to come to your home or apartment building to do a free inspection and identify any sources of mosquito breeding.