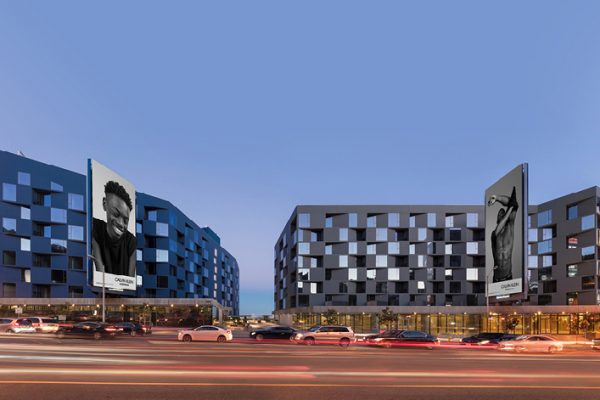 A Superior Court judge has denied the City of West Hollywood's request to dismiss several parts of a lawsuit brought against it in September 2018 by the owner of the two apartment buildings at 8500 Sunset Blvd. 
The decision issued Wednesday by Judge Monica Bachner is the second setback to the city in its legal battle with the building owner, who it claims is violating city law by renting apartments in the buildings for terms of less than one year. 
The building owner, BPREP 8500 Sunset LLC, claims it will suffer as much as $40 million in damages because the city has barred it from such short-term rentals.
On May 17, Judge Bachner denied the city's request for a preliminary injunction in a lawsuit that it has brought against the building owner. That injunction would have stopped the short-term rentals until the final resolution of the lawsuit that the city filed in December 2018. 
The back-and-forth lawsuits stem from the City Council's affirmation in September 2018 of Community Development Director John Keho's ruling that BPREP 8500 LLC was violating city law by offering what it describes as "luxury serviced residences" for periods as short as 31 days. In effect, Keho had ruled, BPREP was operating a hotel. BPREP 8500 Sunset is a company controlled by Korman Communities, which operates the AKA short term corporate rental business, and the Brookfield Property Group. 
The city's lawsuit against BPREP 8500 LLC claims that despite the City Council's affirmation of Keho's decision, AKA has continued to rent suites in its 110-unit West Tower for minimum stays of only 31 days. AKA has agreed to rent the 80 units in its East Tower as conventional apartments (with eight of them set aside as affordable housing.) In addition to asking the judge to affirm its decision in the AKA matter, the city is asking that BPREP be ordered to reimburse it for the costs of the lawsuit, which include attorney's fees and the cost of monitoring BPREP's use of the apartments. To date, the City Council has allocated $650,000 to cover its legal costs. If the city were to lose, it would have to reimburse BPREP for its legal costs. 
Eric George of Browne, George, Ross LLP, the law firm representing BPREP 8500 Sunset in its suit against the city, said "The court has now resoundingly and on two occasions rejected the city's position in this matter. We look forward to proceeding with our civil rights and breach of contract claims to recover the significant damages the city actions have caused and to procure reimbursement of the significant attorney's fees we have been required to incur."
West Hollywood City Attorney Mike Jenkins, said the judge's denial of the city's "demurrers," statements that some of the allegations brought by BPREP are irrelevant or invalid, aren't likely to have an impact on the judge's ultimate decision. 
"When all is said and done, we do not believe that BPREP will be able to produce evidence to support its allegations.  Since the city's case against BPREP for breach of contract is moving forward, the matters will be adjudicated together.  We remain confident that the evidence will show that the project was approved and must be used for actual housing, not for hotel stays by visitors to West Hollywood."
CORRECTION: An earlier version of this story identified the person speaking on behalf of BPREP 8500 Sunset as Sean Walsh. In fact, the person was Eric George of Browne, George, Ross LLP, the law firm representing BPREP 8500 Sunset. The story has been corrected