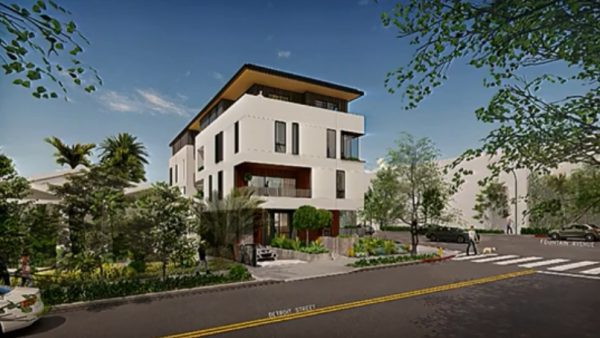 With a unanimous vote on Thursday, West Hollywood's Planning Commission approved a new four-story apartment building on the southwest corner of Detroit Street and Fountain Avenue.
Currently a vacant lot serving as a community garden, the lot at 1257 Detroit will have four stories and eight units, one of which will be set aside for a low-income resident, over an 11-space underground parking garage.
Designed by WeHo-based architect Giovanni Fruttaldo (and owned by Detroit Properties,LLC),the project was given "exemplary status" by the city's urban designer,Gwynne Pugh. That status means the project does not have to incorporate a six-foot setback on the upper floors.
Pugh called the project an "asset to the neighborhood" and classified the style as a "contemporary, classical modernist building."Likewise, a resident speaking during public comment said the project "just looks great" and "the neighborhood needs it."
The Commission wasequally impressed, Commissioner John Erickson calling it "well thought out" and "architecturally stunning." Commissioner Adam Basslabeledit the "right project for the right location," while Commissioner Rogerio Carvalheirosaid it was"very elegant."
Because it sits on a long, narrow lot, the project will consider Detroit Avenue its front yard rather than Fountain Avenue.The Detroit side will have a 20-foot setback for the front yard.
Howeveron the Fountain side,the much longer side of the lot,willhaveagreenway, something few parts of Fountain currently have. That means there will beseveralfeetfor plantings,treesorgrass between the street and thefive-foot-widesidewalk.
As the coloring and materials are integral to what makes the building sovisually appealing, the Commission added a condition that any change to the exteriorcontrast or colorsmust come back to the full Planning Commission for approval.
Commissioner Lynn Hoopingarner explained her reasoning for insisting on thatcondition.
"It is very elegant, it's integrating metals and woods and different directions and different materials," said Hoopingarner. "When you look at the renderings, it is the fact that the materials on the top and the bottom are considerably darker than onthe sides and it causes that visual drawing in of the space. Should those all of a sudden become white, that visual drawing in[visual appeal]will disappear."
Conditionsrequiring exterior changes come back for full Planning Commission approval have become more and more common in the past two years.
That's due to the AKA West Hollywood project on the southwest corner of Sunset and La Cienega. The AKA project, originally known as the Sunset Millennium, later the Sunset-La Cienega Project, looks nothing like the project the Planning Commission originally approved. Many residents have called that project "ugly" or looking like a "Soviet bunker" (and far worse). Thus the Commission wants to guarantee the project that they approve is what gets build and are inserting such a condition to make sure it does.