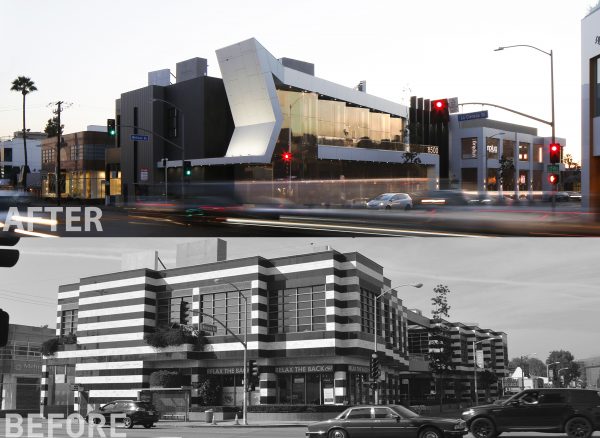 Two West Hollywood projects were among the winners of theLos Angeles Business Council's49th annual Architectural Awards, awards that honor projects projects that bring people together and foster collaborative, memorable experiences among Angelenos.
From a competitive pool of hundreds of submissions in 23 design categories, winning projects ran the gamut, from urban micro-living units to beachfront hotels.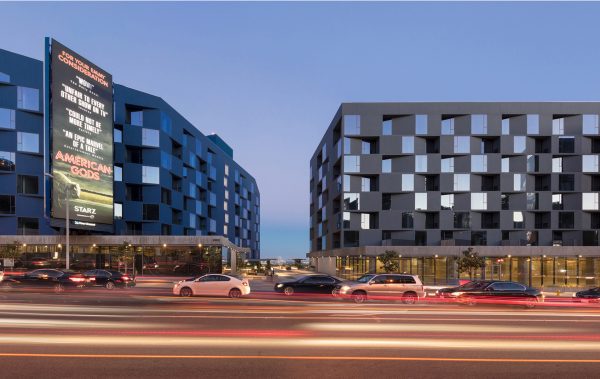 The West Hollywood winners were the building at 8500 Melrose Ave. at La Cienega Boulevard, a project of Patrick Tighe Architecture, and the AKA West Hollywood buildings at 8500 Sunset Blvd.The AKA buildings are a project of Lorcan O'Herlihy Architects (LOHA) in collaboration with Skidmore Owings Merrill (SOM ), which also has won an award from thethe Westside Urban Forum.
"The 2019 Architectural Awards was our most exceptional yet with world-class entries and designs that push boundaries and create spaces that foster connection and community," said Mary Leslie, president of LABC. "This year's award winners exemplify how architecture can elicit joy, enhance social interaction, promote meaningful experiences and provide essential housing."
The awards were announced today at a gathering of more than 650architects, designers, building owners, developers and city officials gathered at the Beverly Hilton. Winners were selected by a jury panel of industry experts co-chaired by Leo Marmol ofMarmol Radziner, Jan Karl of Morley Builders, Saundra Price of W.E. O'Neil and Joe Detuno ofDetuno Consulting. The keynote address was delivered by OMA partner Shohei Shigematsu, who is the designer of the new Audrey Irmas Pavilion and The Plaza at Santa Monica.
This year's grand prize winner was the LAFC Banc of California Stadium in Exposition Park, built entirely around the fan experience, with team executives soliciting ideas directly from soccer fans as part of the design process.
"We wanted to facilitate a design that was inclusive of the community, to build something that was not just for Los Angeles, but of Los Angeles," said Jonathan Emmett, principal and design director at Gensler. "Our collaboration with the Los Angeles Football Club, fans, and community throughout resulted in a best-in-class stadium that provides tailored experiences for Angelenos on and off game day and is reflective of the City."
Google's Spruce Goose project took home the LABC Chairman's award for its adaptive reuse of the old airplane hangar in Playa Vista. Many other winning projects reimagined public spaces, both old and new, to nurture community and engender civic pride.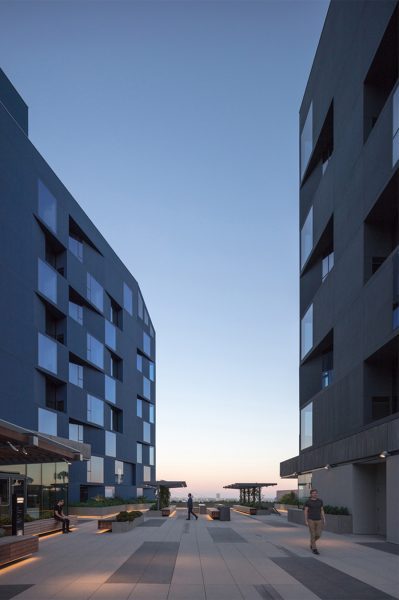 In recognition of the current housing crisis, the LABC's Community Impact Award went to a collective of 23 nonprofit groups who have been leading the way in providing housing for low-income or homeless individuals in Los Angeles County.
"These groups have taken innovative steps in building and financing new housing while also providing related services," said Nadine Watt, LABC chair and president of Watt Companies. "We honor them today because their core mission isn't just to create housing, it's to find people a home."
Addressing the region's housing shortage was also the focus of this year's dJulius Shulman Emerging Talent Award. Students were asked to design permanent supportive housing "prototypes" for two existing sites under consideration for permanent supportive housing developments. This year's winner, Cal Poly Pomona, received a $6,000 scholarship sponsored by W.E. O'Neil Construction. The Southern California Institute of Architecture (SCI-Arc), last year's winner, received an honorable mention.
"It's inspiring to see the meaningful ways that students tackle real problems facing our city. Our city's youth offer a largely untapped wealth of talent and innovative spirit that provide fresh perspectives that can help better combat the mounting housing problem and enhance the lives of those who call Los Angeles home," said Los Angeles City Councilmember Paul Koretz. "One of the sites used in the Shulman competition is located in my district and will soon be home to an actual permanent supportive housing development making it particularly exciting for me to see what the students came up with."
The Architectural Awards also honored international delegations from Mexico City, Mexico, Auckland, New Zealand, and Guangzhou, China for architectural achievements within their home countries. This year's Los Angeles & Mexico Sustainable Real Estate Award winner was the Montage Los Cabos, in recognition of the growing alliance in international trade, education and business between the sister cities of Los Angeles and Mexico City.