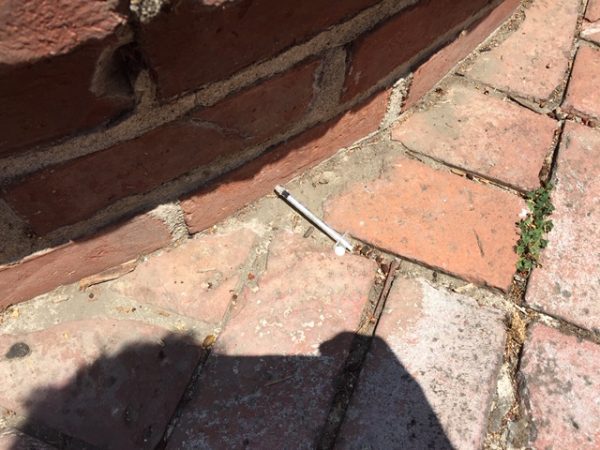 Residents of West Hollywood's Eastside are turning up the volume on complaints about drug use and drug paraphernalia found in Plummer Park.
Brian Rubenstein, a local resident who walks his dogs in the park, recently shared with neighbors and several City Council members images of apparent drug users and of drugs and a needle and syringe apparently used to inject illegal drugs.
"I just took the dogs for a quick five minute walk through the park and found a syringe and needle on the ground right behind the Great Hall summer camp," Rubenstein said in an email message today to City Council members Lindsey Horvath and Lauren Meister and Mayor John D'Amico and to some of his neighbors.
"It's not like I'm out there looking for this crap, it's just that prevalent," Rubenstein wrote. "Anyway, considering there are kids at risk, I think it's important that you all know. Additionally, I would suggest that the counselors and parents be notified of the environment they are placing their kids in so that they can make an educated decision if they want to continue to do so."
On Wednesday, Rubenstein said he found a bag that apparently contained the drug methamphetamine. "This morning around 8 a.m. as I took my dogs out for their walk, I found this bag of crystal meth right out in the open in the middle of the lawn where everyone in the neighborhood takes their dogs to play.
"More alarmingly, it lay a mere 50 feet from the children's summer camp in Great Hall, and in the exact area that the kids play soccer and other games. There was quite a bit of it, more than enough to kill a dog or inquisitive child … I do not understand for the life of me why we continue to lay down and surrender our neighborhood to a clique of drug-addicted career criminals who walk around, heads held high, confident that the park belongs to them, that they are above the law and that they have the inherent right to loot our neighborhood with complete impunity."
Rubenstein also cited incidents where regulars at the park would steal items and hide some of them behind a chain link fence covered with greenery, which he called a "tailor-made hiding spot to chop up stolen bikes, swap stolen loot and get high in broad daylight without a care in the world."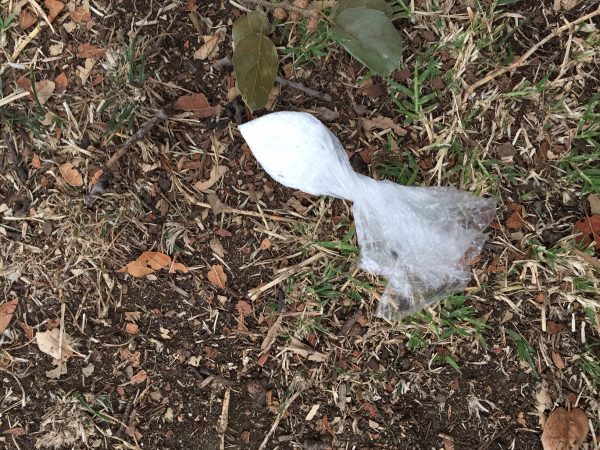 Capt. Edward Ramirez of the West Hollywood Sheriff's Station and City Hall employees responded quickly to the issues that Rubenstein raised and he praised them for doing so.
"We will make a concerted effort for more patrol checks throughout the day and evening as well," Ramirez said in response to Rubenstein's complaint. Kristin Cook, who heads the city's Public Safety Department, said the Public Safety Commission will review a Plummer Park safety plan at its July 8 meeting. Cook said the city has added two security guards that are starting on July 1 (one of whom will focus on the park) and that additional Sheriff Station patrols of the area began this Spring.
Steve Campbell, the city's director of Facilities and Recreation Services Department, in a response to questions from WEHOville, outlined steps that are being taken by his department, the Public Safety Department, the Sheriff's Station, the Block by Block security ambassadors and security guards from PacWest Security Services, a city contractor:
— City staff and/or contract staff have been trained in the disposal of syringes, drug paraphernalia and related types of items and sharps containers are available throughout city facilities;
— City staff and/or contract staff conduct daily morning sweeps and afternoon sweeps of the park to police for litter and other items such as biohazard materials and drug paraphernalia;
— Park staff walks the park as part of hourly rounds and they are on the lookout for items that may be hazardous to park visitors;
— Recreation Services Division staff that overseeing programs in the park walk the areas to check for items that may be hazardous to program participants; and
— City staff and/or contract staff conduct daily inspections and checks of the playground equipment and playground surfacing.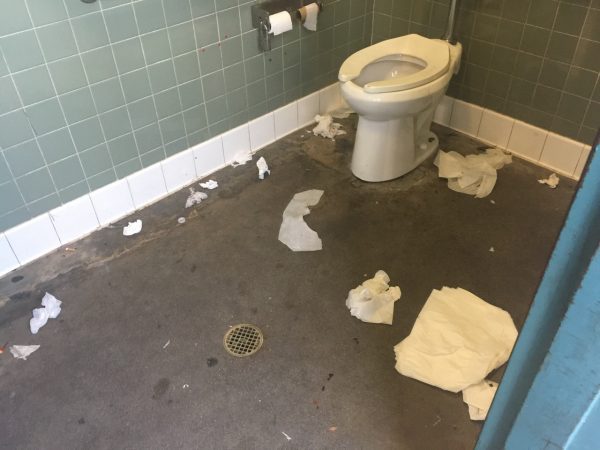 Rubenstein's aren't the first complaints about apparent vagrants and drug users in the park. Stephanie Harker and Cathy Blaivas, who live near the park, also have expressed concerns. Harker has shared photographs of badly littered restrooms in Plummer Park and of an apparent vagrant inside the parking area of a nearby apartment building.
Rubenstein said that law enforcement officers have told him that their options are limited because of the changes made by Proposition 47, a measure passed in a statewide referendum in November 2014. Prop 47 reclassified certain theft and drug possession offenses from felonies to misdemeanors in response to an effort to reduce overcrowding in California prisons.
While some law enforcement officers cite Prop 47 in saying that they can't arrest people who possess illegal drugs, in fact, they can. To make a misdemeanor arrest, an officer must get a warrant or have probable cause to believe he witnessed the crime taking place in his presence. Drug possession is an offense that, by definition, is committed in the officer's presence. So, if an officer comes across an illegal drug while conducting a legitimate search, or asks and gets permission to search, or sees the illegal drug in plain view, he can arrest the suspect. That suspect can be put in a local jail and can be released if he posts bail. If convicted, the suspect can be sentenced to up to 364 days in county jail and be fined up to $1,000.
Former LA County Sheriff Jim McDonnell in the past had argued against Prop 47, saying that there wasn't enough room to house those convicted of misdemeanors in L.A. County jails. If convicted of felonies, the Sheriff's Department would be able to move them to state prisons. Some officers have said they prefer to file citations, the equivalent of a traffic ticket, rather than make an arrest because of the extra work that entails.