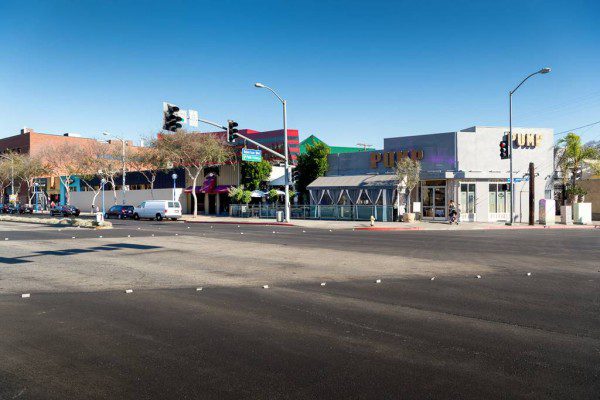 Beginning at 10 p.m. tonight, traffic lights on all sides of the intersection of Robertson and Santa Monica boulevards will turn red simultaneously for a brief period in an effort to improve pedestrian safety.
The "all-pedestrian phase interval" will end at 3 a.m. It will occur between 10 p.m. and 3 a.m. every Thursday, Friday and Saturday night going forward.
The intersection of Santa Monica and Robertson is the most trafficked pedestrian intersection in West Hollywood during those evening hours, accommodating up to 2,000 pedestrians per hour. It is the major intersection in the Boystown nightlife district, one that people cross to access bars like the Abbey, Pump, Mother Lode, Beaches and Tom Tom on the southside and other destinations such as Salt & Straw, the ice cream shop, bars like St. Felix bar and Hi Tops and restaurants such as Café d'Etoile and Guisados.
During the initial period of the rollout, deputies from the West Hollywood Sheriff's Station will be assigned to the intersection to monitor it and answer questions from pedestrians.
"Developing an interval uniquely for pedestrians for this intersection is a creative solution that responds to the exceptional density in this area of West Hollywood," said West Hollywood Mayor John D'Amico in an announcement of the move. "During the day the intersection will maximize vehicular green-light timing, which is aimed at helping cars move as rapidly as possible. But, during nighttime after 10 p.m. on the three nights per week that this spot experiences the highest volume of pedestrians, this intersection will offer all-pedestrian crossing with a red light in all directions for vehicles. This is another West Hollywood Smart City approach for enhancing pedestrian safety."
"I'm excited that our City is embracing new ways of engineering pedestrian safety into this highly trafficked intersection," said City Councilmember Lindsey Horvath in the city's press release. "This follows a variety of pedestrian-safety improvements throughout West Hollywood during the past few years. As a city, we're committed to making sure we do whatever we can to make West Hollywood walkable, safe, and accessible. We will be monitoring the effect of improvements at the intersection and if we see that this is a successful effort, then this can serve as a model for additional major-intersection pedestrian-safety enhancements throughout the city."
Standard crosswalks are designed to offer vehicles and pedestrians the opportunity to move together in the same direction at the same time. Potential conflict may arise when there is a high volume of vehicular traffic making left or right turns, which means that cars are able to pass through pedestrian crossings during green walk signals (though drivers of cars are always mandated to yield to pedestrians in accordance with state law).
During the day and on lower-volume nights when the intersection has a lower pedestrian count, the intersection will function with standard crosswalks, which will offer longer periods of green lights for vehicles in order to ensure traffic flow at commute hours while still regarding pedestrian safety.