West Hollywood is a city dedicated to sustainability and preserving the environment.  The city adopted one of America's first mandatory green building ordinances to ensure that new buildings will be more energy efficient. In 2012 it instituted a ban on single-use plastic bags.  It also offers free two-hour parking for electric vehicles that are charging in municipal garages. And it has joined a consortium of other area cities to offer cleaner power to electricity users.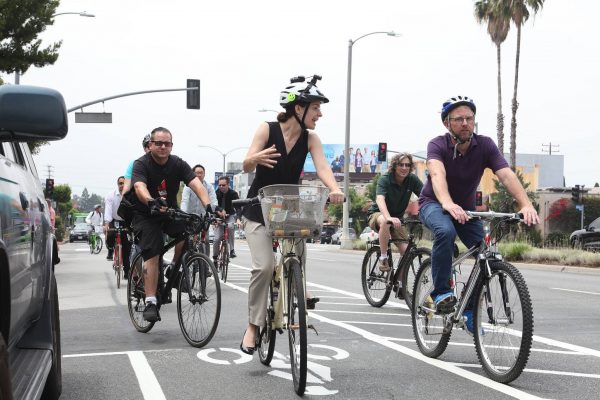 But what about those loud, gas-guzzling cars? They are one of the largest sources of pollutants that can cause allergic reactions, irritations, bronchitis, and even pneumonia and, over time, fatal heart disease.  The answer would be bicycles.
West Hollywood is not a bike-friendly city. But that hasn't stopped some from trying to take it in that direction, notably the West Hollywood Bicycle Coalition, whose goal is "to make complete and sustainable streets available to all and to promote health and wellness through cycling, thereby making West Hollywood an even more delightful place to live, work, and play." Some of its members were early contributors to the city's Bicycle and Pedestrian Mobility Plan, which was written in 2003 and updated most recently in 2017.
Alexander Bazley

Victor Omelczenko (Michael Haddad Photography)

Kevin Burton
Despite all the challenges, there are residents who ride and enjoy doing it.  Here we are sharing the stories (recently published in our Summer issue of West Hollywood Magazine) of four of them who offer their perspectives on the pluses and minuses of getting out and about on a bicycle. Click on the links at the bottom of this story to read their individual stories.
The challenges are many and mostly described as "infrastructure" issues.  How does one create a safe bike lane in a city of narrow streets lined by parking spaces?  Where can you safely park your bike when you've arrived at the coffee shop? 
The city's mobility plan notes that West Hollywood "currently has three types of on-street bike facilities: bike lanes, signed bike routes, and bike sharrows (which are traffic lanes painted with a bicycle image, alerting car drivers that they might encounter bicyclists and bike riders to keep some distance from parked cars.) However, there are gaps in this network – especially east/west connectors – that need to be addressed in order to provide an effective bicycle network. … Major constraints for cyclists include narrow street widths that bring cyclists close to vehicles, high-traffic corridors with regional pass-through traffic, a steep incline north of Santa Monica Boulevard, and large intersections that can be difficult to cross comfortably."
The city launched WeHo Pedals, a bike-share program, in August 2016 but concluded last year that it wasn't a success.  It will end on Aug. 30. The City Council has asked city staffers to look into options for testing a dockless electric bike program.
Following the Rules
How to you bicycle around West Hollywood safely and legally?  The West Hollywood Bicycle Coalition says it best:
— Always obey the same traffic rules as cars.
— Remember to use lights — white in the front, red in the back — and to wear a helmet, if your head's important to you. Helmets are required if you're under eighteen, and optional for adults.
— Don't wear earphones or earbuds. It's illegal to cover both of your ears, but covering just one of them is still less safe than having them uncovered.
— In West Hollywood, city code allows bicyclists to ride on the sidewalk if there is no bicycle lane available, and bicycles must ride with traffic, not against.  Also, "bicycle riders shall yield to pedestrians and shall not ride in a wanton or reckless manner as to endanger any person or property". Please respect pedestrians on sidewalks!
— Take the whole lane if the lane isn't wide enough for you and a car to safely ride side-by-side. If you can't both fit next to each other in the lane, with several feet of clearance between you, that means that it's a "substandard lane width" and you are entitled to use it. Drivers can change lanes to go around you if they want to pass. If more than five cars are bunched up behind you, pull over when it's safe to do so and let them pass.
— You are also allowed to use the full lane if you're going the same speed as traffic, or if the right-hand gutter isn't safe.
It's always possible to dress appropriately for biking, no matter what the weather is! When it's raining, you can get yourself a pair of waterproof bike pants and windbreaker; when it's cold, wear gloves and a scarf; when it's hot, wear loose clothing and always bring water with you. And remember to pack some sunscreen.