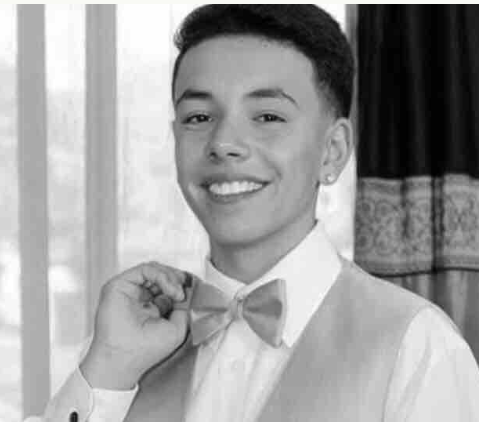 Dominique Bergman, the mother of the young man found dead at a Hacienda Place apartment on May 5 of a drug overdose, has taken to Facebook to decry City Councilmember John Duran's post about the incident on his own Facebook page.
Devon Jacob Lopez-Bergman, 21, was found dead in an apartment at 1130 Hacienda Place from what the L.A. County Coroner's Office has determined was a combination of cocaine, MDMA (also known as "ecstasy" and fentanyl. Also found dead in the same apartment was Vaughn York, 53, whose cause of death has yet to be determined.
The West Hollywood Sheriff's Station refused to confirm the deaths when contacted by WEHOville on May 6. However, it did alert City Council members to them. Councilmember Duran took to Facebook to say "2 men who I assume to be gay aged 53 and 30 – overdosed and died on Hacienda Place …. Sheriffs have not yet released names of the men or whether the drugs were laced with fentanyl. But my gut is telling me – these 2 guys were having a good time yesterday and decided to party with blow or meth. They both expected to get up today and go to the gym or work."
"My son was not gay. I can't breathe right now because my son is now the poster child for 'young gay' men who overdose," Bergman wrote in a post on WEHOville's Facebook page today. "As much as I want (my) son's death to help others, this is not who he is. Just as much as he's not 30 years old as Mr. Duran stated on his FB page. He was and is and forever will be a baby. I'm in shock that … my son's death has been used for Mr. Duran's personal and political agenda. I'm literally sick to my stomach. I can't even begin to deal with the loss of my beautiful baby boy because of his careless words and the carelessness of the media and journalists who chose to believe what Mr. Duran said."
Duran's Facebook post attracted more than 60 comments and 200 "likes," with many of the responses coming from members of the recovery community, where Duran is a prominent figure. Troy Masters, publisher of the Los Angeles Blade, a gay local weekly that champions Duran and whose editor, Karen Ocamb, is a friend and supporter of Duran, also posted supportive comments on Duran's Facebook page about the incident.
Duran's Facebook followers praised him for pushing for the West Hollywood City Council to allocate $20,000 to APLA Health and the LA LGBT Center to provide testing strips that drug users can use to test for fentanyl, a deadly substance that has been found mixed in other drugs such as cocaine and methamphetamine. Both organizations focus on health issues of LGBTQ people.
"Maybe if Mr. Duran and the rest of the West Hollywood City Council would have warned all of West Hollywood about this, rather than only focusing on the LGBT community, maybe my son would not have died. Maybe," Bergman wrote. "My son's sexual preference should have never been speculated and should have absolutely nothing to do with his death. Mr. Duran had an agenda, to prove be was right and my son therefore had to be gay. Everyone's life should matter. Everyone should be warned. The additional pain he has caused my family and friends of my son…. The trauma he is continuing to cause me…"
Asked for a response to Bergman's statement, Duran said WEHOville was to blame for publishing a story that included his Facebook statement and then publishing a later story with the names of the people found dead at the apartment. "I never identified a person ever. For privacy reasons. You did. All yours," he said in an exchange of text messages in which he accused WEHOville of reporting that he had actually stated the names of the dead men, which WEHOville did not do.