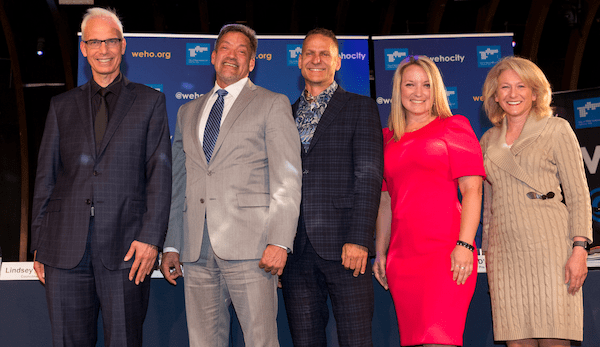 Who is the mayor of West Hollywood? On March 4, John Duran took to Facebook, his social media platform of choice, to announce that he was giving up that honorific title more than two months before his term officially expired. Councilmember John D'Amico filled the gap and was formally installed as mayor on May 20.
But Duran continues to identify himself as mayor on various social media platforms. There's Instagram, where he identifies himself as "Mayor and Councilmember of West Hollywood, CA" as well as a criminal defense attorney, a singer, a poet, a cyclist, an historian and "the inventor of homosexuality."
There is Twitter, where his claim to be "West Hollywood Mayor" is followed by criminal defense attorney, LGBT pioneer and "invented homosexuality." On LinkedIn, the (former?) mayor describes himself as "Mayor at City of West Hollywood and criminal defense attorney."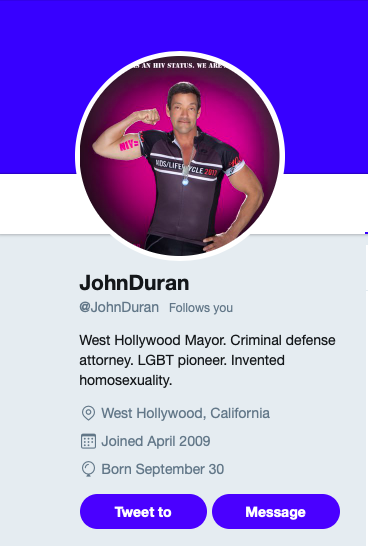 His profile for Sidebar with John Duran, an online radio show, identifies him as "Mayor John J. Duran."
And then there's Facebook, where his 4,994 "friends" can read that he is "LA native. Mayor of West Hollywood CA. LGBT champ. Criminal defense lawyer. Invented homosexuality."
Duran gave up the title of mayor in March after he was called to do so by several City Council members, LGBT organizations and local residents who were upset about allegations that he had engaged in inappropriate sexual conduct with members of the Gay Men's Chorus of Los Angeles, that he publicly mocked one of his accusers for being "a skinny Korean kid with pimples on his cheek" and that he, in a radio interview, described himself as the "only sexually active member of the City Council." He followed that with an interview posted on a website where he offered more detail about his fellow Council members allegedly barren sex lives. Duran has denied the sexual misconduct allegations.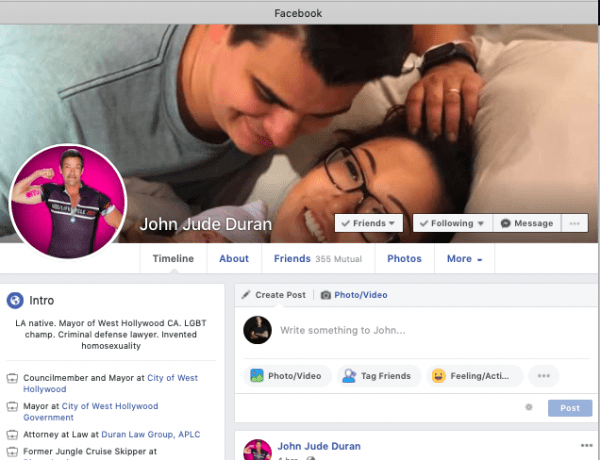 Duran implied that health issues were what caused him to step down as mayor, although there also were demands by several council members and many activists groups and local residents that he do so. Health issues were his implied reason for skipping the March 4 City Council meeting at which the Council voted to strip Duran of privileges such as reimbursement for travel expenses and to censure him. A photo sent to WEHOville showed that while he missed the Council meeting, Duran was able to show up that night for a movie with West Seegmiller, a former sex worker he has been dating and on whose behalf he has pushed for the city to sponsor a sex workers forum in August.
Does it matter who is the mayor of West Hollywood? The City of West Hollywood operates under what is known as a Council / Manager form of government. That means the City Council's job is to set policy and the City Manager's job is to execute it. Unlike the situation in a contract city such as Los Angeles, the mayor of West Hollywood has few official duties other than moderating the City Council meetings and co-signing checks. The title rotates each year to the next Council member in line, who is known as the Mayor Pro Tempore, or Mayor Pro Tem.
But while it is largely honorific, the title of Mayor of West Hollywood has a substantial impact when it comes to the city's reputation, with many organizations seeing the mayor as the ultimate spokesperson for the city. The first seven pages that turn up in a Google search for "Mayor of West Hollywood" are dominated by stories about John Duran and his alleged sexual misconduct and declaration of May 23, 2018, as "Stormy Daniels Day" in West Hollywood.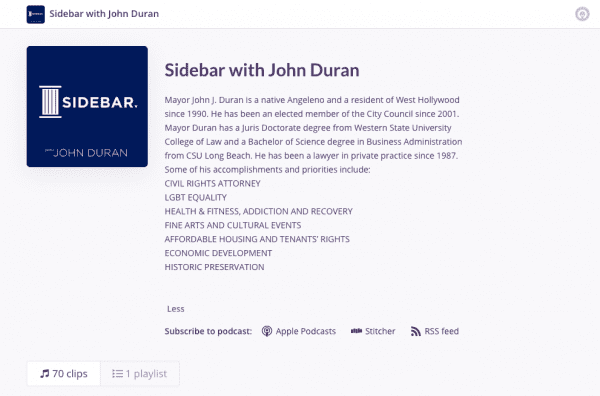 Mayor John D'Amico, when asked by WEHOville about Duran's claim to be mayor on various social media platforms, said in a text message that "Other people have pointed out the same to me. I have referred them to the city manager and city attorney. As you know, when I was sworn in I did my best to democratize the idea of 'Mayor' in West Hollywood.
Councilmember John Heilman, who first joined the City Council when West Hollywood was incorporated in 1984 and has served as mayor multiple times, said "I think we should always try to be accurate in describing our official position on the City Council. I know that it does sometimes happen that mistakes are made. But we should do all we can to keep it accurate."
John Duran responded to WEHOville's request for a comment with a text message saying that "it says councilmember and mayor, which is all true" on his social media profiles. When told that some Council members have expressed concern about his misidentifying himself, he texted: "You all need lives man. Good luck."