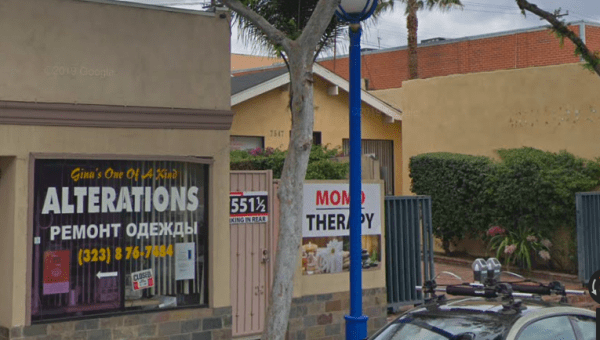 EDITOR'S NOTE: This story has been updated to clarify that the July 23 forum on human trafficking that will take place in the City Council Chambers is an event only for professionals such as law enforcement and code enforcement officers. It is not open to the public.
Citations of five Asian massage parlors by the City of West Hollywood's Code Compliance Division and Department of Public Works call them out for a variety of violations including not having a massage business license, employing unlicensed massage technicians, allowing massage room doors to be locked, not having a manager on duty and a general lack of cleanliness.
The five massage parlors are among nine in West Hollywood that are staffed largely by Asian women who provide illicit massages according to more than 700 reviews posted on RubMaps.ch, a website where men comment on their sexual experiences at massage parlors. An additional massage parlor was inspected and a citation will be issued soon according to Danny Rivas, the city's Code Compliance manager.
The city, in cooperation with the West Hollywood Sheriff's Station, began inspections of those massage parlors after WEHOville published a story in March calling out their reviews on RubMaps.ch and citing a story published by The New York Times on March 2 about the preponderance of massage parlors in the United States that are staffed by Asian women who offer sexual services. The Times story describes a "$3 billion-a-year sex industry that relies on pervasive secrecy, close-knit ownership rings and tens of thousands of mostly foreign women ensnared in a form of modern indentured servitude an industry." On Monday, Code Compliance provided copies of the citations to WEHOville. There is a wide range of fines – from $250 to $950 per violation — that are assessed only if the business owners do not fix the problems identified. If three citations are issued within a 12-month period and the issues haven't been solved after the third citation, the city can file a criminal complaint against the business owner.
The businesses cited were:
— AAA Robust Massage, 8450 Santa Monica Blvd., whose owner is identified as Xiaolin Feng of Monterey Park.
— Be Be Aroma Therapy, 7541 Santa Monica Blvd., whose owner is identified as Linda Kyeang of Gardena.
— Momo Therapy, 7551 ½ Santa Monica Blvd., whose owner is identified as Allen Ko of Los Angeles.
— 8155 Spa, also known as 8155 Health Center, 8155 Santa Monica Blvd., whose owner is identified as Simon Yoon Lee.
— Smile Massage, 7758 Santa Monica Blvd., whose owner is identified as Qing Sun of Alhambra.
AAA Robust Massage was cited for 20 violations. Among them were not having copies of licenses issued by the California Massage Therapy Council for its massage technicians. Such licenses are required under city law. Most of its other violations involved cleanliness issues. One violation was for failing to obtain a property permit to create a sleeping area. Such areas are sometimes used in illicit massages to house the women who work there. AAA also was cited for not having a manager on duty.
8155 Spa's violations included not having a business license or licenses for its massage technicians. The business also was called out for its lack of cleanliness and unsanitary conditions and not having a manager on duty.
BeBe Aroma Therapy was cited for not having a manager on the premises and not keeping soiled linens separate from clean linens.
MoMo Therapy was cited for employing unlicensed massage technicians, having locks on massage room doors and covering windows with plywood without the requisite city permit.
Smile Massage was cite for not have a manager on premises, locking massage room doors and the front door while in operation and other cleanliness issues.
Current reviews on RubMaps indicate that women working at the massage parlors continue to offer sexual services. A review posted yesterday of the 8155 Spa calls it out for making masseuses line up so that customers can choose the one they want. "Alex was an absolute smoke show! Incredible looks. Didn't have a Kardashian booty but she had the look. Wow! She not only didn't seemed rushed she sucked it like there was money and love pouring out. She was super cool and could actually keep a conversation despite being only 21," said the reviewer.
City Councilmember John Duran has spoken out against inspections of the massage parlors, saying that he does not want to see the women working there arrested. Duran has cited arrests of gay men for engaging in sexual activity decades ago before same-sex relationships became legalized and largely socially acceptable. However, the inspections were intended only to identify code violations said Rivas and Capt. Edward Ramirez of the West Hollywood Sheriff's Station.
West Seegmiller, a former sex worker who works with the Sex Workers Outreach Project LA, also has spoken out at several city meetings in opposition to any moves by the city that might cause the women working at the massage parlors to lose their jobs. Seegmiller is lobbying for legalizing prostitution.
What is not clear at the West Hollywood massage parlors is what sort of freedom the women working there enjoy. The New York Times story revealed that many of the foreign women are essentially held captive, with the massage parlor owners holding their passports and requiring them to sleep in the parlors or in other buildings owned by them. Some of the women are said to have been lured to come to the United States to earn money that they could wire to their families. Some were tricked into believing they were being recruited for work that didn't involve giving sexual favors
WEHOville has learned that the City of West Hollywood will host a forum by the Federal Bureau of Investigation and the California Association of Code Enforcement Officers on July 23 at the City Council Chambers to "educate professionals on what signs to look for during residential and commercial inspections as it relates to human trafficking and how to report and coordinate efforts with local, state, and federal investigators."  The forum, which has not been made public, will take place from 8 a.m. to 1 p.m. at the City Council Chambers. The forum is not open to the public because it is meant to educate professionals dealing with human trafficking matters.
The city's Public Safety Department has been in negotiation with Dawn Schiller, a member of the Coalition to Abolish Slavery and Human Trafficking (C.A.S.T.), to stage a public forum on the issue in West Hollywood. Schiller also is known as a victim of John Holmes, the porn performer who was the leading suspect in the Wonderlandmurders inn Laurel Canyon in 1981. The Public Safety Department recently ended its work with Schiller, telling her it didn't have sufficient funds for such a public forum. The city is, however, working on a sex workers forum proposed by Duran and scheduled for August that will involve Seegmiller.