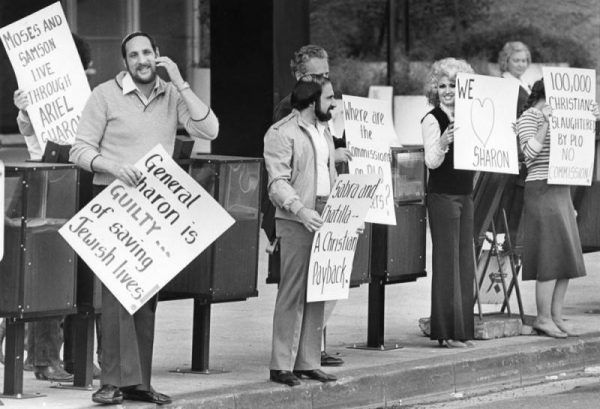 Probably the most bizarre aspect of West Hollywood's drive to incorporate was the involvement of the Jewish Defense League (JDL), a far right political and religious group, and its violent chairman Irv Rubin, a Canadian-born activist who years later was charged with conspiracy to bomb private and government buildings, including mosques in the Los Angeles area. Rubin, who became chairman of the U.S.-based JDL in 1985, committed suicide in jail before being brought to trial. 
He targeted his ire at the Coalition for Economic Survival (CES) and its leader, Larry Gross, a professional, grass roots organizer. An L.A. fringe group that prior to incorporation had limited successes in rent control and street demonstrations, CES became West Hollywood's most formidable power bloc during the push for cityhood when rent control was its driving – and only – force, thanks to Gross and his small band of young leftist activists and an army of elderly Jewish tenants.
A JDL flyer recently uncovered by WEHOville.com that had been distributed by Rubin and fellow henchmen at public meetings states, "Jews and Gentiles of West Hollywood: Larry Gross is an enemy of the people of West Hollywood." Rubin branded Gross a Communist, with the flyer claiming that Gross visited Cuba as a guest of Fidel Castro. It alleges as well that Gross was extremely negligent with political contributions. Rubin even charged that Gross funneled some of the group's funds to Jesse Jackson's 1984 bid for the Democrats' presidential nomination.
The flyer gives additional insight into all the forces that worked for and against cityhood. It is among thousands of documents housed in the special collections department at UCLA's Young Research Library. One of those collections consists of personal papers covering a period from 1980 to 1987 donated by Robert Conrich, research director for the West Hollywood Incorporation Committee, a volunteer group of residents formed by Ron Stone to support cityhood efforts. 
Conrich hosted the committee's first meeting in August 1983 and worked temporarily on city projects after incorporation before becoming a political writer for the Post Newspaper Group, according to the library's description of the collection. He kept this particular flyer as part of his extensive documentation of incorporation efforts on all sides. WEHOville.com will publish more articles in the coming weeks and months based on previously undisclosed material found in Conrich's papers.
JDL's Incorporation Position
The flyer, undated and typewritten onto a single page, continues:
"If you want cityhood, that's O.K., but don't let Larry Gross and the Coalition for Economic Survival promise you everything so that they can get their hands on the new city budget. If Larry and his cronies are all they claim to be, then ask Larry how much of the money collected in West Hollywood from elderly and low-income citizens that attend his meetings and rallies has been spent in support of Jesse Jackson for President? Just ask him how much money went to pay for his trip to Cuba as a guest of Fidel Castro. 
"Better yet, ask him how much money has been collected here in West Hollywood when he passes the hat. When Larry Gross was asked why he never filed any finance reports with the Fair Political Practices Commission in California until this year, he said, "I haven't collected more than $5,000.00." Can you believe that? You have the right to know that while Larry Gross, coordinator for CES cries poverty at meetings and rallies in your community he demanded that four candidates for City Council in West Hollywood give him $5,000.00 each or they would not get the endorsement of CES.
"But that's not where he gets his big money. Each year CES collects tens of thousands of dollars from organizations based all over the United States. This year alone, the Campaign for Human Development in Washington D.C. gave Larry Gross $45,000.00 and no one but Larry Gross knows where the money goes. Can you imagine what will happen if he gets his hands on the $15,000,000.00 of revenues for the new city?
"We think the name of CES – the Coalition for Economic Survival – should be changed to ESG – the Economic Survival of Larry Gross! So go ahead, ask him where all the money goes! We don't think you will get an answer!"
The flyer is signed, "Irv Rubin, Executive Director – Jewish Defense League," and contains this P.S. "Oh Larry! Just exactly why did you remove the hammer and sicle (sic) flag from the wall in your office? Afraid someone might see it?"
Gross dismissed JDL's accusations as "the ravings of the far right" in a March 30, 1986 Los Angeles Times story. He described the flag, which had been taped over his desk in CES' West Hollywood office, "as a United Farm Workers banner," the article states. It was removed, in any case, because "he is said to be cleaning up his act for public consumption."
No doubt CES had leftist if not outright Marxist members. A member named Mark Siegel, who later became a staffer to L.A. City Councilman Joel Wachs, told the newspaper he was asked several times by other CES members to join a Marxist study group. "He declined," the story states.
"The thing is, (CES was such a loose group," Siegel said. "There were all kinds of philosophies floating around there. We certainly weren't being directed from Moscow."\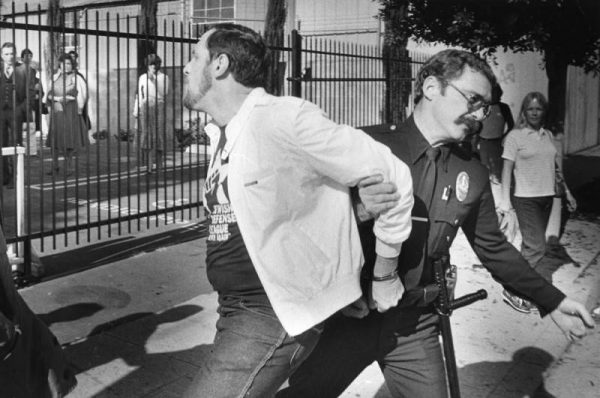 Rubin's Death
On Dec. 12, 2001, Rubin and Earl Krugel, a JDL member, were charged with conspiracy to bomb private and government property. The two allegedly were caught in the act of planning bomb attacks against the King Fahd Mosque in Culver City and on the office of former U.S. Rep. Darrell Issa (R-San Diego), who is of Lebanese and Czech descent. The two were arrested as part of a sting operation after an FBI informant named Danny Gillis delivered explosives to Krugel's home in L.A. Rubin died by suicide in jail when awaiting trial on those charges.